Jump to Recipe • Print Recipe
I'm so excited to welcome to my friend Shelly from Cookies and Cups! She's going to share her recipe for Peanut Butter Cup Blondies with us. Let's show her a warm welcome!
I am so excited today to be posting over here today!  Robyn's site is so full of inspiration for me; gorgeous photography, delicious recipes…just all of it is so great!
SO, I want to make a good impression, you know, being a guest and all.  Keep it classy, Shelly.  Cah-lass-yyy.
I guess the fact that I have to remind myself to be classy, isn't so…uhhh, classy.
Ok, forget it.  Don't expect much class.  Plus, my recipe includes candy.  Unwrapped peanut butter cups.
It's hard to pretend to be classy as I stuff unwrapped mini peanut butter cups in my mouth by the handful.
Oh Lord, I am never going to be asked back here.
I'm sorry.
I'm no good in pressure situations.
Let's just talk blondies…
I am a blondie fan.  Actually I like them better than brownies, when they're done right…take that, brownies.
These are a different version of the blondie…they are made with white chocolate…good stuff!
Make them with or without the peanut butter cups, it's up to you.
Recipe: Peanut Butter Cup Blondies

1 cup white chocolate chips

2 sticks butter (1 cup)

1 cup granulated sugar

1/2 cup light brown sugar

4 eggs

1 1/2 cups All Purpose flour

1 teaspoon kosher salt

1 8 oz package of Reeses Mini's (about 1 1/2 cups)

Preheat oven to 350°

Prepare a 9×9 pan by spraying with baking/cooking spray

Melt the 5 oz of white chocolate with 2 sticks of butter in a medium saucepan over medium low stirring constantly. When the chocolate and butter are melted add the granulated sugar.

Stir and remove from heat.

In your mixer add your eggs and brown sugar.  Beat on medium until egg gets a little foamy (approx 2 minutes).

Slowly add your white chocolate mixture to the egg mixture with mixer on low…adding slowly so you don't scramble your eggs.  Mix until smooth.

Add your flour and salt mixing on low until just combined.

Pour blondie batter into your prepared pan.

Sprinkle your peanut butter cups evenly on top of the blondie batter, pressing them gently down into the batter.  The batter is thin so you don't want them to sink. If they do, trust me, it's not a big deal ~ you can see from the pics that mine sunk a bit.

Bake for 25-30 minutes until a toothpick inserted 2 inches from edge comes out clean.  You don't want the center to be completely cooked through.

Let cool completely on wire rack before you cut.

Makes approx 20 blondies.
Thanks Robyn for letting me raid your space today!
______________________________________________________________________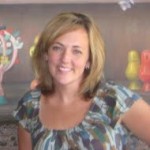 Shelly from Cookies and Cups entices us with all of the amazing cookies and cupcakes she shares.
You can follow more of Cookies and Cups delicious bites on Twitter and Facebook. You'll never get full or gain a pound.
Well… not from just looking!