Peanut Butter Balls Recipe
Peanut Butter Balls are the perfect combination of peanut butter and chocolate! This simple, no-bake recipe makes peanut butter balls that everyone loves!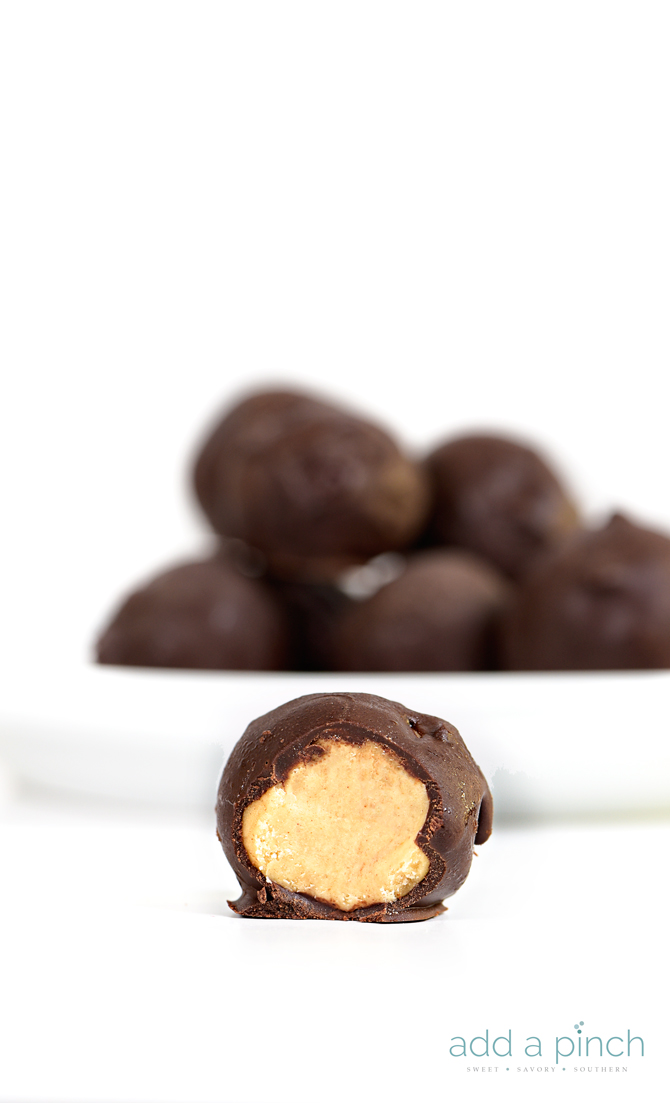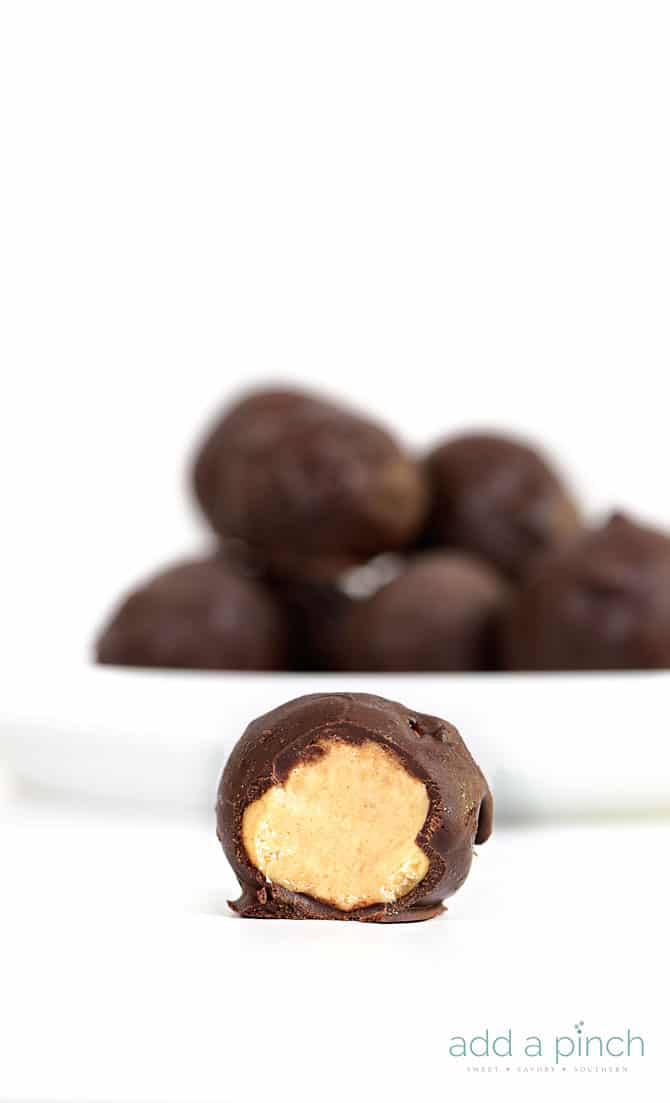 Few things go together as well as peanut butter and chocolate. It has to be one of my all-time favorite flavor combinations and one that I talk about a good bit for recipes.
Growing up, my Grandmother would make little peanut butter balls that looked just like little buckeyes. She'd mix all of the ingredients together and roll the peanut butter mixture around to form these little bite sized treats. Then, she'd carefully dip them into her chocolate leaving just a bit of the peanut butter peeping through at the top.
Now, her buckeyes were wonderful treats that I surely love still, but when Sam and I were making them when he was younger we decided not to fool around with all that special dipping for our peanut butter balls. And by request, we decided to make them a little bit bigger.
Okay, a good bit bigger.
I don't think she'd mind and I know she'd love the changes.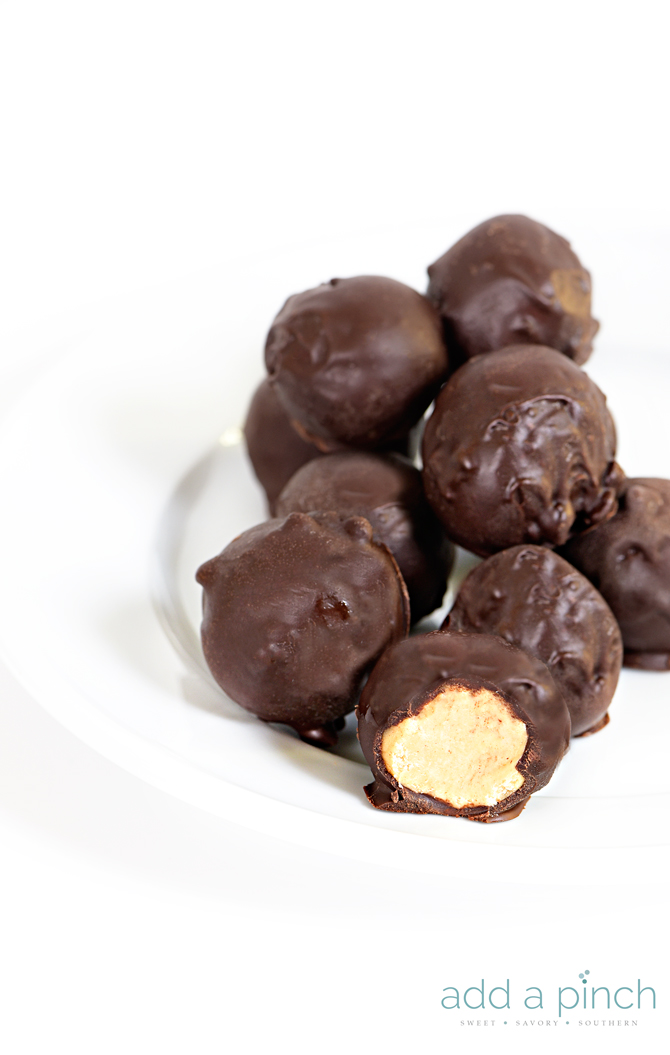 Here's how my family makes our peanut butter balls.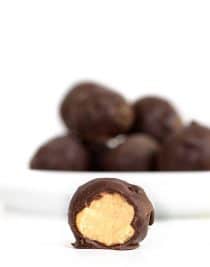 Peanut Butter Balls Recipe
Total Time 1 hour 15 minutes
Prep Time 1 hour
Cook Time 15 minutes
Peanut Butter Balls are the perfect combination of peanut butter and chocolate! This simple, no-bake peanut butter ball recipe that everyone loves!
Ingredients
2 cups creamy peanut butter
2 cups confectioner's sugar
4 tablespoons unsalted butter softened
1/2 teaspoon vanilla extract
1/4 teaspoon salt
1 (12-ounce) package chocolate chips dark, milk, or semisweet
2 teaspoons vegetable shortening or coconut oil
Directions
Line rimmed baking sheet with parchment paper. Set aside.

Mix together peanut butter, confectioner's sugar, butter, vanilla extract and salt with an electric mixer until well combined. Using a 1 tablespoon cookie scoop, scoop individual balls and place onto the parchment paper. Place in freezer for 15 minutes to harden.

Melt chocolate chips and shortening or coconut oil together in microwave for 1 1/2 - 2 minutes at 50 % power.

Dip each hardened peanut butter ball into the melted chocolate using a spoon and then place back onto the parchment paper lined baking sheet to dry.

Store in an airtight container.
Notes
Make-Ahead and Freezer Friendly:
Prepare peanut butter balls as directed. Store in an airtight container in the refrigerator for up to a week or in a freezer-safe container in the freezer for up to 7 months. 
Vegan:
For a vegan option for these peanut butter balls, use dairy-free chocolate chips and coconut oil in place of the butter called for in the recipe. 
Nutrition Facts
Peanut Butter Balls Recipe
Amount Per Serving (1 piece)
Calories 88 Calories from Fat 54
% Daily Value*
Total Fat 6g 9%
Saturated Fat 1g 5%
Cholesterol 2mg 1%
Sodium 59mg 2%
Potassium 66mg 2%
Total Carbohydrates 6g 2%
Sugars 5g
Protein 2g 4%
Vitamin A 0.6%
Calcium 0.5%
Iron 1.1%
* Percent Daily Values are based on a 2000 calorie diet.
All images and text © Robyn Stone for Add a Pinch
Recipe time includes time for chilling peanut butter balls to firm before dipping in the chocolate as well as the time for the chocolate to dry.
This recipe makes a wonderful make-ahead treat that you can easily store in an airtight container in your freezer if made well in advance. To serve, simply remove from the freezer and allow to reach room temperature.
Enjoy!
Robyn xo

From the Add a Pinch recipe archives, originally posted 2011.