Peanut Butter Bars Recipe
Peanut Butter Bars make a quick and delicious treat. This no-bake peanut butter bars recipe is ready in less than 30 minutes and makes between 20 and 36 bars.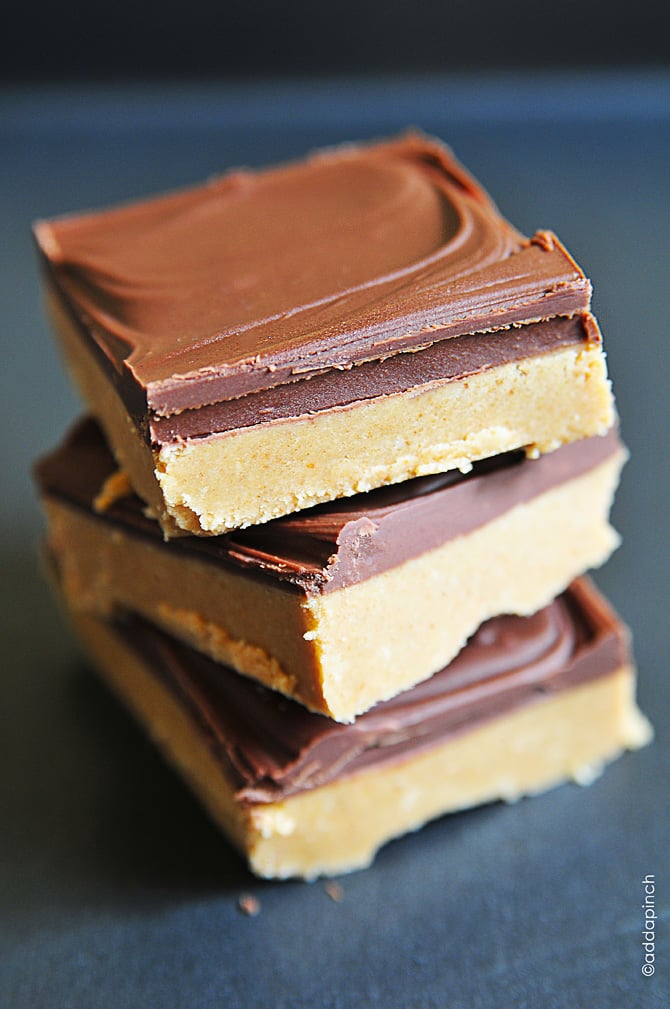 What is it about Peanut Butter Bars that make the world just feel right. Since Little Buddy was just a wee one, we've been making these peanut butter bars together. He'd sit on the edge of the counter, swinging his feet as we poured all of the ingredients for the peanut butter base into a large mixing bowl to mix it all together.
His favorite part of making these peanut butter bars has always been to dump the confectioner's sugar into the bowl, the cloud of white sugar dust bringing out his contagious giggle every single time.

We celebrated his visit to the orthodontist by making these yesterday. You see, we were fully prepared for the orthodontist to reinstall the bottom device at our visit, but Little Buddy must have some major luck.
Over breakfast, he told me that he sure did hope he didn't have to have the device reinstalled until after his birthday. To which I sympathized for a little bit, but then gave him a motherly version of a dose of reality.
"Honey, that's over a month and a half away. I wish you didn't have to go through all this as well, but the result will be so worth it."
To which I received an eye roll and a sideways grin.
As we walked into the orthodontist's office, I gave Little Buddy's hand a tight squeeze and told him it would be over soon enough.
Less than five minutes later, we were walking back out the door to our car. Well, I was walking. Little Buddy was literally floating, skipping, and dancing in one huge combined movement. Walking on air would be a great analogy.
And Little Buddy had gotten his wish. His next appointment was scheduled for the day after his birthday for his bottom quad to be reinstalled.
Lucky duck!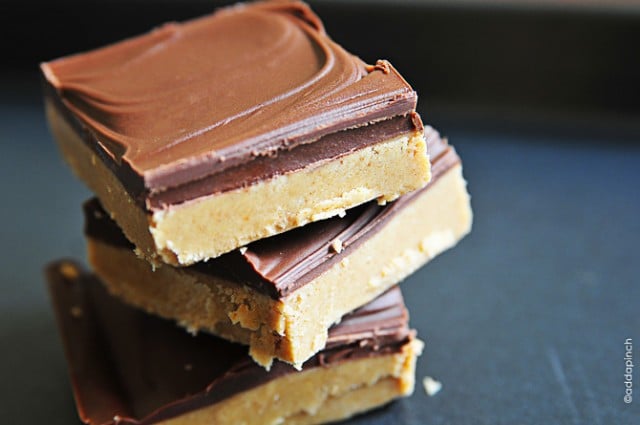 These peanut butter bars really make anyone feel pretty lucky though. They are so simple and quick to make, but taste like they were super hard to make. That's why Little Buddy and I have been making them together for so many years. Five ingredients is all it takes to make these babies.
These peanut butter bars are perfect for tailgating, game days, serving on your Halloween dessert table and for gifting and disappear quicker than you would ever imagine! We also love to make them on camping trips in the RV.
But, I remember that my Mama would sometimes make them just to tuck into my Charlie's Angels lunch box. When I'd open the lid to discover a peanut butter bar inside, I felt like the luckiest girl alive. There's just something about that whole peanut butter and chocolate combination that'll do that for you.
Here's my recipe for Peanut Butter Bars. I know you are going to love them!
Peanut Butter Bars Recipe
Peanut Butter Bars make a quick and delicious treat. This no-bake peanut butter bars recipe is ready in less than 30 minutes and makes between 20 and 36 bars.

Prep Time25 mins
Cook Time2 mins
Total Time27 mins
Servings: 20 -36 bars
Ingredients
1 cup butter melted (2 sticks)
2 cups graham cracker crumbs 2 sleeves ground to a fine crumb
2 cups confectioners' sugar
1 1/2 cups peanut butter
Peanut Butter Bar Chocolate Topping
1/4 cup peanut butter
2 cups chocolate chips
Instructions
Combine first four ingredients in a large mixing bowl until well-combined and smooth. Spread evenly into a 9x13 baking dish.

Combine ingredients for the peanut butter bar chocolate topping in a medium glass bowl. Melt in the microwave for 1 minute at a time on 80% power. Remove from the microwave and stir until smooth. Spread on top of the peanut butter bar base and place in the freezer for 15 minutes.

Remove from the freezer and cut into individual bars. The size will depend on the number of bars you'd like to serve (20-36 bars)
Nutrition
Serving: 1g
I wonder how he'd do picking lottery numbers.