Jump to Recipe • Print Recipe
Roasted Peach Parfaits are now one of my favorite desserts (and breakfasts) of the summer.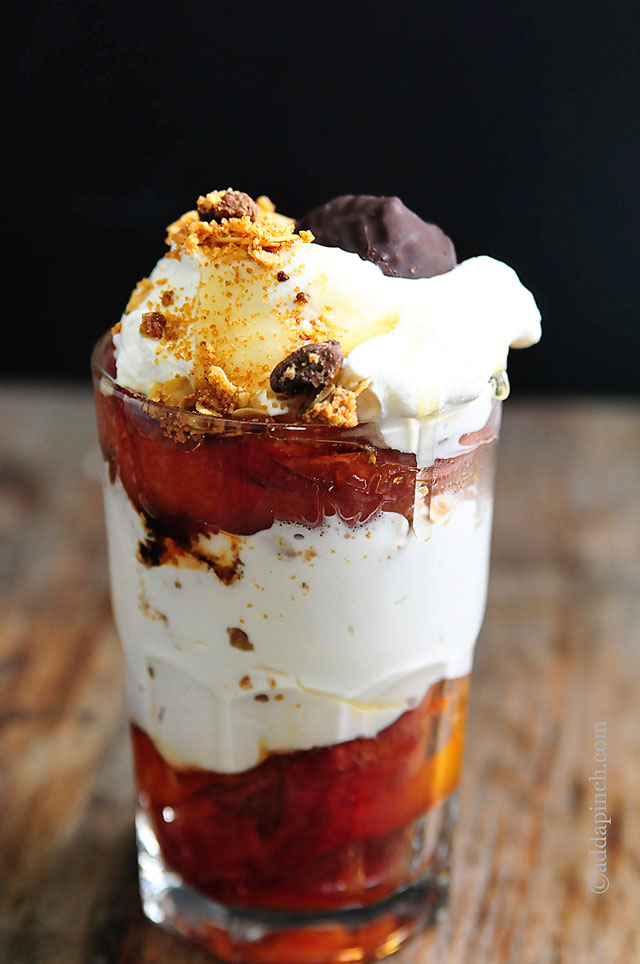 Yes, you read that right. I love these roasted peach parfaits for breakfast and for a light dessert. Filled with just the perfect amount of sweet, juicy peaches, layered with either greek yogurt or honeyed whipped cream, a drizzle of honey, and then a sprinkling of pistachio crumble and then another layer of all of that deliciousness is just hard to beat!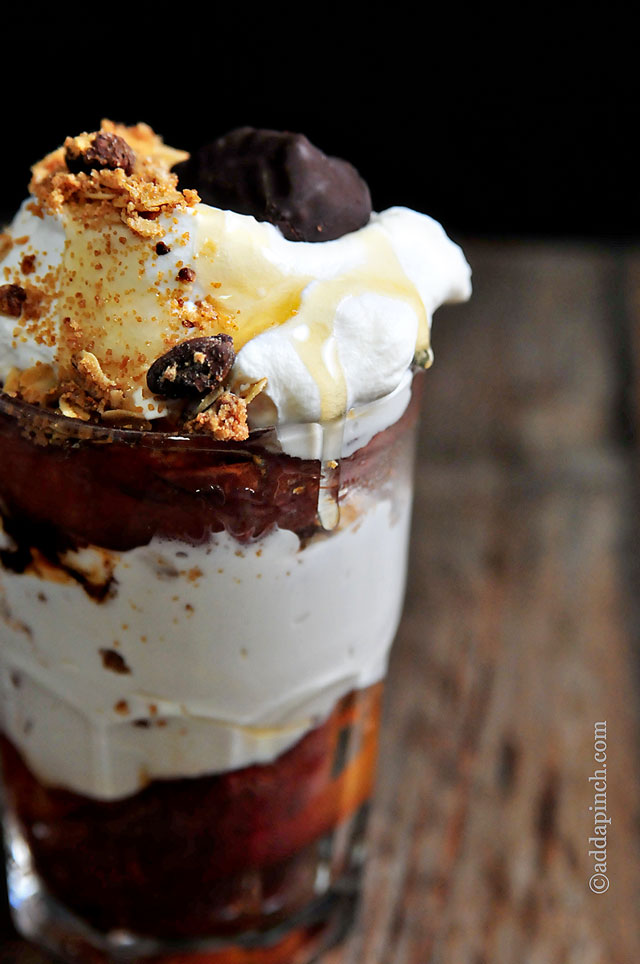 And luckily, they really couldn't be any easier to make!
You simply slice your peaches in half, remove the pit from the peach and discard it, and then place your peaches onto a kitchen sheet pan with the skin side down.
You'll want the indention portion of the fleshy part of the peach facing up so that it holds as much of that peach juice as possible while they are roasting.
I also like to sprinkle a bit of brown sugar onto the peaches right before I roast them just to enhance their sweetness, but if you'd rather not, you can certainly omit that step if you prefer.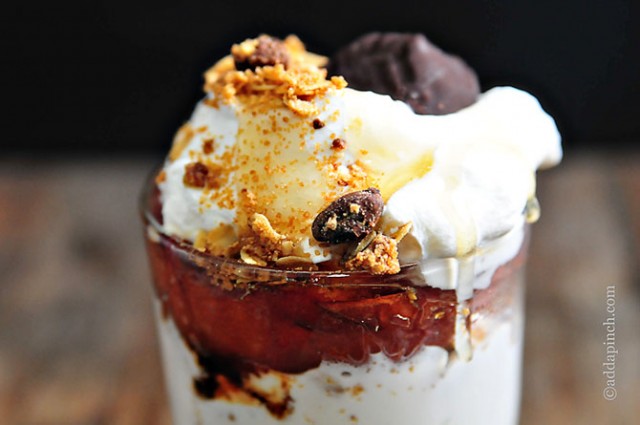 Once the peaches have roasted for about 10 minutes, I remove them from the oven and set them aside to allow them to cool down a bit, normally about 10 more minutes or so.
Then, I use my kitchen tongs and insert a peach into a glass, top it with the layers as described above and then layer it all again.
For these roasted peach parfaits photographed, they were topped with a Dole Banana Dipper from my Girls' Get Together. The little bit of dark chocolate and frozen banana definitely adds a whole other dimension to these parfaits, if you want to include those when you make them.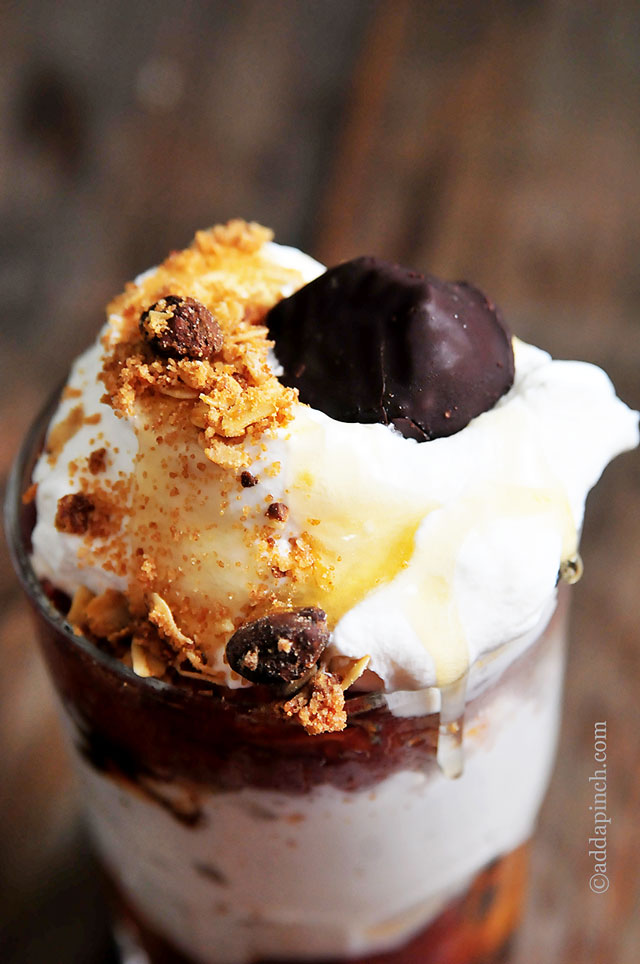 These roasted peach parfaits are perfect warm or chilled, making them a perfect make-ahead treat for breakfast for a lazy summer day or even those busy school mornings that are just around the corner.
If you do plan to make them ahead of time, just assemble these ahead of time and then place them into the chill until ready for them.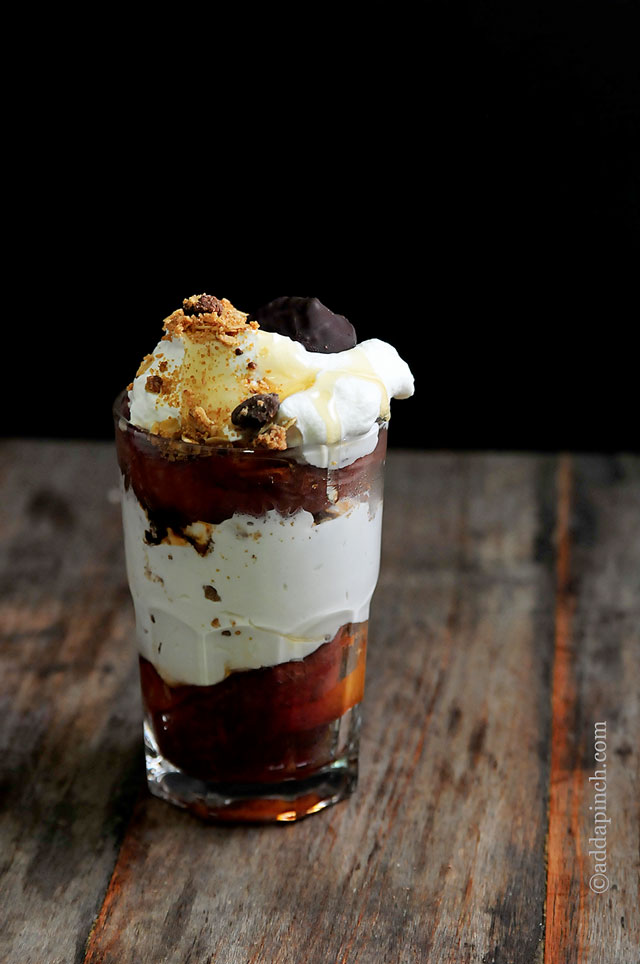 Here's my Roasted Peach Parfait recipe. I think your going to love it!

Roasted Peach Parfaits Recipe
Roasted Peach Parfaits make a delicious treat for breakfast or dessert! Get this roasted peach parfait recipe for a new family favorite!
Author:
Robyn Stone | Add a Pinch
Ingredients
6 peaches, halved
2 tablespoons brown sugar
2 cups greek yogurt
honey
Pistachio Crumble Topping
¼ cup all-purpose flour
¼ cup brown sugar, packed
3 tablespoons butter
½ cup quick-cooking oats
½ cup chopped pistachios
pinch salt
Instructions
Roasted Peaches
Preheat oven to 500º F.
Place peach halves onto a kitchen sheet pan with skin side down. Sprinkle each half of peach with brown sugar. Roast until peach halves have browned, about 3-5 minutes. Remove from oven and allow to cool slightly.
Crumble Topping
Preheat oven to 350º F.
Cut butter into flour and brown sugar with a pastry blender or two forks in a medium bowl. Stir in oats, pistachios and salt. Spread onto a small kitchen sheet pan and toast, about 10 minutes. Remove from oven and allow to cool.
To assemble peach parfaits:
Place one roasted peach half in the bottom of a parfait dish or glass. Top with about ¼ cup greek yogurt. Drizzle with honey and sprinkle crumble topping on top.
Serve immediately.
Enjoy!
Robyn xo