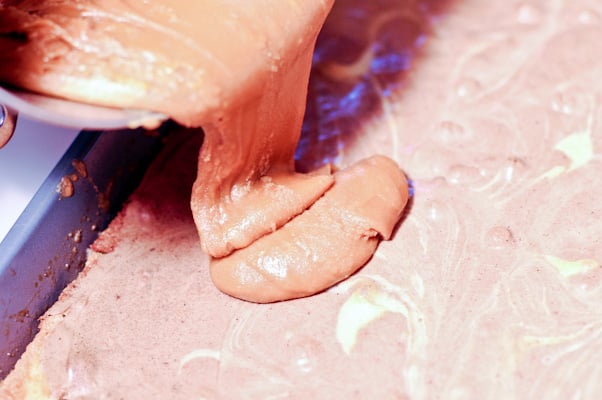 Yesterday I shared with you about my Mama's Chocolate Marble Squares. Well, I had lots of emails and requests for the recipe for the caramel icing to go along with it.
Have I ever told you that you are definitely my kind of people?
You most certainly are! There is nothing like fresh, homemade caramel icing to make the world go 'round.
Cause I really and truly think that it does.
Good caramel icing is an act of love. You truly put your heart and soul into making good southern caramel icing.
My Grandmother Verdie would stand at her stove for what seemed like hours swirling her pan to get the perfect "color" on her sugar. Her hands wrought with arthritis, she held the cast iron dutch oven as tightly as possible as she kept the rhythm of the caramel in her heavy pan. She never used a mixer to make her caramel icing, I always was amazed that she didn't. The time it had taken her to swirl her pan earlier seemed like seconds compared to watching her beat the icing by hand.
When I married, I learned that my mother-in-law also had a special recipe for a cake topped with southern caramel icing. She'd learned to make it from an aunt of my father-in-law's when she married into the family. She'd talk about how Aunt T would beat her icing by hand so that it would be just right. While her recipe was slightly different, Aunt T's and my Grandmother's method were still the same.
When Little Buddy turned one, I decided it was high time that I made a caramel cake myself. We were living with my husband's parents as we were building our house at the time. We'd invited all of our family to a dinner to celebrate the big day. I'd worked for weeks planning the menu, creating the perfect invitations, finding just the right color of light blue placemats to match a speck of blue in my mother-in-law's rug, and thinking about this cake.
It had to be perfect.
The icing had to taste just like the caramel icing from when I was a little girl carefully watching my Grandmother.
I set out to make the icing all by myself. I was determined not to call Grandmother Verdie to help me. The arthritis had even further ravaged her hands by now, but I knew she wouldn't let that stop her from trying to make it for me.
After three attempts, I finally had a caramel icing I could spread on Little Buddy's birthday cake. I felt like I had accomplished the world. I'd repeated the dance I'd watched so many times before, swirl and stir, swirl and stir, swirl and stir until I finally found just the right rhythm.
Here's how I make it.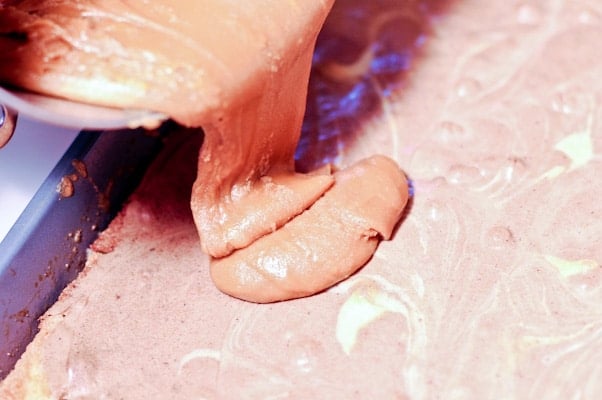 Southern Caramel Icing
Southern Caramel Icing goes perfectly with Southern Caramel Cake, cupcakes, brownies, and all sorts of other desserts. A Southern Classic.
Ingredients
2

cups

sugar

1

cup

buttermilk

1/2

cup

Crisco

1/2

cup

butter

1

teaspoon

baking soda
Instructions
Mix all ingredients in a 3-4 quart cast iron dutch oven and place over medium heat.

Swirl pan to keep ingredients moving in the pan.

Cook to softball stage 235º – 245º on a candy thermometer or when tested in a cup of cold water.

Remove from heat and beat with a wooden spoon until creamy and ready to spread. If using mixer, once your icing has reached the softball stage, whip the icing until it holds to the whisk when you stop the mixer.
Nutrition
Calories:
213
kcal
|
Carbohydrates:
26
g
|
Protein:
1
g
|
Fat:
13
g
|
Saturated Fat:
6
g
|
Polyunsaturated Fat:
2
g
|
Monounsaturated Fat:
4
g
|
Trans Fat:
1
g
|
Cholesterol:
17
mg
|
Sodium:
130
mg
|
Potassium:
22
mg
|
Sugar:
26
g
|
Vitamin A:
202
IU
|
Calcium:
19
mg
|
Iron:
0.02
mg
Nutrition information is automatically calculated, so should only be used as an approximation.
I hope you enjoy this recipe as much as my family does.
Enjoy!
Robyn xo