Chocolate Marble Squares Cake Recipe
This chocolate marble squares recipe makes a delicious, family-favorite cake recipe of marbled chocolate and yellow cake topped with homemade caramel icing!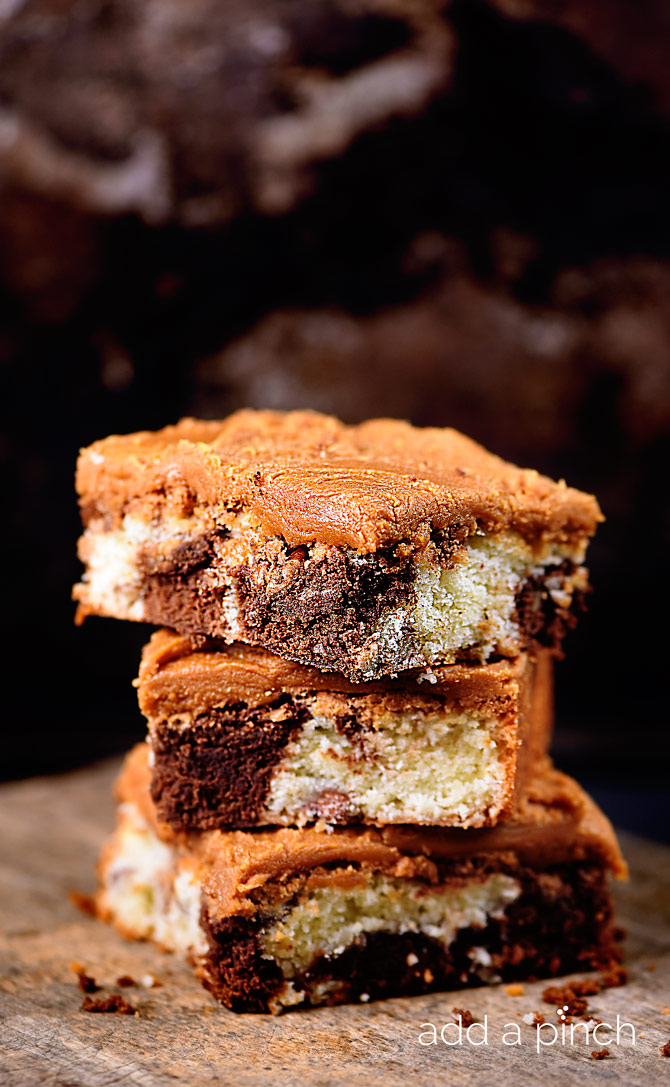 Growing up a special treat that Mama would make with my sister and me was her sheetcake recipe for Chocolate Marble Squares.
Being older, my sister was able to use the mixer to cream together the butter and sugar and then later, Mama would add in the eggs one at a time. I would impatiently rock from one foot to another waiting for my turn to have a hand at making these delicious bites of heaven.
Mama would let me help her prepare the pan for baking when my shifting from side to side got really out of hand.
Or maybe it was the deep sighing followed by, "when is it MY turn?"
Patience has never been my strong suit.
But the wait was totally worth it when Mama would let me be the one to combine the melted chocolate with part of the cake batter. Like magic, my little spoon quickly turned the yellow cake batter into gorgeous chocolate.
She would then spread the yellow mixture onto the baking sheet and drop large dollops of chocolate I'd just whipped up onto the top in regular intervals. It's now my turn again to give this dessert it's signature swirl.
Mama lightly guides my hand as I pull the butter knife through the chocolate and yellow cake to create the marbling or swirls you expect from these chocolate marble squares.
Mama would make the caramel icing and ask us all to step back as far as possible as she poured it on top of the chocolate marble squares. Again, patience has never been my strongest suit, so I beg for a lick of the spoon not remembering the hot caramel is molten and will scald on contact with my finger or tongue.
Luckily for me, Mama always remembers.
Even better, Mama shared this favorite recipe with me so that Sam and I could now enjoy making it together.
Let's just saying the famous foot shift exercise still works wonders for being asked to help make this delicious dish!
It tastes just like I remember, too.
Here's how I make Mama's chocolate marble squares cake. It is absolutely amazing!

Chocolate Marble Squares
This Chocolate Marble Squares cake recipe makes a delicious cake recipe of marbled chocolate and yellow cake topped with homemade caramel icing!
Author: Robyn Stone | Add a Pinch
Serves: 12
Ingredients
1 cup butter, softened
2 cups all-purpose flour
2 teaspoons vanilla extract
2 cups granulated sugar
4 eggs
½ teaspoon salt
1 cup chopped pecans (optional)
2 ounces unsweetened chocolate, melted
Instructions
Preheat oven to 350º F. Prepare 9x13 baking pan with nonstick baking spray or by lightly buttering and flouring.
Cream together butter, sugar, and vanilla until creamy with an electric mixer. Add eggs one at a time, beating well after each addition. Add flour and salt, mix well. Stir in nuts, if included.
Divide batter in half into two separate medium bowls. Add cooled chocolate to one bowl and stir until well combined.
Pour yellow cake mixture into the prepared baking dish and spread evenly with an offset spatula. Add dollops of chocolate mixture alternately across yellow mixture. Run knife through batter to marbleize. Bake 40-45 minutes. Remove from oven and allow to cool completely.
Add Southern Caramel Icing or your favorite caramel icing.

This sheet cake is perfect for making when you have company coming by, are headed to a family reunion, or a fun family outing. I think it will quickly become one of your family's favorite cakes, too.

 

Updated September 2015. Originally published June 2011.