Birthdays are a big deal in my house. They always have been. From the time I was a little girl, I started planning my birthday before Christmas (my birthday is in January).
Now, I've somewhat transferred that to planning my son's birthday and my husband, bless his heart, falls somewhere in there, too.
And this year, I wasn't big on planning for my husband's day. I'm not sure why I wasn't. I just didn't do much at all. As a matter of fact, you could say I didn't do enough at all.
And you'd be right.
You could even say I was a pitiful wife for not doing more for him.
And you'd be right again.
So I decided to pull out all the stops and surprise him with a gorgeous birthday cake. He has three favorite cakes — strawberry, caramel, and coconut.
I decided on coconut for this year. It just sounded like a good surprise cake.
Here's how I made it.
I started with my favorite Butter Cake recipe and then dolled it up with an over the top delicious Southern Coconut Frosting.
Can you say to die for?
Oh my word!!!
Southern Coconut Cake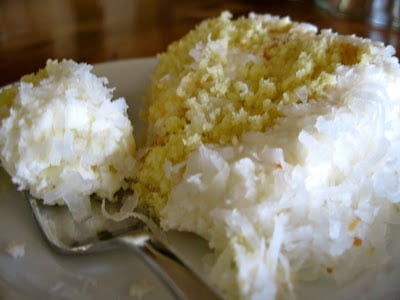 A simple recipe for coconut frosting that will take your cake over the top!
Ingredients
Butter Cake
3

cups

all-purpose flour

2

teaspoons

baking powder

1

teaspoon

baking soda

pinch

salt

1

cup

butter

softened

2

cups

sugar

4

large

eggs

room temperature

1

cup

buttermilk

room temperature

2

teaspoons

vanilla
Southern Coconut Frosting
1

cup

butter

softened

8

cups

powdered sugar

1

cup

milk

1 1/2

teaspoons

vanilla

1

tablespoon

coconut extract

or coconut rum

1

(14-ounce) bag

unsweetened coconut flake
Instructions
Butter Cake
Preheat oven to 350 degrees.

Prepare 3 9-inch cake pans with shortening and flour.

Combine flour, baking powder, baking soda, and salt with a whisk in a large bowl. Set aside.

Cream butter until fluffy and then add sugar. Cream together for about 8 more minutes.

Add eggs, 1 at a time, and cream together after each.

Add flour mixture and buttermilk, alternately, beginning and ending with flour. Combine each addition of flour and then turn mixer on high to add air into the batter.

Add vanilla and beat well. Turn mixer on high once vanilla has been incorporated for about 10 seconds to lighten batter.

Divide among pans and bake for 25-30 minutes until set.

Turn out of pans onto cooling racks and allow to cool completely.
Southern Coconut Frosting
Whip butter until it reaches light and fluffy stage.

Slowly add sugar, beating well after each addition.

When all sugar has been incorporated, the butter and sugar will look like crumbles.

With mixer set on low speed, add in milk.

Then, beat on high speed for few minutes.

Add vanilla and coconut flavorings and beat on high speed until the frosting reaches a spreading consistency.

If it is too dry, add milk a few drops at a time.

If it is too wet, add powdered sugar a few sprinkles at a time until it reaches the correct consistency.

Frost cake and then sprinkle with coconut flakes.
I'm hoping he didn't notice all of the other stuff I didn't do for his birthday.
And… I sure hope he remembers mine!
Enjoy!
Robyn xo