A few years ago, my mother-in-law served delicious spicy creamed steak for dinner one night. The combination of flavors in the dish of steak, garlic, pepper, basil, ginger, cheese, and then the signature bite of dill pickles was amazing. Since then, creamed steak is one of the top recipes my husband requests I make for dinner.
It's a simple meal to make, hearty and comforting.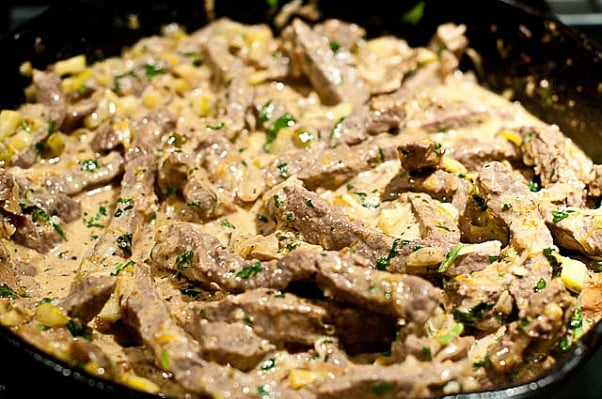 Here's how I make it.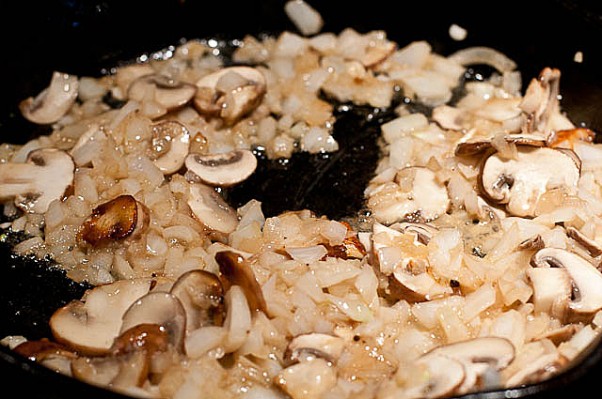 Melt butter and brown mushrooms and onions.
I love the way my kitchen smells when I'm cooking mushrooms and onions. And it always draws Little Buddy out of whatever he's into to come see what we're having for dinner.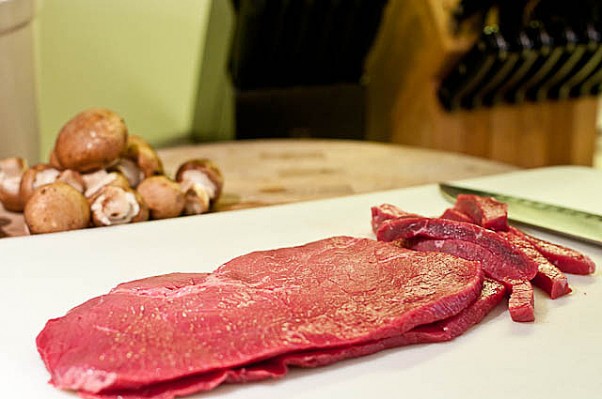 Slice steak into long strips. You can really use any cut of beef that you'd like in this recipe, but honestly, it works well with the thin cuts of top round steak. I like to stack the beef and slice it one time. Major time saver.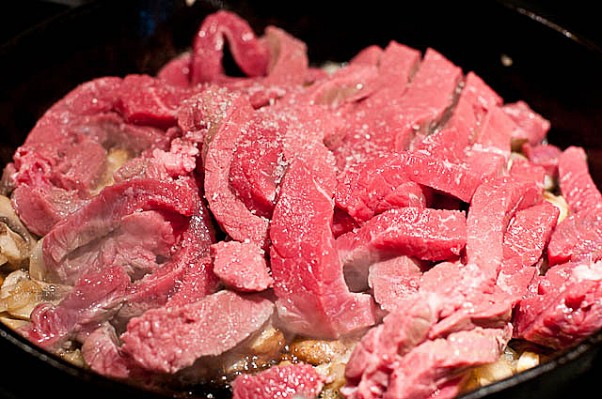 Put your steak strips into the skillet with your onions and mushrooms. Add the salt to the top of the meat and combine.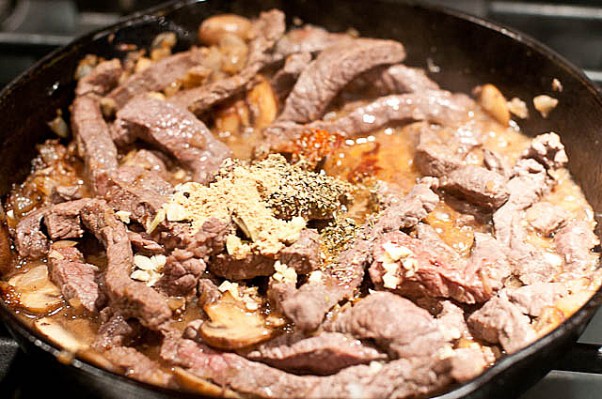 Add in all of your spices. Yum, this is where the spicy comes in for this dish! If you like spicy meals, you can go all the way up to 1/2 teaspoon of cayenne pepper and still enjoy it. Believe me, my husband loves spicy and I've tried it as far as I could go!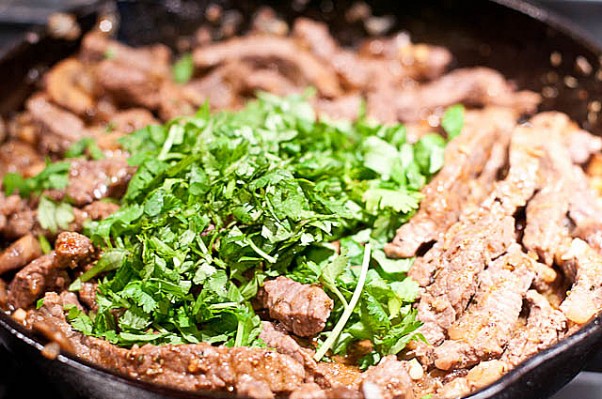 Throw in your chopped parsley and basil and combine. Then add in heavy cream and cheeses. Give it a quick stir, reduce to a simmer, and cover the skillet for about 10 minutes to let it all just have a good ole time in that skillet.
This is when the magic happens!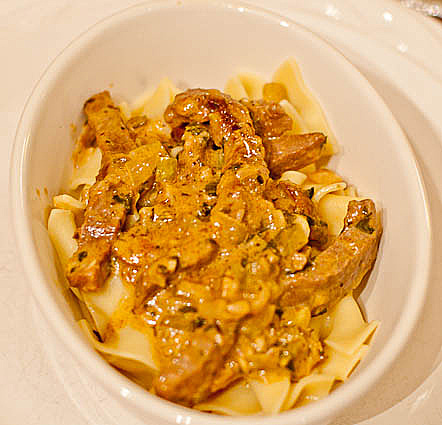 Serve warm over egg noodles or rice. You really won't need to worry about how to refrigerate or freeze spicy creamed steak. You won't get the chance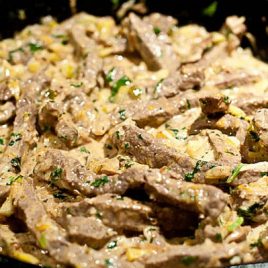 Spicy Creamed Steak
A family-favorite recipe for spicy creamed steak.
Ingredients
4

tablespoons

butter

2

pounds

top round sirloin steak

1

medium onion

chopped

2

cloves

garlic

minced

2

teaspoon

parsley

chopped + garnish

1/4

teaspoon

cayenne pepper

1/2

teaspoon

black pepper

1/4

teaspoon

salt

1

tsp

dried oregano leaves

2

tsp

basil

chopped

1/2

teaspoon

ginger

1

cup

heavy cream

1/2

cup

Parmesan cheese

shredded

1/2

cup

cheddar cheese

shredded

1/2

cup

mushrooms

thinly sliced

2

large dill pickles

minced
Instructions
Melt butter in large skillet over medium heat.

Brown onion and mushrooms until tender.

Add steak strips and salt and cook until steak is cooked throughout, about 10 minutes.

Add all spices and combine.

Add all other ingredients and reduce heat to simmer and cover.

Simmer 10-15 minutes, until reduced.

Serve over egg noodles or rice.
Enjoy!