The perfect cookie dough truffles are so easy to make and perfect for entertaining or enjoying as a treat.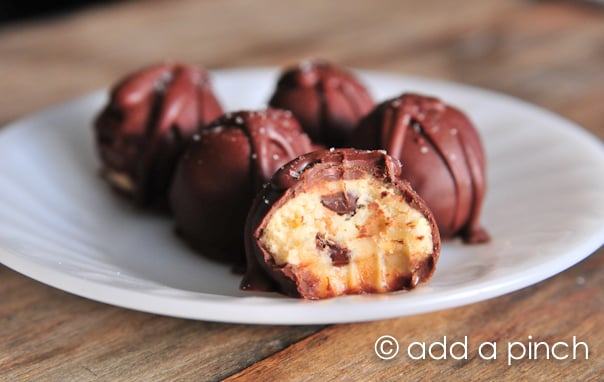 Cookies hold a definite place of distinction around my house – from our chewy chocolate chip cookies to out of this world peanut butter cookies and let's not even think about forgetting my absolute favorite cookie dough dip. They all are our favorites.
So, I decided I'd combine some flavors from our chewy chocolate chip cookies and my chocolate chip cookie dough dip to make the perfect cookie dough truffles recipe.
Let me just go ahead and tell you now, when you pop one of these babies in your mouth, you immediately feel like a kid again sneaking a little bite of the cookie dough.
Err… well… I at least did.
The best part? The dough doesn't include any eggs, so I made a huge batch of them for my Mama since she sometimes is more sensitive to eggs than the rest of us.
I left a few out for all of us to enjoy and then boxed the rest up for her to keep in her freezer so she could enjoy them whenever she needed a little nibble of cookie dough truffles.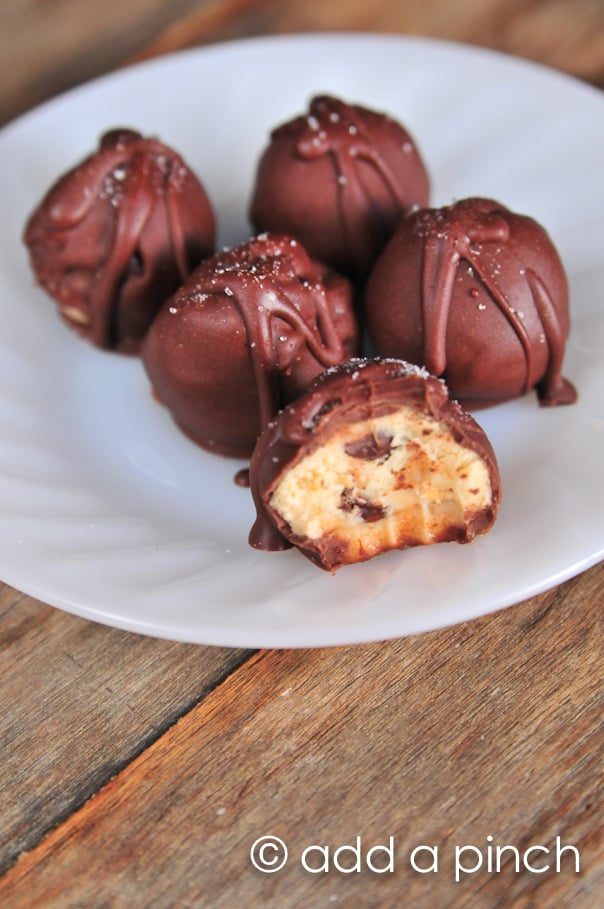 Here's how I make my cookie dough truffles.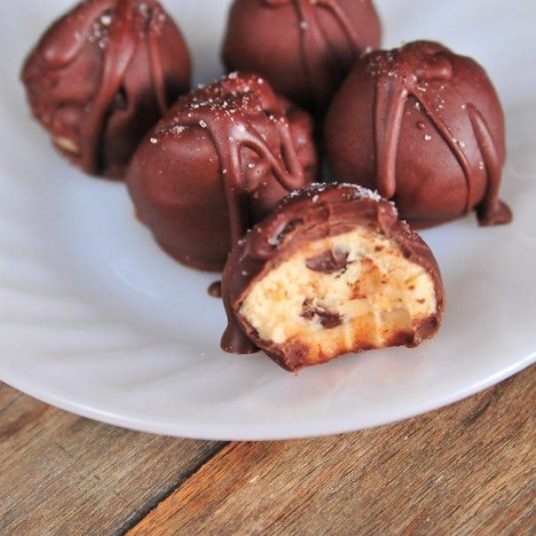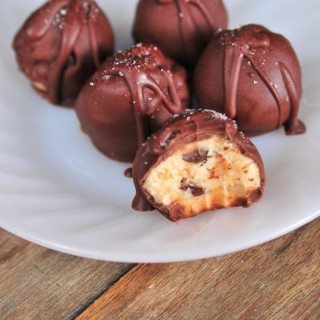 The Perfect Cookie Dough Truffles Recipe
The perfect cookie dough truffles are so easy to make and perfect for entertaining or enjoying as a treat.
Ingredients
1/2

cup

butter

3/4

cup

brown sugar

1

teaspoon

vanilla extract

1 1/2

cups

all-purpose

1/2

cup

milk chocolate chips

1/2

cup

toffee bits

1/4

cup

rolled oats
For the chocolate coating:
1

cup

milk chocolate chips

1

tablespoon

shortening

sea salt
Instructions
Cream together butter and brown sugar until light and fluffy. Add in vanilla and combine.

Add flour and sweetened condensed milk and combine well.

Mix in chocolate chips, toffee bits, and oats using a wooden spoon until thoroughly combined.

Scoop teaspoon sized balls onto a parchment paper lined baking sheet.

Place in the refrigerator or freezer for about 15 minutes until firm.

Place chocolate chips and shortening in a microwave safe bowl and heat on 70% power for about 1 minute to melt. Stir until smooth and glossy.

Remove baking sheet from refrigerator or freezer and dip each ball into the melted chocolate with a spoon. Hold the dipped truffle over the melted chocolate bowl for a few seconds and gently tap on the side of the bowl to allow the excess chocolate to flow back into the bowl. Place the dipped truffle back onto the parchment paper to allow to cool and harden.

Repeat until all have been dipped.

Using your fork or a spoon, drizzle little bits of melted chocolate over the top of truffles.

Sprinkle with sea salt.

Set aside to allow to thoroughly harden or place into the freezer for at least 15 minutes to harden.

To eat, remove from the freezer for a few minutes to allow to thaw a bit.

To freeze for up to a month, remove baking sheet from the freezer and place frozen truffles into an airtight container, date the container, and return to the freezer.
Nutrition information is automatically calculated, so should only be used as an approximation.
I hope you enjoy these as much as we do.
Love ya,
Robyn xoxo