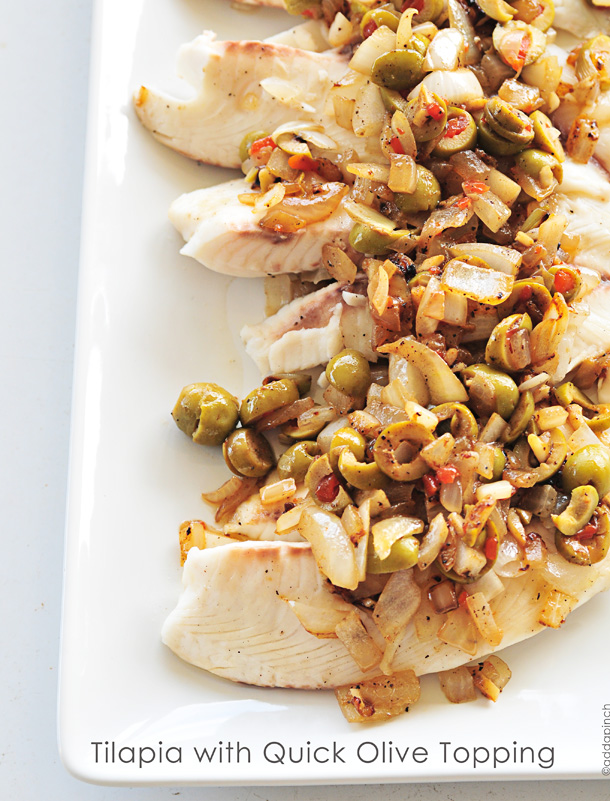 I was craving olives yesterday something terrible. I'm sure there has to be an article somewhere on the internet that would say I'm missing a vital nutrient or mineral or salt or exercise or water or something like that, but I think I was just missing olives. The green ones stuffed with pimentos.
Have you ever tried to open a jar of those fellas?
I think they have the strongest robot in all the land screwing those tops on their jars. I banged and banged, ran the jar under hot water, twisted and turned, made terrible faces, and even stuck my tongue out in an all out effort to get into those babies. Luckily, just as I was about to take it outside to just knock the top of with brute force, my darling husband arrived home from work to rescue me from my olive situation – after he'd laughed for about 10 minutes straight.
Then, we decided that I really do need to work on my arm strength after my 10 year old son said he could have easily opened the jar for me but was just having way too much fun watching me.
Men.
After an olive or two, I decided I should just toss them into supper. That way I'd surely answer my craving and it would make a great topping for our fish.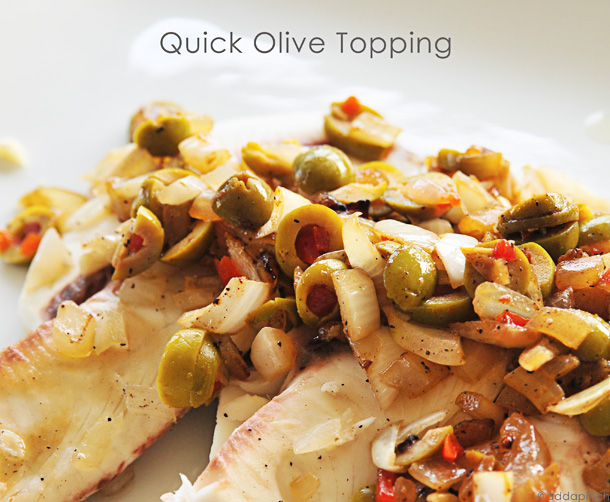 Here's how I did it.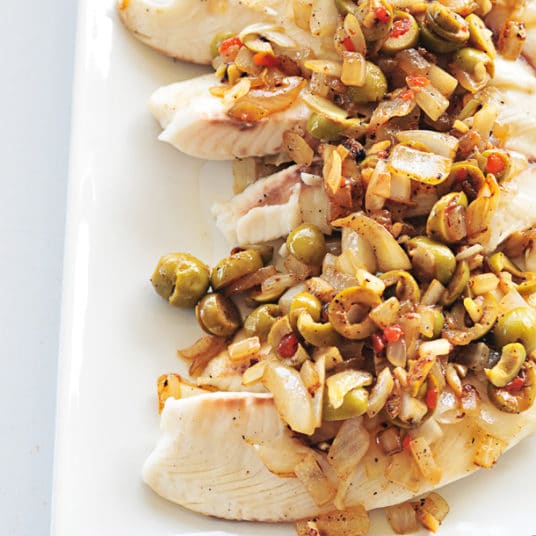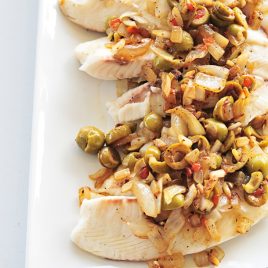 Tilapia with Quick Olive Topping Recipe
Tilapia with Quick Olive Topping is ready in minutes and perfect for a quick and easy weeknight supper.
Ingredients
2

tablespoons

butter

1

tablespoon

olive oil

4

tilapia filets

1/2

onion

diced

2

cloves

garlic

chopped

1

cup

olives

chopped
Instructions
Melt 1 tablespoon butter in a large skillet over medium-low heat. Drizzle in olive oil and add tilapia to the skillet. Cook until opaque throughout and then turn once, about 3-5 minutes. Cook for another few minutes and remove to a serving dish.

In the same skillet, add onions and garlic. Saute until the onions are translucent, about 5 minutes. Add in chopped olives and cook for another 2-3 minutes. Remove from the skillet and spoon on top of the tilapia or serve separately.
If you like olives, you'll love it.
Enjoy!