Watermelon Salad with Watermelon Vinaigrette Recipe
Watermelon Salad with Watermelon Vinaigrette? Yep, I have a lot of watermelon I have to use. And quick.
You see, I bought a huge watermelon before our RVing trip with great plans of cutting it and enjoying it one warm afternoon while we were camping at OshKosh. I just knew that it would make for the perfect afternoon treat when we came back to the RVs after a long morning seeing all the sights we could pack into one morning. We'd slice it open and take big juicy bites as the airplanes were buzzing this way and that way for the afternoon airshow.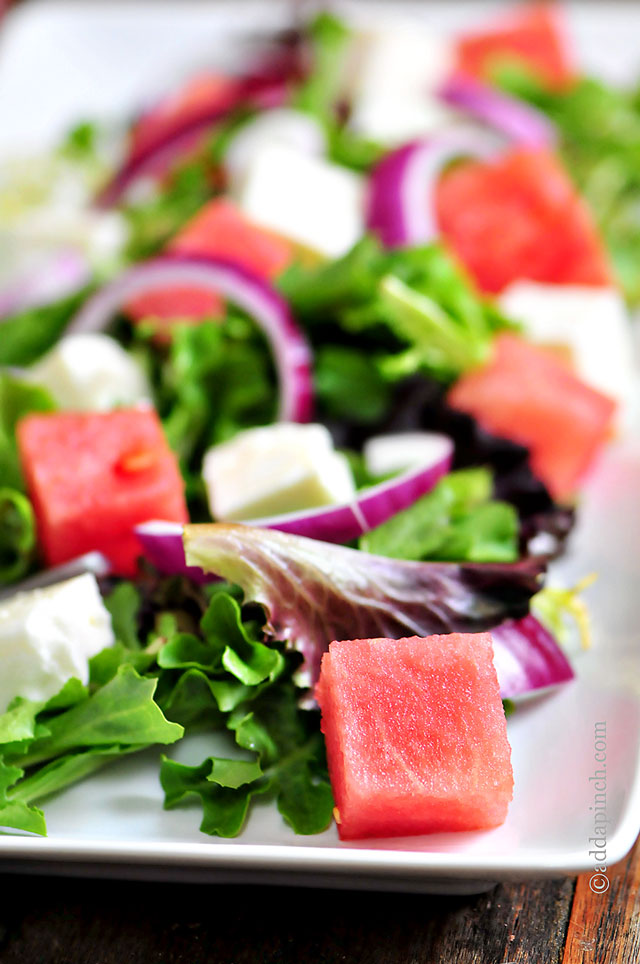 But then, reality happens and we wind up staying at the airfield to watch the afternoon airshows and ice cream seemed like a quicker afternoon treat than going all the way back to the RV to slice open the watermelon.
Every day during our trip, I'd glance over at the big watermelon that I would end up moving from one sofa to the other, then to the countertop, and then back to the sofa for safe traveling home.
I'd had such great plans for that dear watermelon when I asked Little Buddy to find us the very best one in the local produce stand before we left home.
So, I knew I had to do this sweet watermelon justice. He needed to be included in something very special, not just chopped up and tossed into my water like I do so often. This watermelon needed very special attention.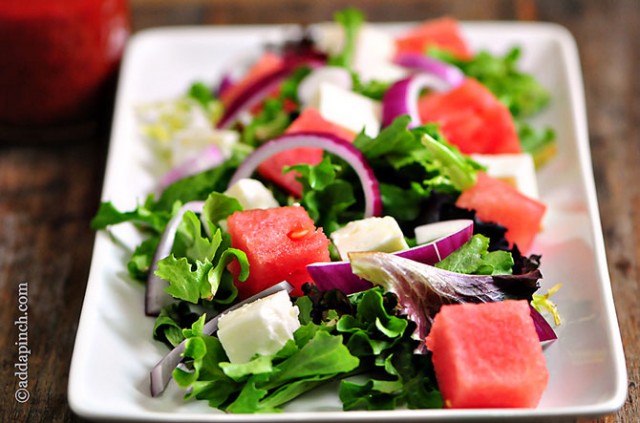 And, he didn't let me down.
As I made this watermelon salad, I knew the flavors of watermelon, feta, and red onion would go perfectly together with a spring mix salad. But, my dilema was what type of dressing to use. A simple oil and vinegar would've been just fine, but then I had the bright idea of making a vinaigrette out of more of the watermelon to really bring home the watermelon flavors.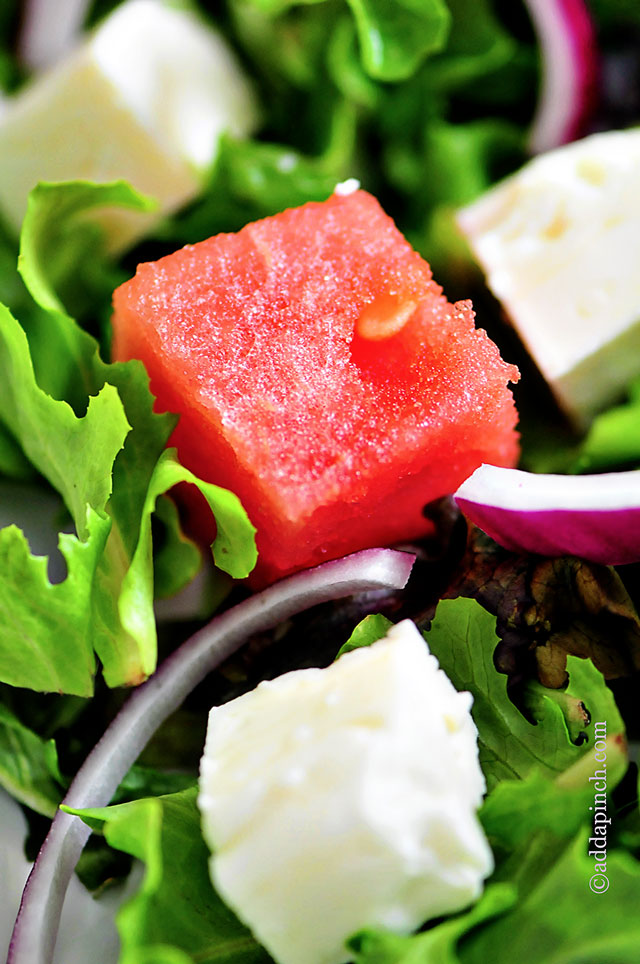 Sweet, tangy, creamy, spicy and crunchy. This salad has it all.
I'm kinda glad my watermelon made the full journey to OshKosh and back. Otherwise, I would've missed out on this fabulous salad.
Here's my recipe for a Watermelon Salad with Watermelon Vinaigrette. If you have a watermelon just begging to be used, you might want to give this a try. It is soooooo good.

Watermelon Salad with Watermelon Vinaigrette Recipe
Watermelon Salad with Watermelon Vinaigrette makes a delicious summer salad recipe.
Author: Robyn Stone | Add a Pinch
Serves: 6
Ingredients
For the Watermelon Salad
2 cups watermelon, cubed
2 cups spring mix salad greens
1 (10-ounce) package Feta cheese, cubed
½ red onion, sliced
For the Watermelon Vinaigrette
½ cup watermelon
¼ cup honey
1 tablespoon apple cider vinegar
1 tablespoon Dijon mustard
½ cup extra-virgin olive oil
Instructions
For the Watermelon Salad
Add watermelon, salad greens, cheese, and red onion to a large bowl and toss to combine. Alternately, layer on a large platter for serving.
Serve with Watermelon Vinaigrette or another sweet and tangy dressing.
For the Watermelon Vinaigrette
Add watermelon pieces to the container of a blender. Blend until pureed. Then, add honey, apple cider vinegar, and mustard to container. Blend on low speed until well-combined. With the lid of the blender container removed, slowly add olive oil while the blender is on low speed. Return the lid to the blender and increase the speed to medium to completely blend. Remove from blender and pour into a container for serving.