Watermelon water is the perfect refreshing drink to serve during the summer when entertaining for picnics, showers, BBQs, and just because it is delicious!
Okay, I have a confession. I can not get used to drinking plain water. I know I should, it's hydrating, providing all that we need if we drink enough. However, I'm seldom ever able to finish an entire eight-ounce glass of water unless there is some flavor happening in the glass.
Now, I'm about to digress just a little bit. Bear with me. There is a point.
I think.
Every time I go to the salon/ beauty shop/ hair dresser/ whatever you want to call it, one of the first things I am offered is something to drink. Water, a soft drink, sometimes lemonade or tea. I always opt for the soft drink, sometimes diet sometimes not, unless there is tea or lemonade. I've never, not once chosen water.
Well, a while back, I mentioned that I sure wish I could drink water but I just couldn't handle the lack of flavor.
Everyone in the salon seemed to whip their heads around, some with a twisty towel turbans around their hair, some with shiny foil making their hair stand on end, and other in various states in their beautification process, to stare at me with their mouths agape.
Immediately, the questions began about why I didn't like water, had I tried city-water, well-water, county-water, this bottled-water, that bottled-water, etc. It made my head spin a bit to be honest.
Finally, my hair dresser leaned down and said, "I'm not a fan either."
I'm not sure if she really doesn't like it or if she just said that to make me not feel like the wicked witch for not liking something so essential to our health and well-being.
Whatever the answer, I was thankful for her confession.
Okay, so now I'll fast-forward to my next visit to have my hair trimmed and my sparkly roots handled.
As I walked into the salon, I noticed a large dispenser sitting on top of a stand in the waiting area. My hairdresser's assistant came hurrying out to me and said, "we made something you are going to love."
Within seconds she was back handing me a cup filled with a pink-ish liquid and watermelon chunks floating throughout.
In one sip, I was hooked.
Watermelon water has now become one of my favorite ways to get my water in each day.
I think the best part is that there is a little snack at the bottom of each cup when you finish!
Here's how I make it.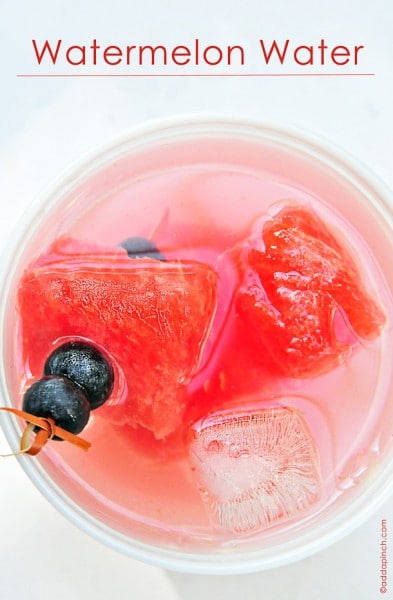 Watermelon Water Recipe
Watermelon water is the perfect refreshing drink to serve during the summer when entertaining for picnics, showers, BBQs, and just because it is delicious!
Ingredients
1

whole seedless watermelon

1 1/2

gallons

cold water

ice
Instructions
Cut watermelon flesh into small chucks. Add to the bottom of a large, 2 gallon drink dispenser.

Add cold water, about 1 1/2 gallons, to fill the dispenser.

Serve with ice.
Nutrition
Calories:
16
kcal
|
Carbohydrates:
3
g
|
Protein:
1
g
|
Sodium:
9
mg
|
Calcium:
5
mg
Nutrition information is automatically calculated, so should only be used as an approximation.
Watermelon water makes a delicious, refreshing drink to serve when entertaining, too. Great for picnics, BBQs, and especially baby and wedding showers. Make a pitcher to serve at your next event. I feel sure it will go quickly!
Who knows, there may be someone there just like me that needs a little pep in their water, too!
Enjoy!