Sharing our Weekly Meal Plan with make-ahead tips, freezer instructions, and ways to make supper even easier!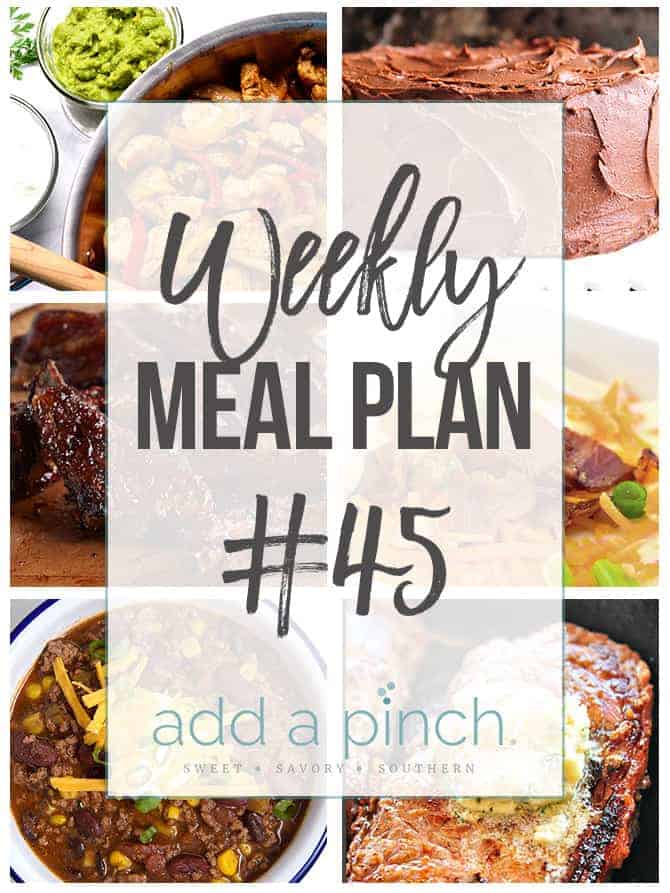 Saturday: Eat Out with Sam's friends for his birthday ( a little early!) (and Best Chocolate Cake for dessert)
Sunday: Sticky Molasses Ribs + Buttermilk Mashed Potatoes + Apple Raisin Slaw (from the Add a Pinch Cookbook)
Monday: Barbecue Nachos (Leftover Makeover from Add a Pinch Cookbook)
Tuesday: Halloween Soup Buffet (Slow Cooker, Make Ahead)
Wednesday: Leftovers
Thursday: Chicken Fajitas + Restaurant Style Salsa + Cilantro Lime Rice (30 Minutes)
Friday: Skillet Steaks + Perfect Baked Potato + Homemade Salad (Make Ahead)
MEAL PLAN TIPS:
Saturday:
Sam's celebrating his birthday with a bunch of his friends tonight and he wants to eat out. But afterwards, you know this mama will have birthday cake!
Best Chocolate Cake: Since I'll be presenting at the Country Living Fair in Atlanta and signing cookbooks on Saturday, I'll make this family favorite cake on Friday afternoon. I'll keep it covered under my cake dome until Sam's birthday festivities with his friends tonight.
Sunday:
Sticky Molasses Ribs: What an easy and tasty recipe from the cookbook! I've already made the sauce and have it in a container in the refrigerator. The ribs are in the freezer and I'll let them thaw overnight Saturday night. On Sunday morning, I'll add the ribs and sauce to the slow cooker and go on about our day.
Monday:
Barbecue Nachos: These nachos taste absolutely amazing and are made from leftover Sticky Molasses Ribs from the night before – a Leftover Makeover as I call it in the cookbook! Delicious and easy!
Tuesday:
Halloween Soup Buffet: We've always loved this Halloween meal of multiple kinds of soups to enjoy. Many of the soups I have suggested are either slow cooker or are ready in 30 minutes – and all are simple to make and so scrumptious. You can make the soups that aren't cooked in the slow cooker ahead and reheat/keep warm in slow cookers before serving.
For the slow cooker soups, you can prepare all the ingredients for each and place in the slow cooker inserts. These can go in the fridge the night before and then placed in the slow cookers the next morning. Prepare all the trimmings for the soups and place in sealed containers in the fridge ahead too. This Halloween Soup Buffet is one of my favorite traditions for this day!
Thursday:
Chicken Fajitas: A definite quick and easy go-to recipe that takes just 25 minutes from start to finish. If you want to speed things along even more, I like to go ahead and prep the veggies the night before.
Friday:
Skillet Steaks : We love grilled steaks, but there's just something magical about this steak seared in a hot skillet! I like to season mine a good bit ahead of time to heighten the flavor of the steak before I cook it.
Perfect Baked Potatoes: I'll scrub and prep the potatoes while my oven preheats and have them ready to pop in the oven as soon as it's heated.
House Salad: I keep salads and homemade dressings made ahead and in the refrigerator, so this makes adding a salad to supper so easy!
I hope you all have a wonderful week!
Robyn xo