The perfect baked potato recipe for crispy, golden skin and a fluffy, tender inside. Learn how to make the best baked potatoes every time!
Looking for more favorite potato recipes? You'll love my Grandmother's Potato Soup, Scalloped Potatoes, Mashed Potatoes, and Sweet Potato Casserole, to name a few!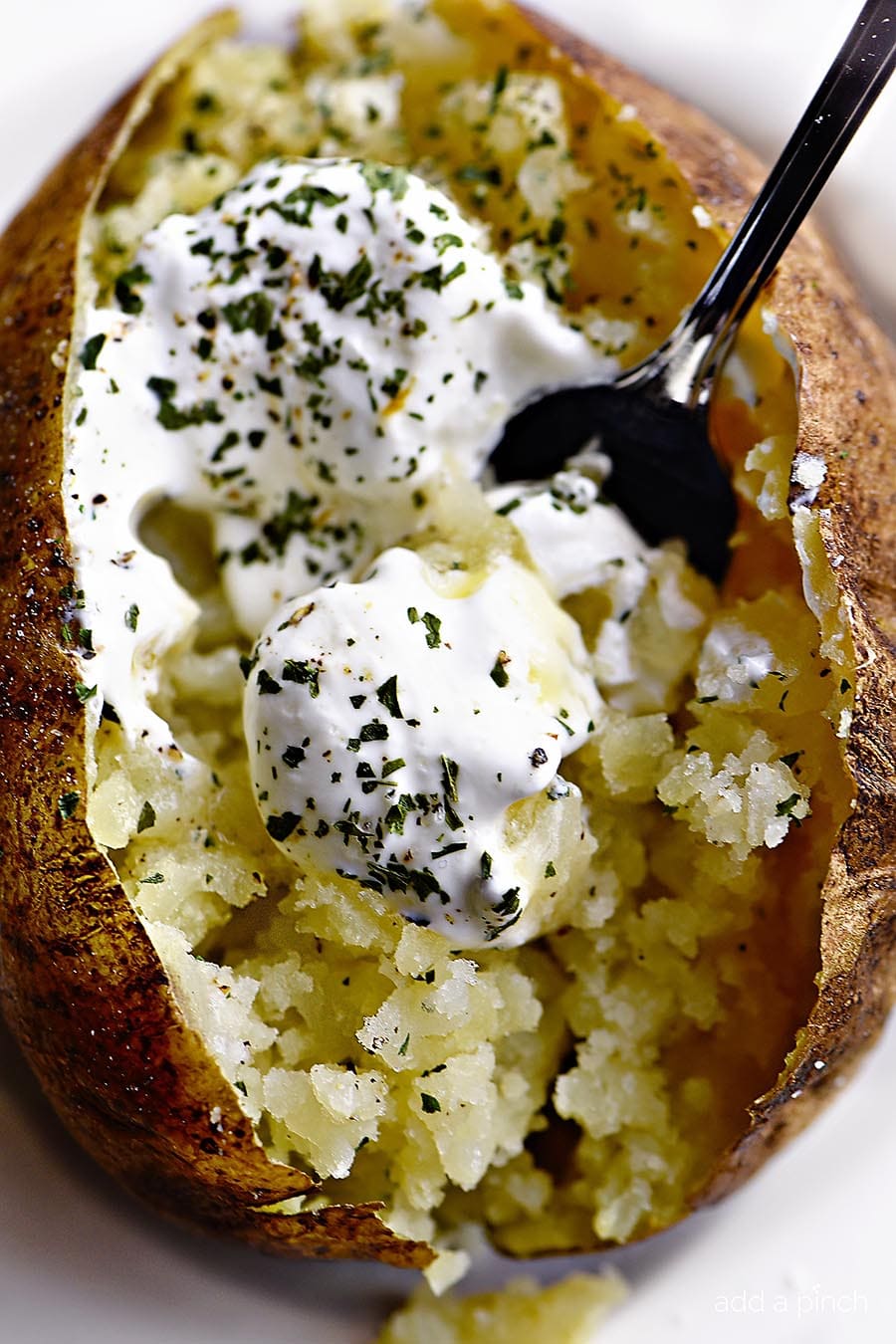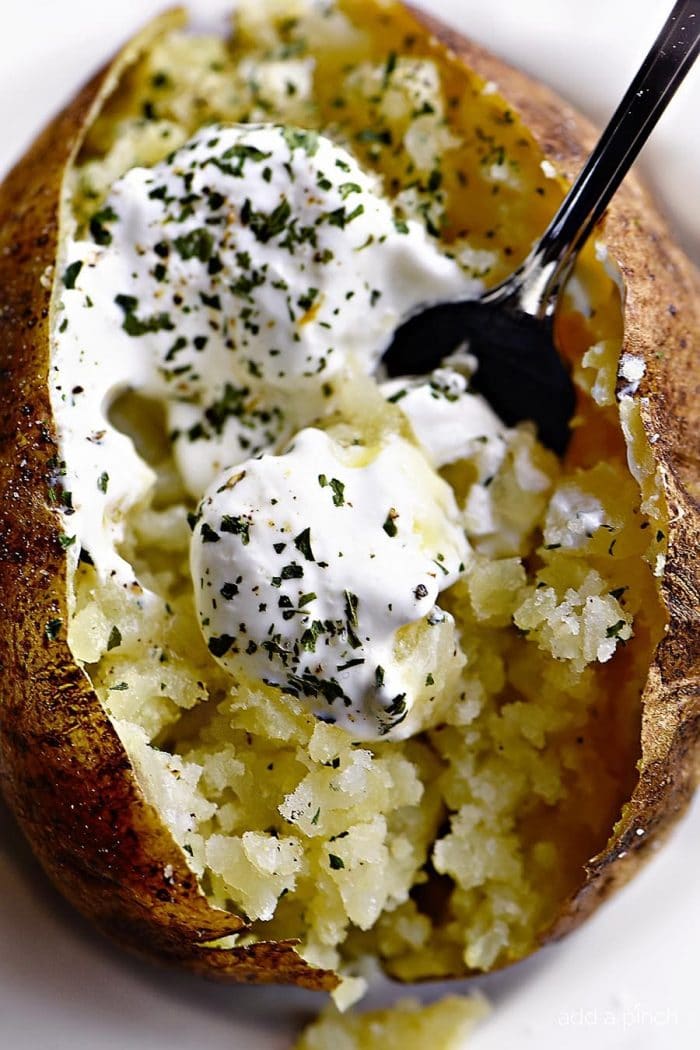 There is nothing like a big, fluffy, perfect baked potato, and for years I thought they were only possible at my favorite steak restaurant. You know, the ones with perfectly crisp skins and the fluffiest insides? Yep, those.
Finally, after years of trying to get mine to turn out just as good as theirs, I nailed it! I've not looked back since because this makes the best ever! Thankfully, they really couldn't be easier to make, and it goes perfectly with my favorite steak recipe!
Why I Love This Recipe
Delicious – So tender and fluffy, just like those at top-notch steakhouses!
Easy – Simple to prep for baking to enjoy as an easy weeknight supper side dish or for entertaining.
Versatile – These go with many other dishes and are delicious topped with chili for a quick, casual meal.
How to Make Baked Potatoes
There are just a few ingredients and equipment that you'll need to make the easiest and best potatoes I've ever tasted!
To make these potatoes, you'll need the following ingredients:
Ingredients
Russet Potatoes – I always choose this type of potato since they have such soft and tender insides, making for a perfect baked potato.
Olive Oil – This will help to make the potato crispy on the outside and so flavorful!
Salt – I like to use sea salt or another coarse salt for the best-tasting results.
Equipment for the Best Baked Potatoes
You will need the following items to make your baked potatoes. These result in the most delicious, crispy, and perfect baked potatoes: foil, a fork, a large baking sheet, and a wire rack.
Step-by-Step Instructions
I like to gather all of my items together while my oven is preheating so that my potatoes are ready as soon as the oven is ready to go!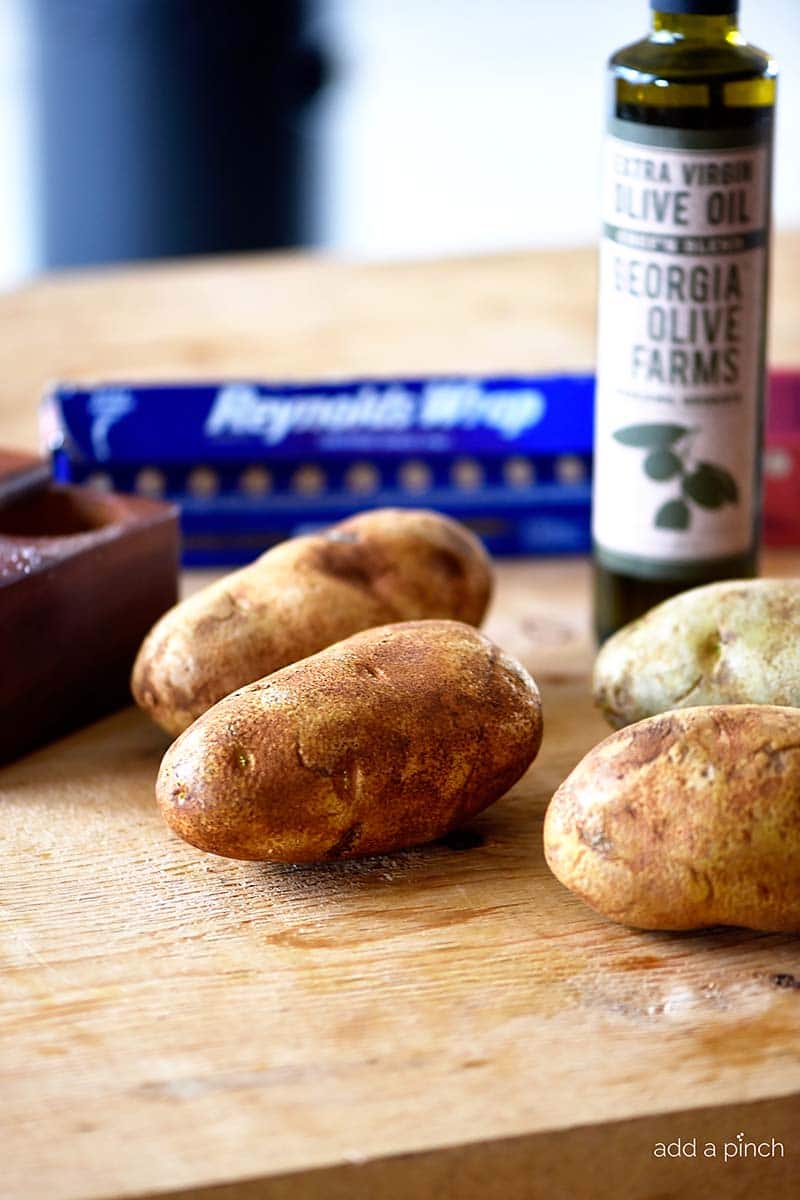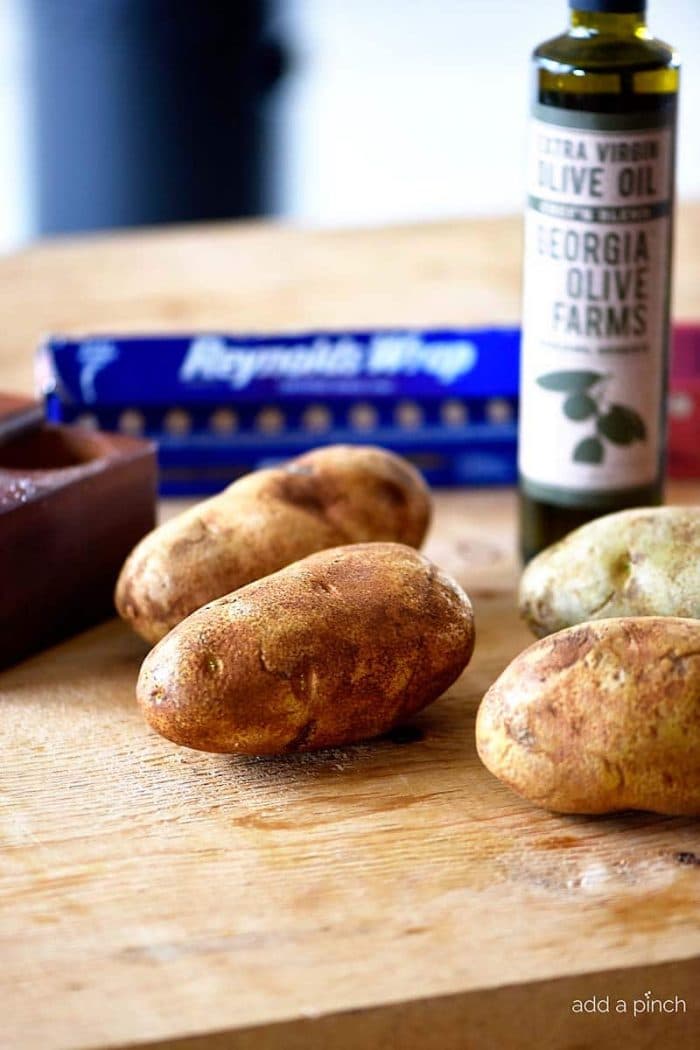 Scrub. With a stiff brush, scrub your potatoes until they are very clean. Then, make sure that they are dry.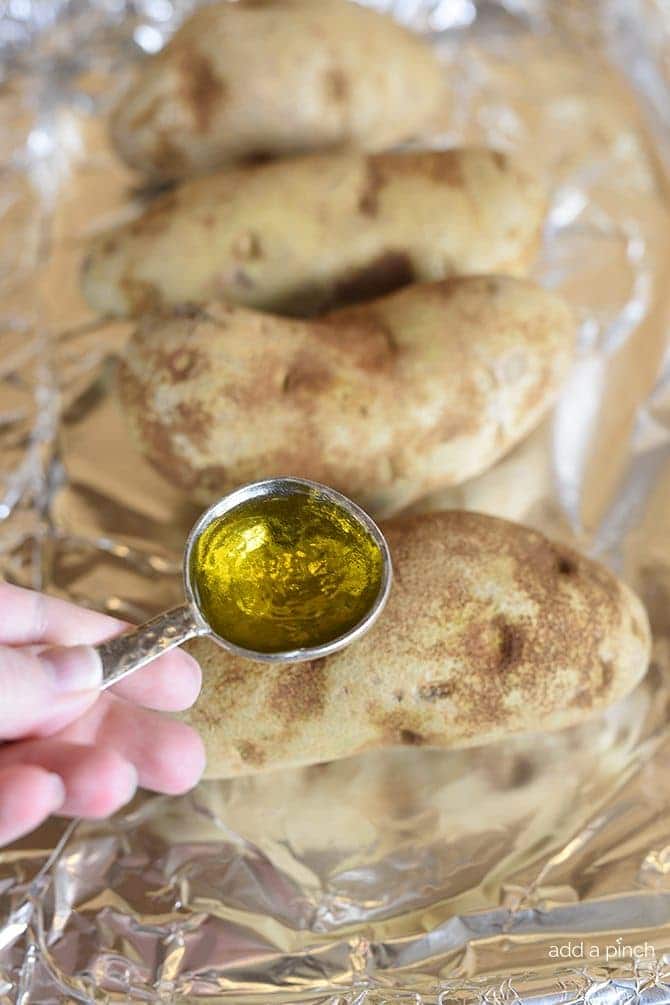 Coat the potatoes. Line a baking sheet with foil and then coat each of your potatoes with about a tablespoon of olive oil per potato. Rub this all over the potato to ensure it is well coated.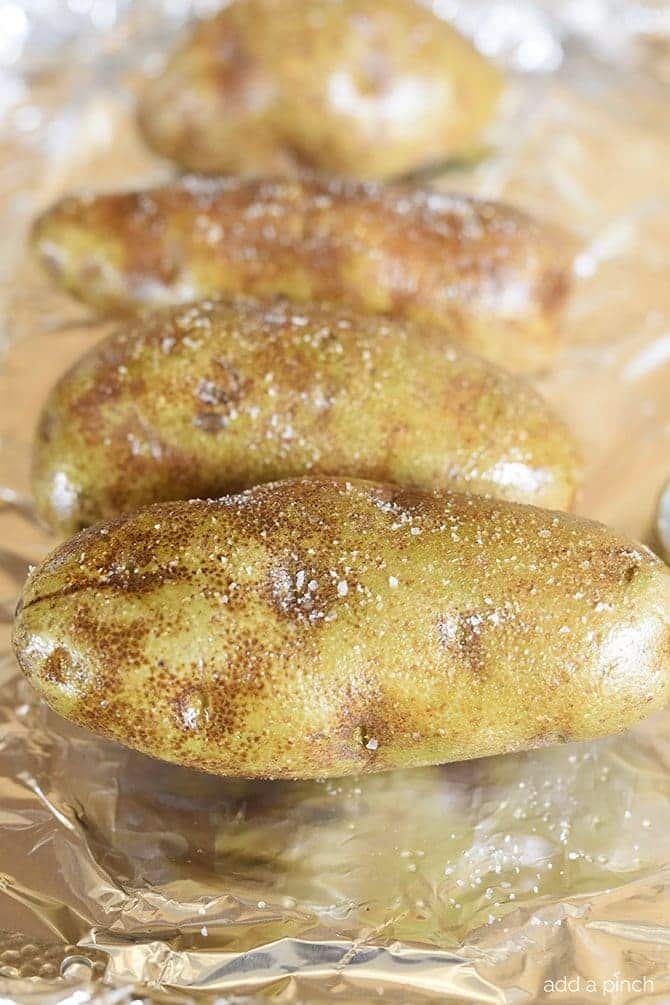 Salt the potatoes. Coat your potato with salt. Again, make sure to rub the salt all over each one. This usually takes about ½ to 1 teaspoon per potato, depending on the size.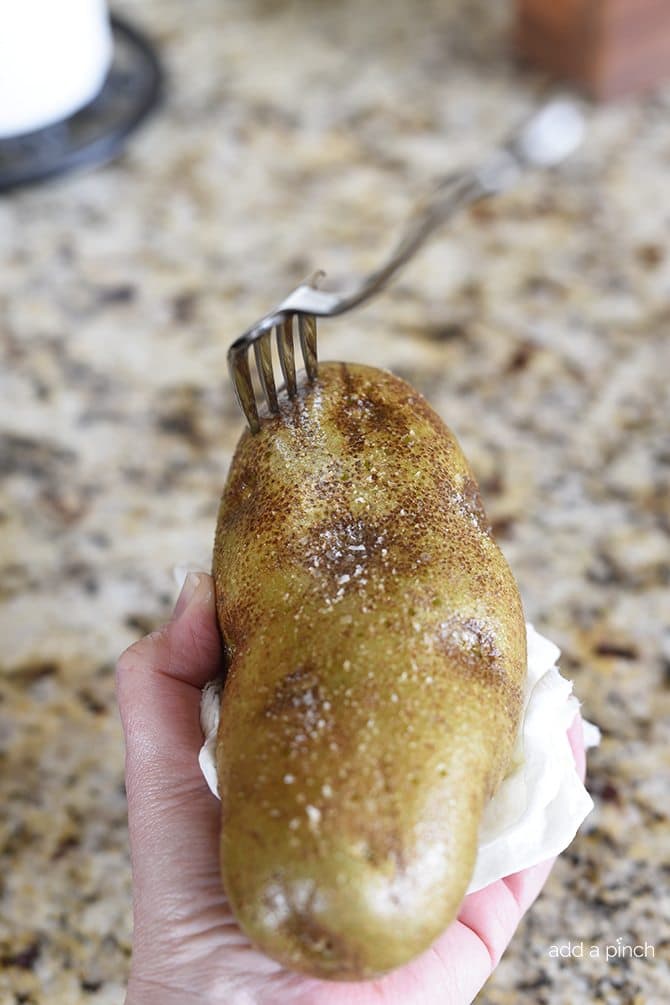 Prick. You'll also want to use a fork and prick each one about six to eight times to allow air to escape as they bake.
Arrange. Then, arrange the potatoes on a foil-lined baking sheet fitted with a wire rack. Set it on the middle rack of your oven.
Bake. Bake until the skin is crisp and the insides easily give when lightly pressed. I also like to check the internal temperature with an instant-read thermometer. It should reach 205º – 208º F when checked.
Serve and enjoy. Once potatoes reach the desired temperature, remove them from the oven. Cut into the potato, and fluff the insides with a fork. Garnish them with your favorite toppings. I love serving "potato bar style" with all the toppings that my family or guests love.
In a hurry? I love the flavor and texture I get from this recipe, but sometimes, when rushed, I enjoy making my air fryer baked potatoes.
Favorite Baked Potato Toppings:
Butter
Sour Cream
Cheese
Crumbled Bacon
Chives
More Delicious Side Dishes to Try
Here's my Perfect Baked Potato recipe. I think you will love them!
Perfect Baked Potato Recipe
Perfect Baked Potato Recipe – The perfect baked potato recipe for a crispy, golden skin and a fluffy, tender inside. Learn how to make the best baked potatoes every time!
Ingredients
Russet potato

scrubbed clean and dried

olive oil

kosher salt
Instructions
Preheat oven to 400ºF. Arrange baking rack in the middle of the oven. Line a sheet pan with foil and place on the bottom rack of the oven to catch any drippings.

Prick potatoes using the tines of a fork about 6 to 8 times.

Drizzle potatoes with olive oil, about 1 tablespoon per potato, and sprinkle with salt. Rub the potato to coat the entire potato with the olive oil and salt. Carefully arrange potatoes directly onto middle oven rack and bake until the exterior is crisp and golden brown and then interior gives easily when carefully squeezed using an oven mitt, about 45 minutes. You can also check the internal temperature of the potato with a digital instant read thermometer. When it reaches 205º – 208º F, it is usually perfectly baked.

Remove potatoes from the oven, split open with a knife and gently fluff the interior of the potato with a fork. Top with your favorite toppings.
Notes
Nutrition information does not include toppings.
Nutritional Information
Calories:
292
kcal
|
Carbohydrates:
38
g
|
Protein:
5
g
|
Fat:
14
g
|
Saturated Fat:
2
g
|
Polyunsaturated Fat:
2
g
|
Monounsaturated Fat:
10
g
|
Sodium:
11
mg
|
Potassium:
888
mg
|
Fiber:
3
g
|
Sugar:
1
g
|
Vitamin A:
2
IU
|
Vitamin C:
12
mg
|
Calcium:
28
mg
|
Iron:
2
mg
Enjoy!
Robyn xo