Scalloped Potatoes Recipe
Scalloped Potatoes Recipe – This easy scalloped potatoes recipe is so creamy, cheesy, and out of this world delicious!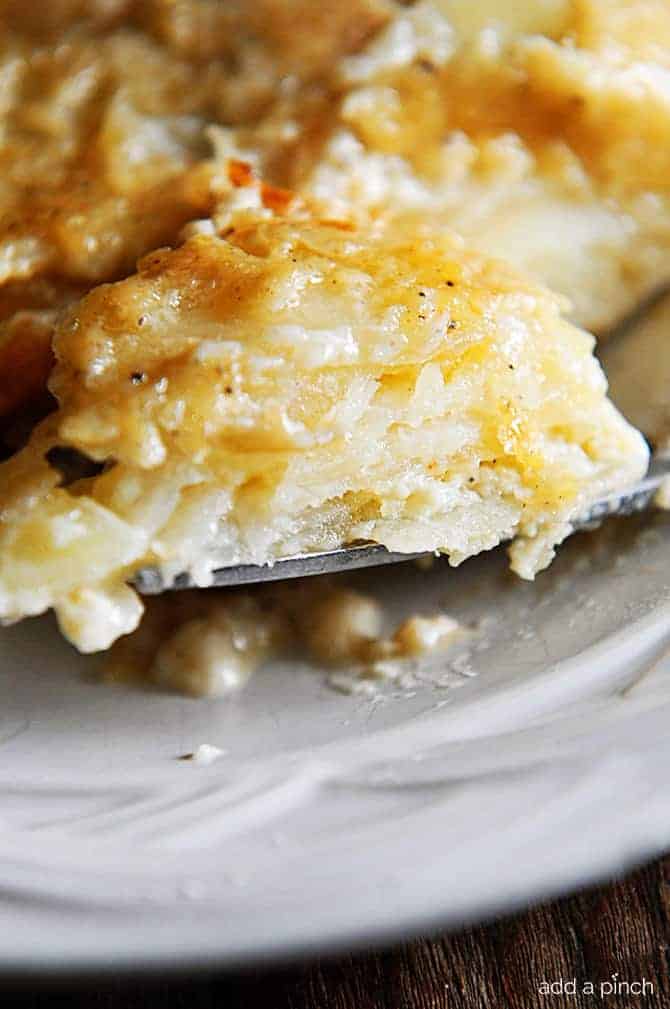 A good scalloped potatoes recipe makes one of those essential side dish recipes that just makes everything seem so elaborate and elegant. But the truth of the matter is, they really couldn't be simpler to make.
Well, with the exception of peeling and slicing potatoes.
Peeling potatoes has to be one of those kitchen jobs that I have to absolutely be in the mood to do or it drives me mad. Maybe it goes back to growing up and whenever I had been a little bit sassier than normal, Mama would hand me the potato peeler and the sack of potatoes to scrub and peel for supper that night. Since I knew it was a punishment, I've always just felt like those potatoes were mocking me. I could make some lame joke about all of their eyes mocking me as I scrubbed them, but that would be even too much weirdness for me. And that's saying a lot!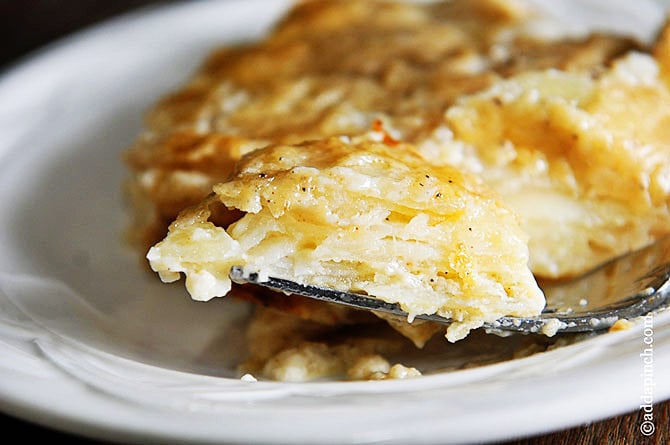 And don't even get me started on the mandoline. Those things are out to get me most times I use them. So, whenever using them, just remember to not get distracted.
So, with all of that said, you'd think this scalloped potatoes recipe would be the last dish in all the land that I'd make, wouldn't you. Well, let me tell you when scalloped potatoes jump to the very front of my radar. It goes something a little bit like this.
You see, this past weekend, I was planning supper for family and had only had a few folks let me know they were planning on coming. No problem. I know not everyone can make it every time. Anywho, I'd bought groceries on Thursday, planning for supper for eight. On Saturday night, I heard from more family members that they would be able to attend after all and were looking forward to supper.
So, Sunday after church, we scooted by the grocery store and picked up more meat, but I totally forgot to buy more potatoes for baking. Rather than halving them and baking (which would have been super simple), I decided to make these decadent, delicious, dangerously good scalloped potatoes instead. Those eight baking potatoes turned into tons of scalloped potatoes. In fact, I had enough for seconds for some and left overs for the first of the week. Score!!!

Don't you just love it when things work out so well. I know I do! So, bookmark this Scalloped Potatoes recipe for your holiday festivities. Oh yeah, and for when you think more folks might show up for supper. This always comes in handy then!
Here's my Scalloped Potatoes recipe. Hope you love it!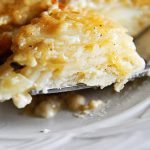 Yield:
10
Course Side Dish
Cuisine American
Scalloped Potatoes Recipe
Total Time 1 hour 15 minutes
Prep Time 15 minutes
Cook Time 1 hour
Scalloped Potatoes Recipe - This easy scalloped potatoes recipe is so creamy, cheesy, and out of this world delicious!
Ingredients
4 large Russet or Yukon Gold potatoes sliced thinly
1/4 cup butter
1/4 cup all-purpose flour
2 cups whole milk or heavy cream
1/2 teaspoon Kosher salt
1/2 teaspoon ground black or white pepper
1/8 teaspoon cayenne pepper
1 cup grated Monterrey Jack cheese
1 cup grated Cheddar cheese
Directions
Preheat oven to 350º F. Spray 9x13 casserole dish with nonstick cooking spray and set aside. Place potato slices in a bowl of cold water to keep from turning brown while making cream sauce.

Melt butter over medium heat in a small saucepan. Whisk in flour until well-combined, then whisk in milk, salt, pepper, cayenne pepper and 1 cup of Monterrey Jack cheese. Reduce heat to simmer and continue to whisk until sauce simmers slightly around the edges and has thickened slightly. Stir in remaining cheese.

Arrange potato slices in casserole dish and then pour cream sauce over potato slices.

Bake uncovered for 1 hour.

Serve warm.
Nutrition Facts
Scalloped Potatoes Recipe
Amount Per Serving
Calories 286 Calories from Fat 117
% Daily Value*
Total Fat 13g 20%
Saturated Fat 8g 40%
Cholesterol 39mg 13%
Sodium 315mg 13%
Potassium 700mg 20%
Total Carbohydrates 31g 10%
Dietary Fiber 2g 8%
Sugars 3g
Protein 10g 20%
Vitamin A 8.6%
Vitamin C 10.2%
Calcium 24.1%
Iron 8.7%
* Percent Daily Values are based on a 2000 calorie diet.
All images and text © Robyn Stone for Add a Pinch
Enjoy!
Robyn xo
From the Add a Pinch recipe archives, originally published 2013.