These delicious Skillet Rib Eye Steaks are butter-basted and will remind you of those at your favorite steak house! This recipe makes the best rib eye steak and is so easy to make at home!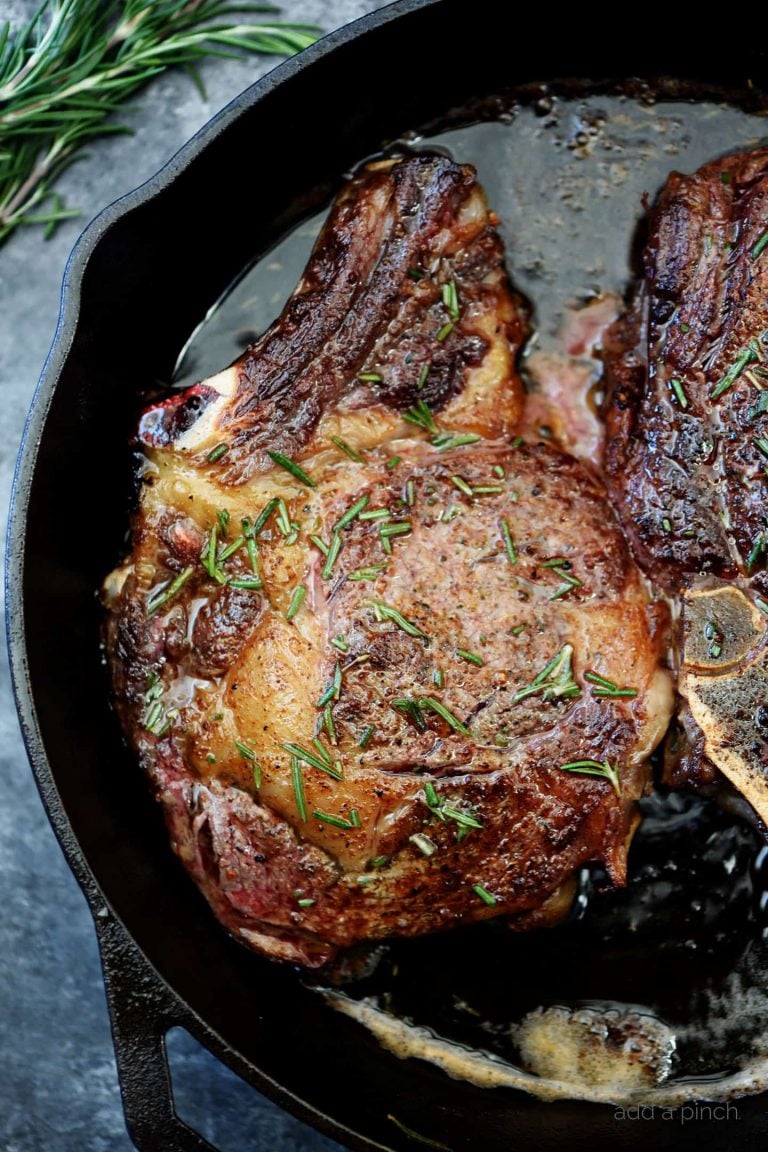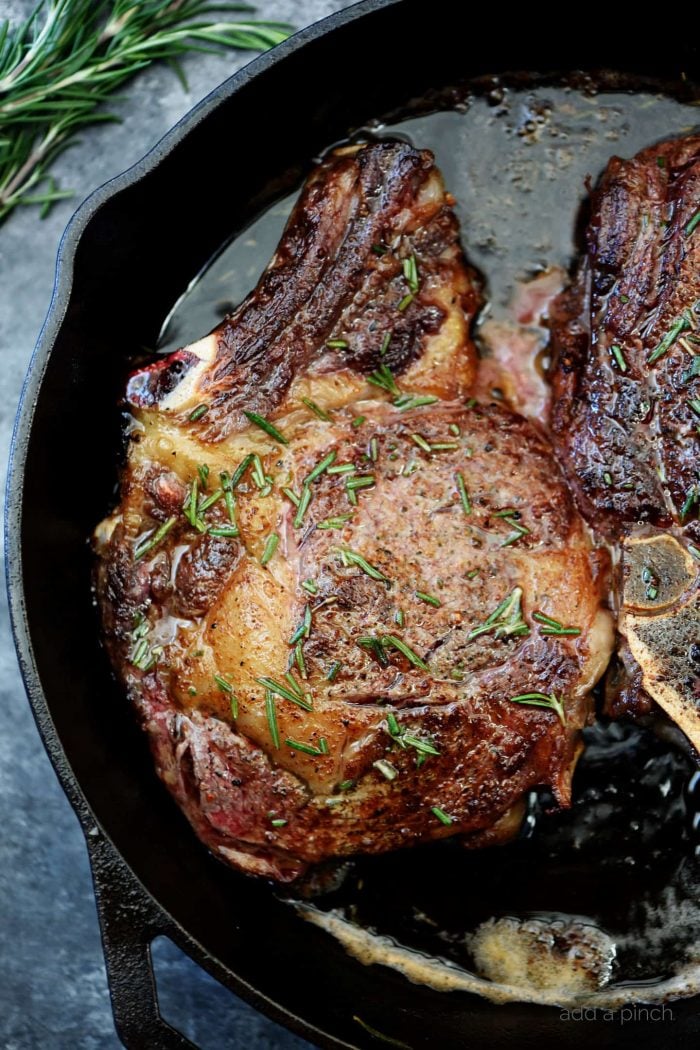 If you love steak, and I mean goooood steak, then I can't even begin to tell you how much my family loves this rib eye steak recipe! These steaks taste like we're sitting at the table of one of the finest steak houses for a luxurious meal.
But, here's the deal.
This skillet ribeye steak recipe is a cinch to make with just a few steps that make for an absolutely scrumptious steak every time!
Skillet Rib eye Steak Recipe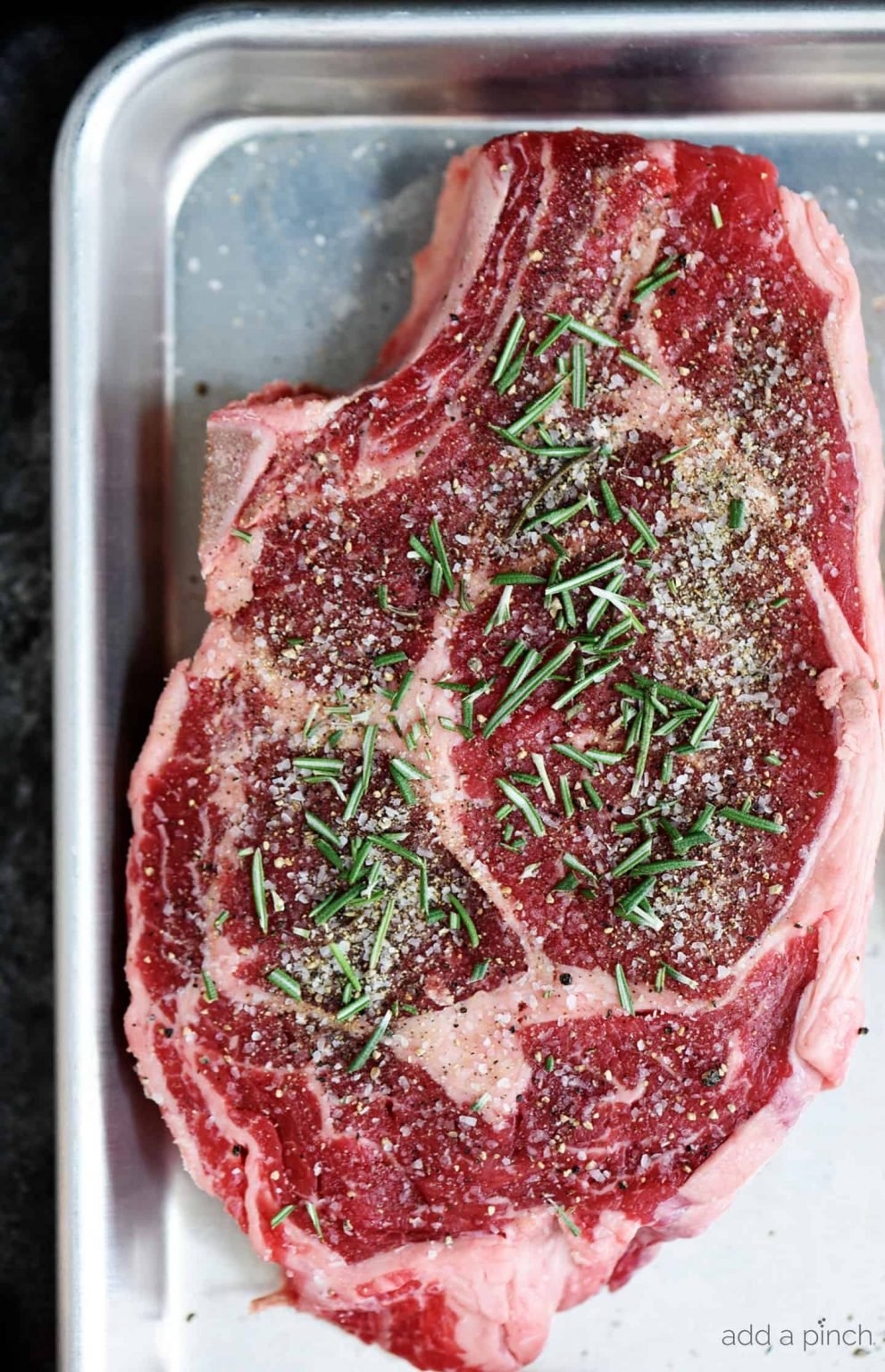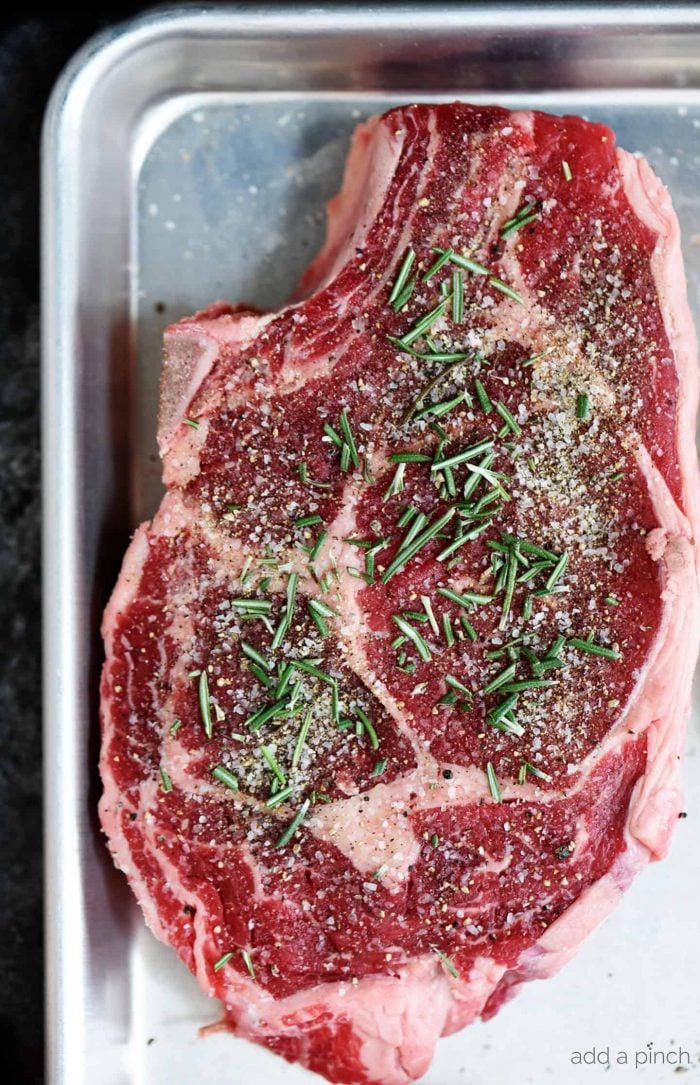 Ingredients You'll Need for this Recipe
Steak. It all starts with the steak! I like to purchase 1 ¼ to 1 1/2-inch bone-in rib eye steaks with good marbling for this recipe. The marbling with produce a tender, juicy ribeye steak with lots of flavor. If you do not see them readily available in the meat case of your super market, you can ask the butcher to cut them for you. I generally call ahead if I'm planning to serve these for a special occasion.
Stone House Seasoning. This is my homemade blend of seasoning that I began making as our "house seasoning" when we first married. Since our last name is Stone, we just call it Stone House Seasoning. 😉 It is a blend of salt, pepper, and garlic that is at just the right proportions to enhance so many dishes! We love it on beef, chicken, fish, pasta, and vegetables! It is our go-to for sure!
Rosemary. The fresh rosemary adds so much flavor to these steaks! I generally keep rosemary year round in my herb garden and love that it is usually available in the grocery store. However, if you do not have fresh rosemary, simply leave it out. Your steaks will still be delicious, but I do encourage you to try it next time!
Butter. I love to use unsalted butter to cook my skillet steaks. The drizzle over the top for serving makes these homemade steaks restaurant quality for certain!
Olive oil. The olive oil adds moisture to your steak as it cooks while helping to ensure a beautiful sear.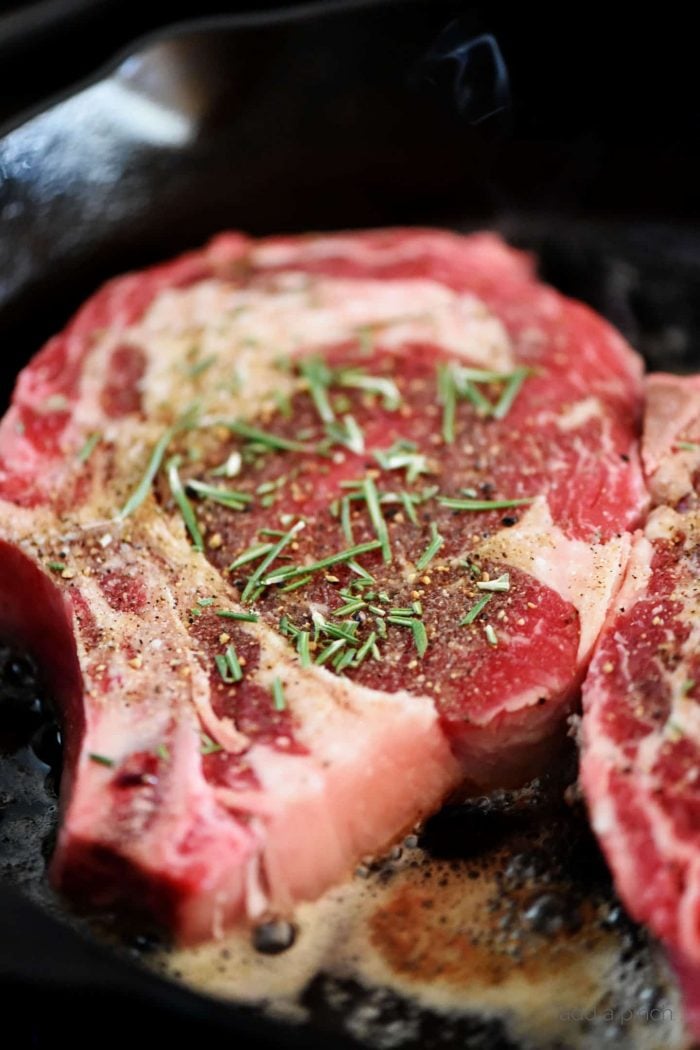 How to Cook the Best Ribeye Steak
Cooking a great steak is one of those essential recipes that even the most beginner cook can easily master!
Prep the steak. Remove the steaks from the refrigerator and pat dry with a paper towel. Place onto a sheet pan and sprinkle with the Stone House Seasoning. Then sprinkle the tops of the steaks with chopped fresh rosemary, if using. Now, cover and refrigerate the steaks to allow them to rest. If cooking immediately, see step 2! I do recommend that once you have wrapped them, to refrigerate for an hour up to 3 days in advance of cooking. This method is referred to as dry brining and will make your steaks incredibly tender and flavorful.
Rest and sear the steak. Next, when ready to cook, remove the steak from the refrigerator and allow to rest at room temperature for up to 30 minutes. Then, add the butter and olive oil to a medium skillet over medium heat. Once melted, add the steaks and sear on all sides until they have a nice crust.
Cook and serve. Continue to allow the steaks to cook until they have reached the desired internal temperature. Carefully, spoon the butter and olive oil drippings over the steak to baste the steak. Remove the steak to a platter or cutting board for 5 minutes before slicing or serving.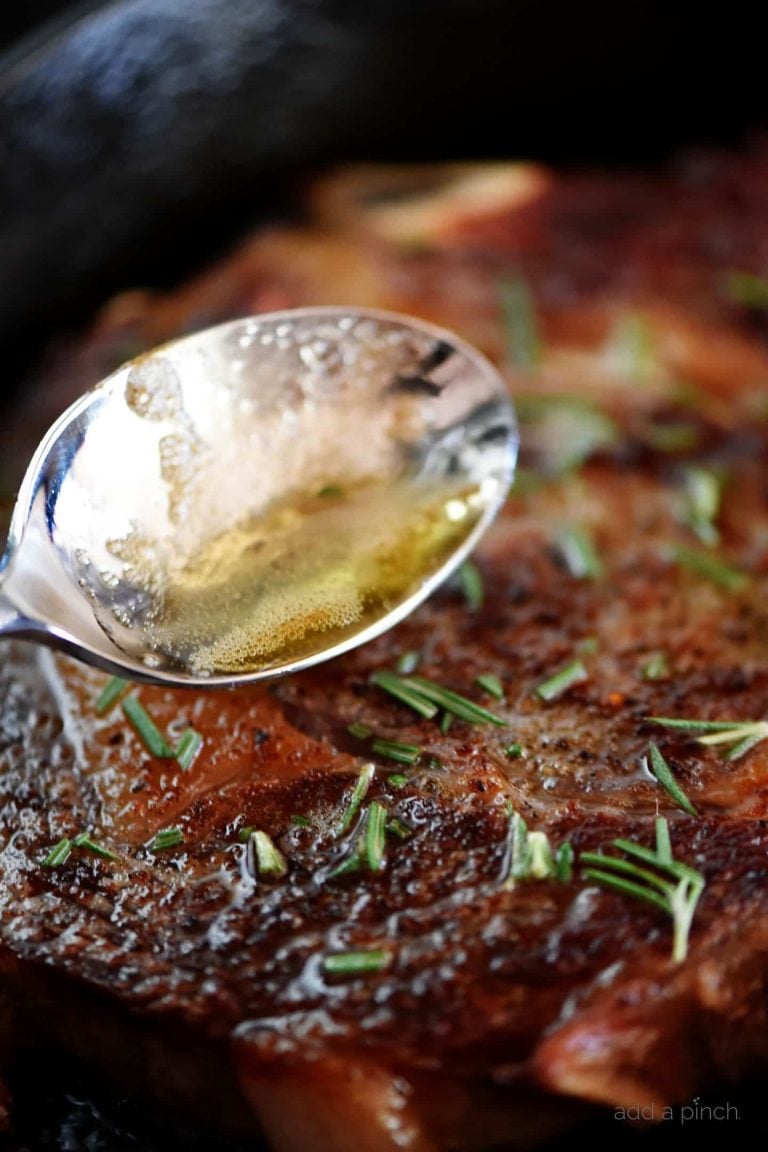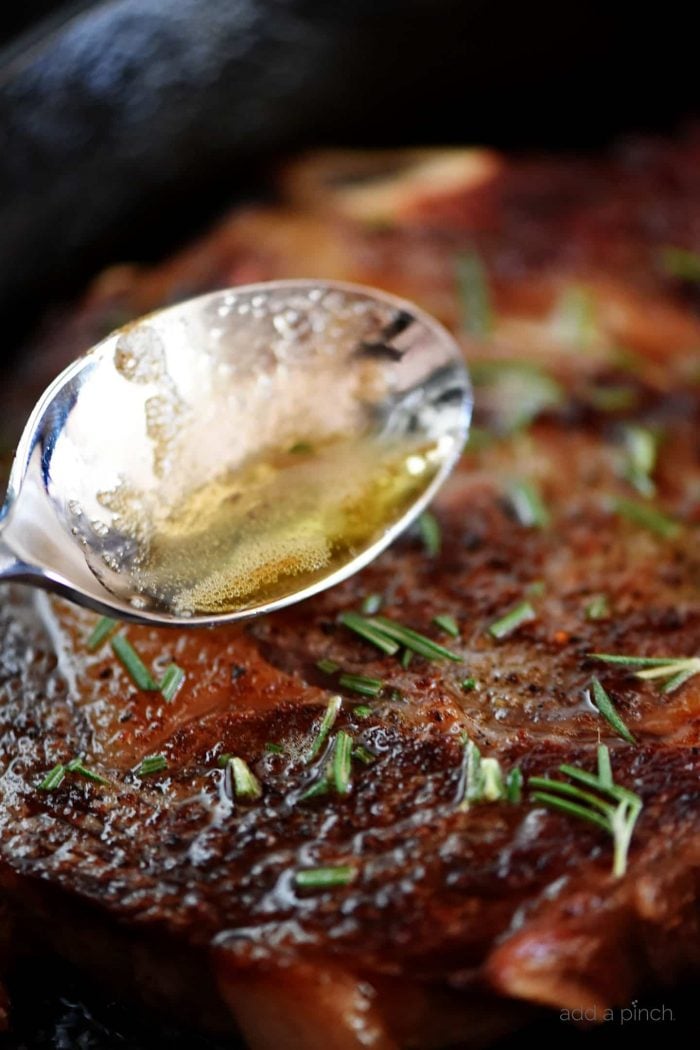 How Long Do I Cook My Steak?
Cooking times for skillet ribeye steaks will depend on the thickness of the steaks and the number of steaks cooking in the skillet at once. The below information provided as a reference. The Internal temperature should be utilized rather than the cooking time to determine the doneness of the steaks.
| | | |
| --- | --- | --- |
| Internal Temperature | Doneness | Cooking Time |
| 120 – 130º F | Rare | Sear approximately 2-3 minutes per side |
| 130 – 140º F | Medium Rare | Sear approximately 3-4 minutes per side |
| 140 – 150º F | Medium | Sear approximately 4-5 minutes per side |
| 150 – 160º F | Medium Well | Sear approximately 5+ minutes per side |
The USDA recommends cooking steaks to at least 145º F (medium) and then allowing to rest for 3 minutes.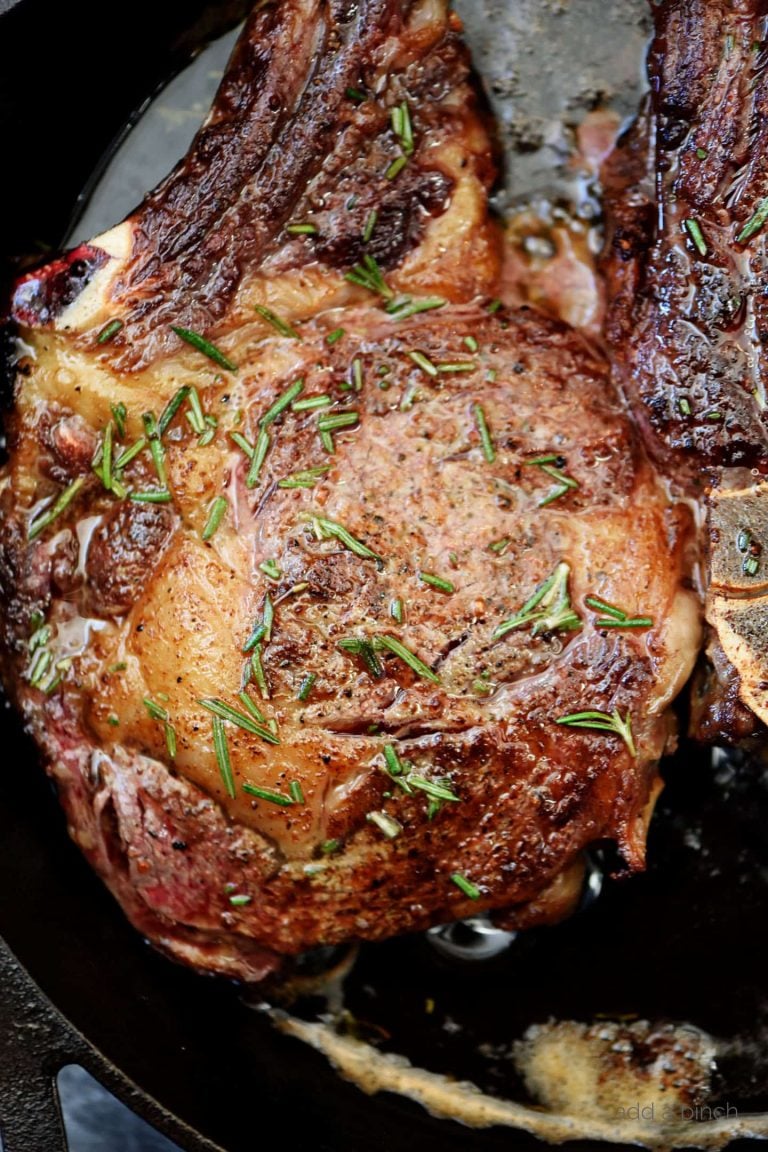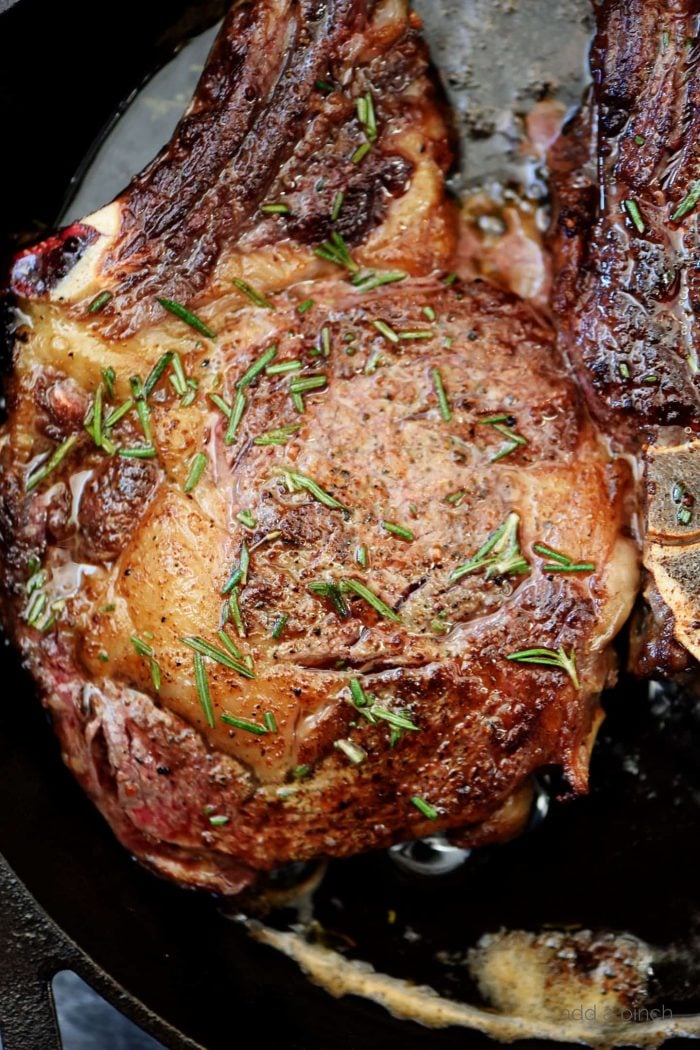 More Delicious Steak Recipes
My family loves steaks, so I have several more recipes you many wish to try too!
Grilled Flank Steak with Chimichurri
Here's my Skillet Rib Eye Steaks Recipe. I hope you love it as much as we do!
Skillet Rib Eye Steaks Recipe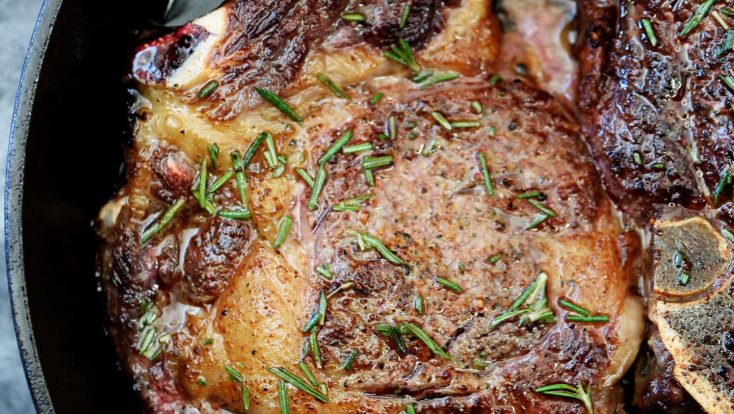 Skillet Rib Eye Steaks Recipe – Butter-basted skillet rib eye steaks that will remind you of your favorite steak house rib eye steaks!
Ingredients
1

(1 ¼ pound)

bone-in rib eye steaks (about 1 ¼ to 1 1/2-inch thick)

1

teaspoon

Stone House Seasoning

2

teaspoons

chopped fresh rosemary leaves

1

tablespoon

unsalted butter

1

tablespoon

olive oil
Instructions
Place rib eye steak onto sheet pan and rub both sides with Stone House Seasoning to coat, making sure to press the seasoning to the meat. Sprinkle with fresh rosemary leaves.

Cover and refrigerate your rib eye steaks up to 3 days. When ready to cook your rib eye steaks, remove from the refrigerator and allow to rest at room temperature for 30 minutes. If prepping your steaks for cooking immediately, leave at room temperature for 30 minutes.

To cook, heat a medium skillet over medium heat. Add butter and olive oil to the skillet and allow the butter to melt completely. Tilt your skillet from side to side to make sure that your skillet is well coated with the butter.

Add your rib eye steak to the butter and olive oil and cook until the bottom of the rib eye steak is brown and caramelized, about 5 minutes. Turn your rib eye steak over and cook, basting your rib eye steak continuously with the butter drippings from the skillet, until this side of the rib eye steak is also brown and caramelized, another 5 minutes or to your desired internal temperature for doneness.

Remove your rib eye steak from the heat and allow to rest on a carving board for another 3-5 minutes. Slice your steak with a sharp knife against the grain, taking care to remove the bone. Place steak slices on two plates for serving.
Notes
Increase the number of rib eye steaks based on the number of servings needed.
Use an internal temperature probe to check for you preferred level of doneness. Rare (120º F – 130º F), Medium Rare (130º F – 140º F), Medium (140º F – 150º F), Medium Well (150º F – 160º F)
Nutritional Information
Serving:
4
ounces
|
Calories:
347
kcal
|
Protein:
22
g
|
Fat:
28
g
|
Saturated Fat:
11
g
|
Cholesterol:
83
mg
|
Sodium:
59
mg
|
Potassium:
302
mg
|
Vitamin A:
175
IU
|
Calcium:
8
mg
|
Iron:
1.9
mg
Enjoy!
Robyn xo