My favorite part of the week before the Super Bowl is pulling together easy and delicious Super Bowl menu ideas.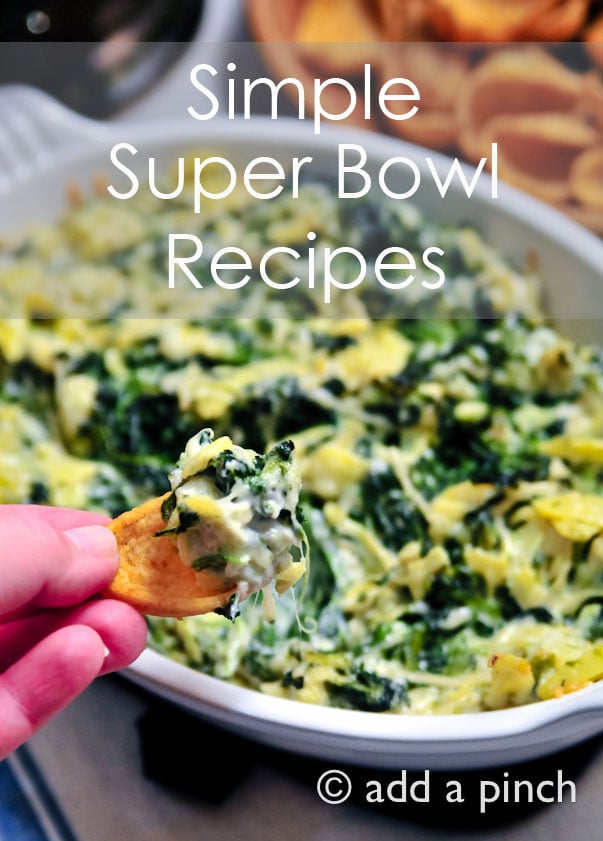 I have to be honest here. While my family is full of football fanatics, I really prefer to watch the Super Bowl commercials over the game.
I know, I know. I really shouldn't admit that, should I?
But really, I enjoy watching the last quarter of a game much more than watching all four quarters. While there is surely excitement in every quarter in some games, the true push usually comes right at the end. It's sort of a ritual with me to tune it at the beginning of a game, go make dips or other goodies in the kitchen, wash some clothes, write a blog post, play around on Pinterest, and then head back into the living room to see who won toward the end of the game.
I'm the same way with any sport really.
I just don't have the gene, I guess.
But really, couldn't they speed those games along? Do they really have to last four quarters? Why not start having sprint type football games where they only play two quarters and are done? I'd probably be able to sit through an entire game if they did that.
What I do enjoy is planning out a menu for the Super Bowl. I have to laugh at myself when I think about all the goodies I prepare for the game I don't really watch. I guess I'm thinking the announcer will grab the mic at the end of the game and say, "And congratulations to Robyn Stone for having the best dips during the game."
Nah! I just know that my sweeties sure do like it and that's all I need to know.
So, with all that said, I thought I'd share with you one of my favorite Super Bowl menus. It's full of dips and appetizers, a scrumptious main course and of course desserts. You know everyone exerts a ton of calories as their coaching from the sofa, don't ya?
Super Bowl Menu Ideas
These 16 menu ideas are sure to make your Super Bowl menu exceptional, but for more ideas, be sure to see all the other tailgate recipes.
Appetizers and Dips
My menu includes quite a few appetizers. You HAVE to have them for your Super Bowl menu. I think it's a law or something.
Just remember, the Super Bowl equals snacks! Here are some of my favorites.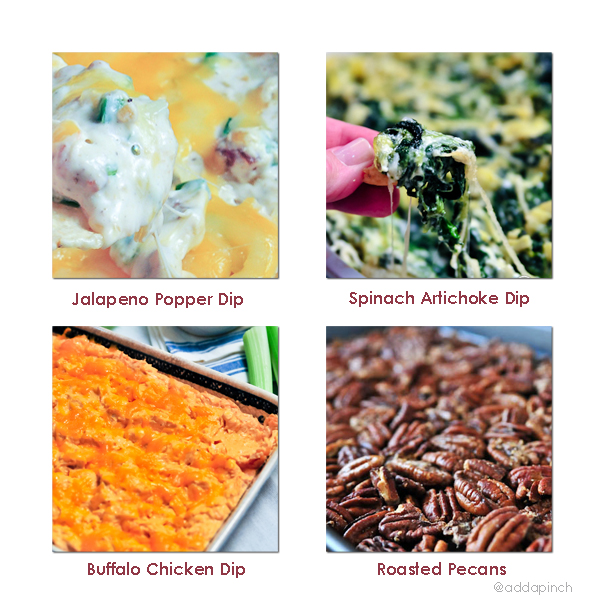 Jalapeno Popper Dip | Hot Spinach and Artichoke Dip
Buffalo Chicken Dip | Roasted Pecans
All of these appetizers can be made in advance, like today and store in the refrigerator to then be warmed up on game day. Well, except the pecans, just keep them in an airtight container.
The Meat
Okay, for the Super Bowl, you have to have meat.
Or at least we do.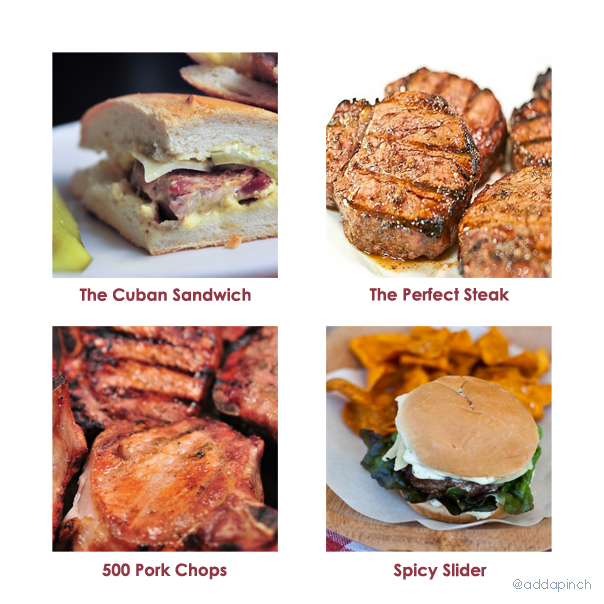 Cuban Sandwich | The Perfect Steak
500 Pork Chops | Hamburger Slider with Spicy Cilantro Lime Spread
This year, I'll be serving Cuban sandwiches, but here are some other perfectly wonderful choices that you can serve. And with all this mild weather we've been having, why not fire up the grill!
The Sides
You could just serve some chips to go along with the burger or cuban above, but these sides can easily be made ahead and definitely taste better!
Just like the appetizers, you can make all of these in advance to make your Super Bowl preparation even easier.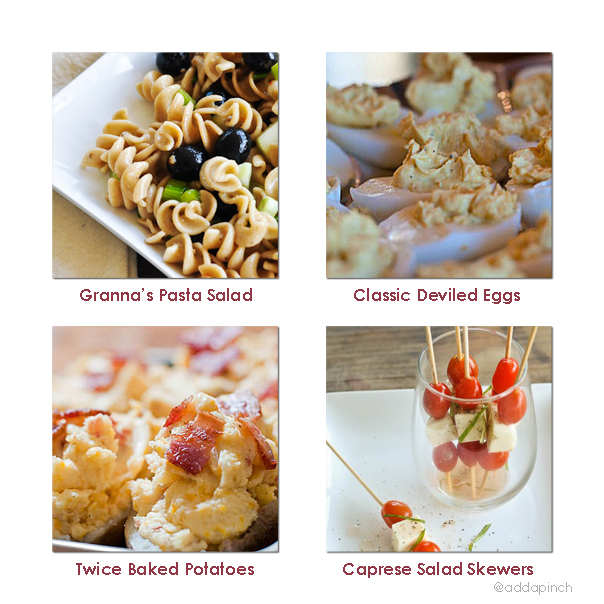 Granna's Pasta Salad | Classic Deviled Eggs
Twice Baked Potatoes | Caprese Salad Skewers
The Desserts
You know everyone is still going to want something a little sweet to go with all that deliciousness you've prepared.
And those games last a really, really long time.
This year for dessert, I'm planning on making my Southern Pecan Pie Bars, but I have a sneaky feeling that Little Buddy is really going to want something chocolate. I just bet ya.
The best thing about these desserts is that they call all be made ahead, well, except for the actual S'more part of the S'mores.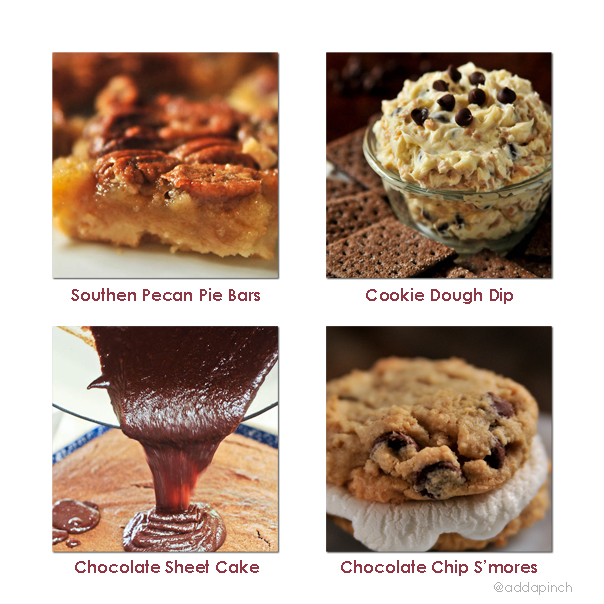 Southern Pecan Pie Bars | Cookie Dough Dip
Chocolate Sheet Cake | Chocolate Chip Cookie S'mores
So, what ya think? Are you ready to dig in for some delicious Super Bowl Game Day goodies or what? Have you planned what your having? I'd love to hear your ideas! Share them in the comments below.