Bacon Egg Cups are a delicious recipe for serving for breakfast, brunch or snack! Great to make for a crowd or to make ahead and reheat for busy mornings!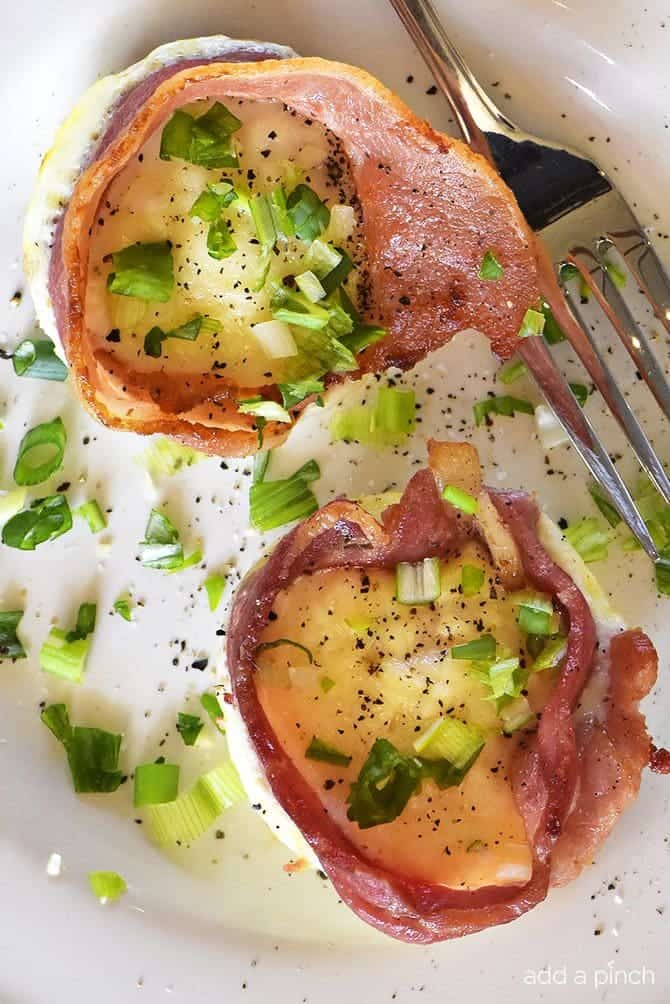 Oh goodness, friends. Do I have a treat for you! These bacon egg cups come together so easily and are just as perfect to make for serving a group as they are to make for two people! But, I even like to make large batches of these to reheat for busy mornings.
The smokey flavor from the bacon mingled with the parmesan cheese and the creaminess of the egg are a mighty delicious combination that we absolutely love! And that freshness from the green onion just takes them over the top!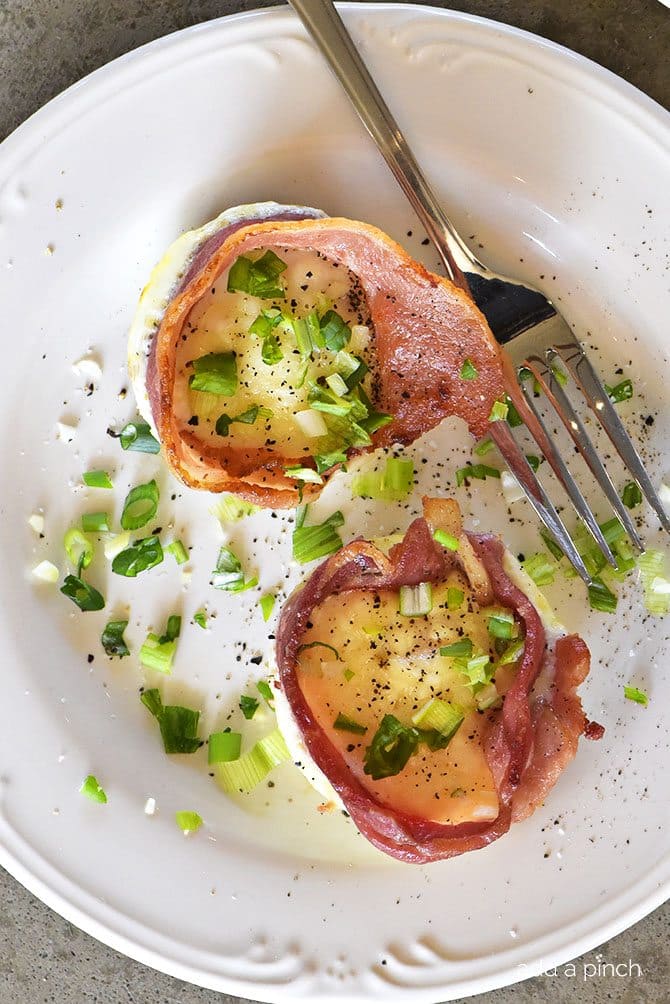 My recipe below makes is for six bacon egg cups, but you can scale this recipe to the number that you need from one to infinity!
Here's how I make them.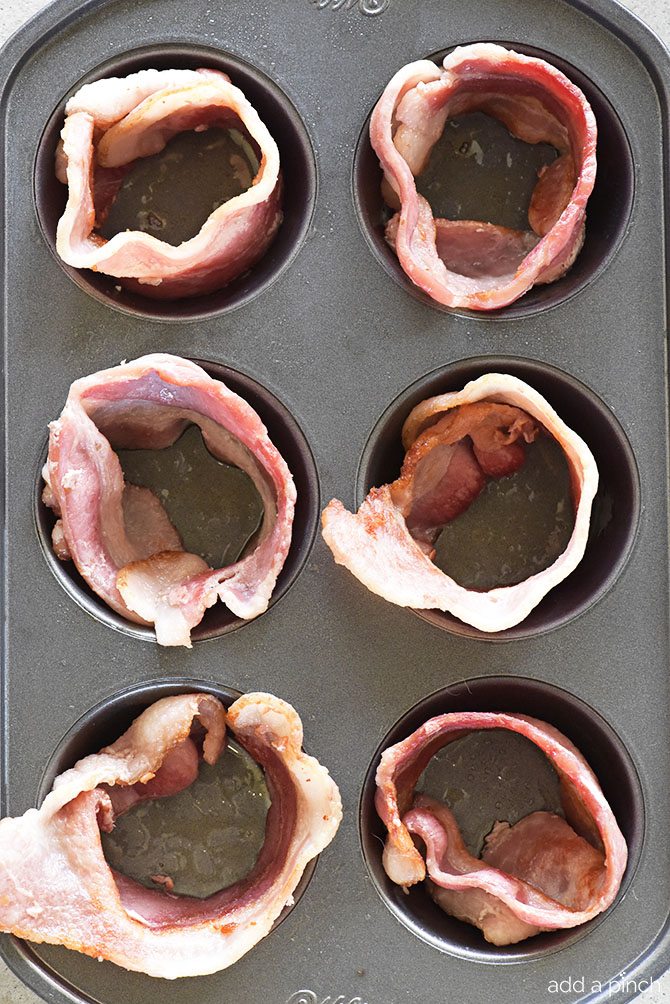 I cook my bacon for about 5 minutes or so and then arrange the bacon slices around the edges of the indentions in a muffin pan. This way, your bacon and eggs will be cooked to just the right amount once you add your eggs to the muffin pan. Also, this allows for a lot of the bacon drippings to render so that they are not part of your finished bacon egg cups.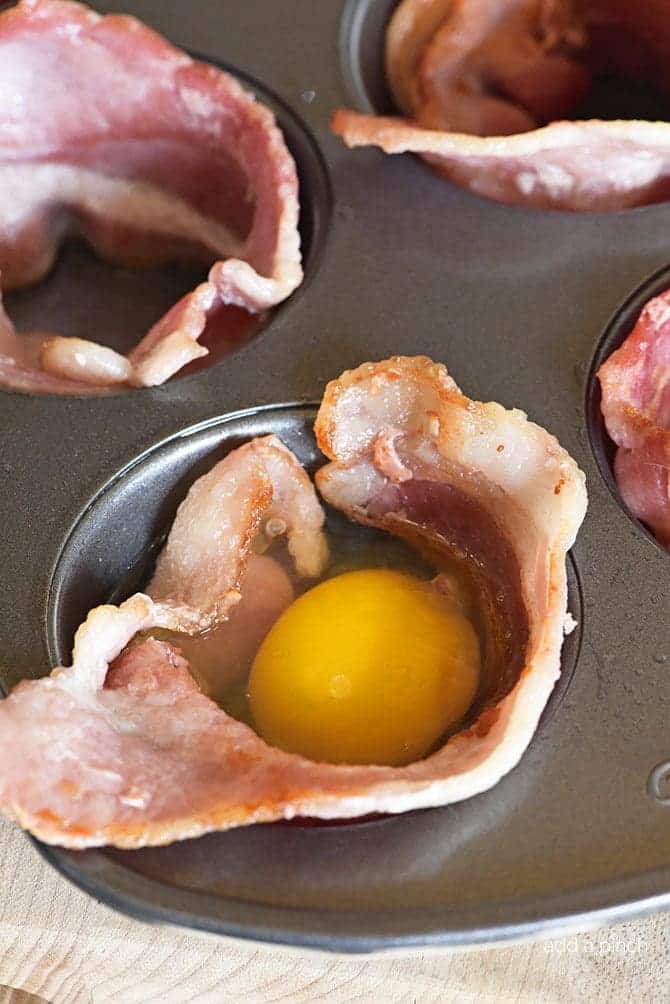 Then, you crack an egg into egg bacon wrapped indention in the muffin pan.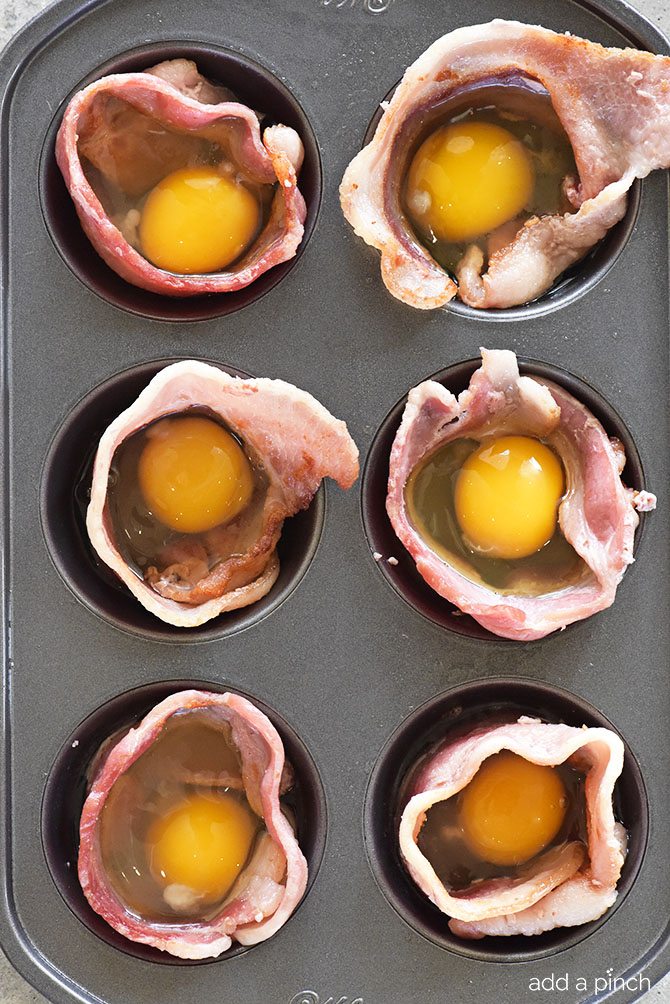 Repeat until all are filled. Then, top with Parmesan cheese and bake to your preferred consistency for your eggs. About 13 minutes is similar to a soft-boiled egg (a little runny) and 15 minutes or more will yield a hard-boiled egg consistency. If I am making them to reheat again for a later meal, I will stop at 13 minutes so that they are not overcooked when I reheat them.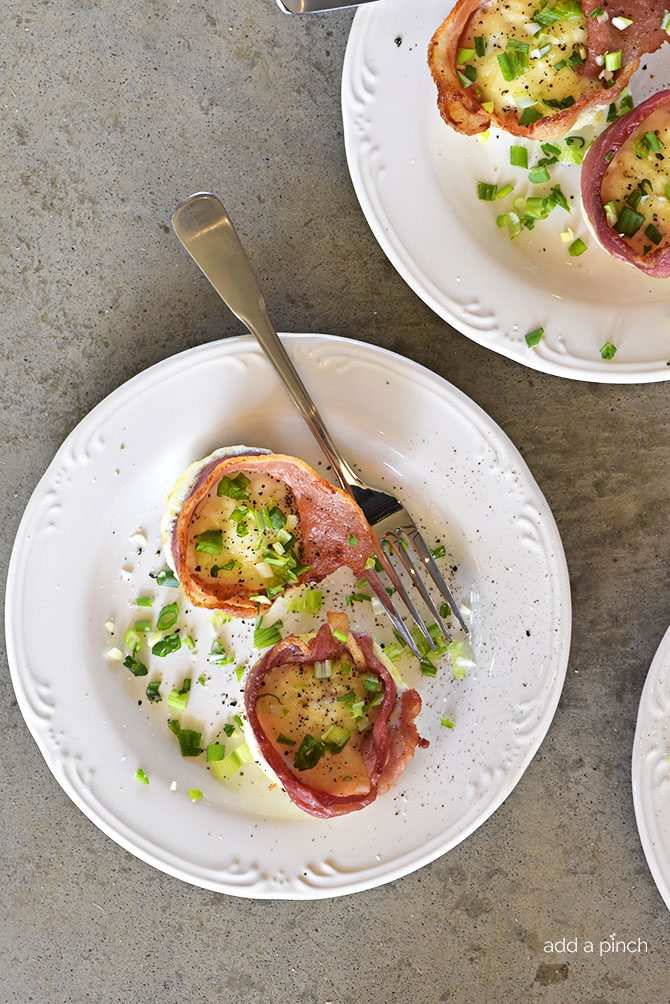 Once they've baked, I remove them from the muffin pan using a silicon spoon and top them with salt, pepper, and the chopped green onions.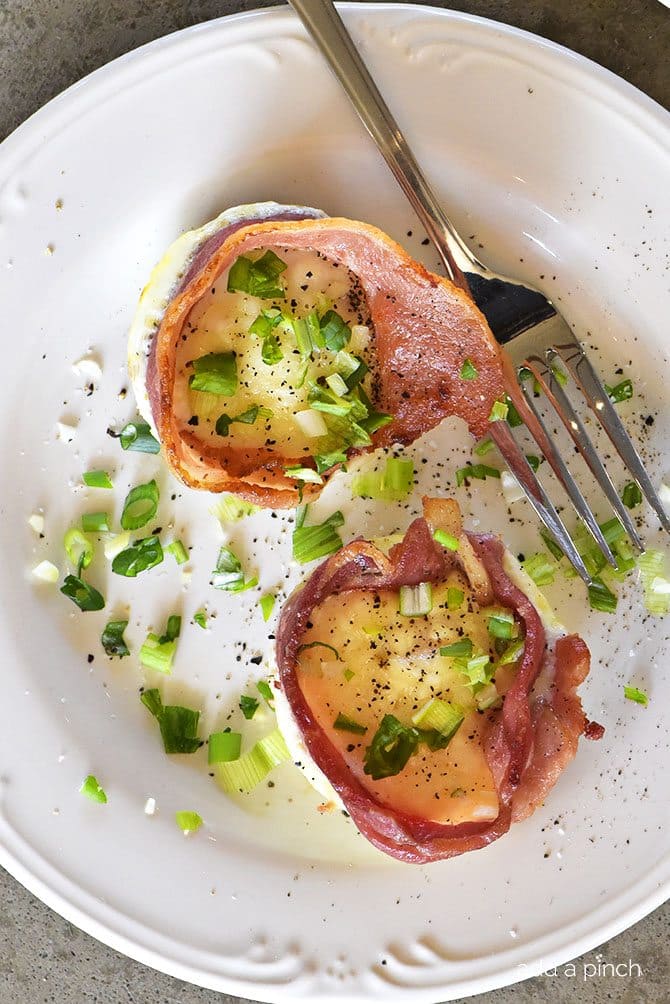 Here's my Bacon Egg Cups recipe. I hope you love them, too!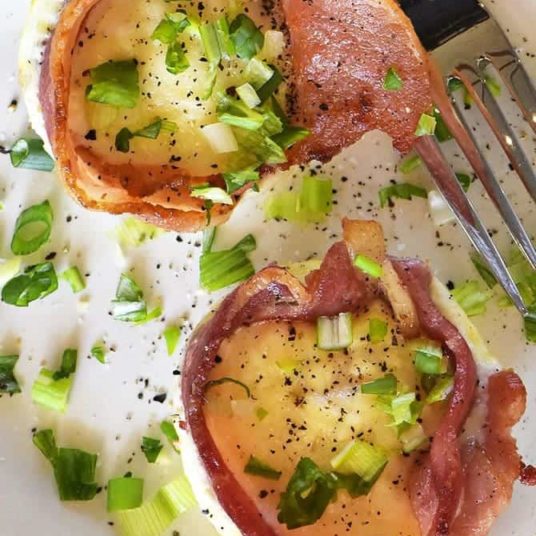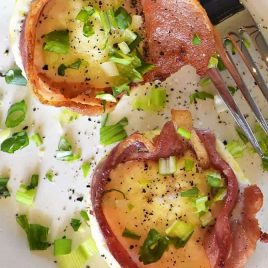 Bacon Egg Cups Recipe
Bacon Egg Cups Recipe - Bacon Egg Cups make a delicious recipe perfect for serving for breakfast, brunch or snack! Great to make for a crowd or to make ahead and reheat for busy mornings!
Ingredients
6

slices

thick cut bacon

6

large eggs

2

tablespoons

grated Parmesan cheese

kosher salt and black pepper to taste

2

tablespoons

chopped green onions
Instructions
Preheat oven to 375ºF. Spray muffin pan with non-stick cooking spray and set aside.

Cook bacon over medium heat for 5-8 minutes. Remove the bacon before it is fully cooked and dry on a paper-towel lined plate.

Arrange each slice of bacon around the edge of each muffin cup, creating a circle around the edge.

Crack one egg into each bacon wrapped muffin cup and sprinkle with parmesan cheese. Bake 13 - 16 minutes, based on your preference for the egg consistency. At 13 minutes, the egg yolk will be more soft-boiled and at 16 minutes, more hard-boiled consistency.

Remove each cup from muffin pan with a spoon and serve with a sprinkle of salt, pepper, and the green onions.
Notes
Recipe can be scaled up or down to the number of bacon egg cups needed. If making ahead to reheat later, bake for 13 minutes, do not top with green onions, allow to cool and store in an airtight container in the refrigerator for up to 3 days or the freezer for up to a month. When ready to serve, heat, top with green onions and serve.
Nutrition Information
Calories:
138
kcal
|
Protein:
12
g
|
Fat:
9
g
|
Saturated Fat:
3
g
|
Cholesterol:
182
mg
|
Sodium:
420
mg
|
Potassium:
140
mg
|
Vitamin A:
250
IU
|
Calcium:
45
mg
|
Iron:
1
mg
Enjoy!
Robyn xo