BBQ Stuffed Portobello Mushrooms Recipe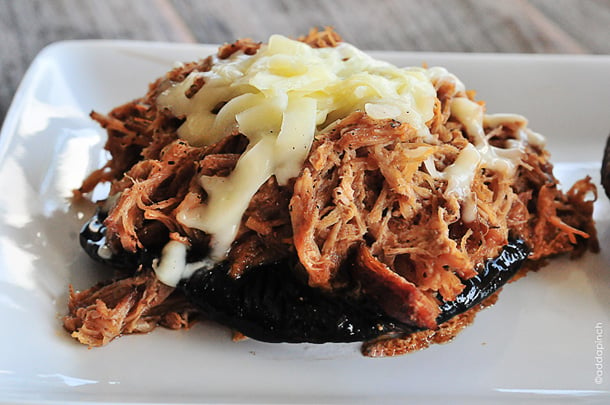 Remember that Spicy Pulled Pork Stuffed Sweet Potato I raved about a while back? Well, I made her a favorite cousin with this BBQ Stuffed Portobello Mushrooms recipe I whipped up.
Heavens.
I've been really trying to cut back on my bread as much as possible – well, except for cake and cookies, but we won't go there at the moment – so this recipe for stuffing the BBQ into or really onto a large portobello mushrooms is really perfection. The heartiness of the portobello is really, really filling and is amazing with the flavors of the spicy pulled pork. I really didn't miss the bread a single bit.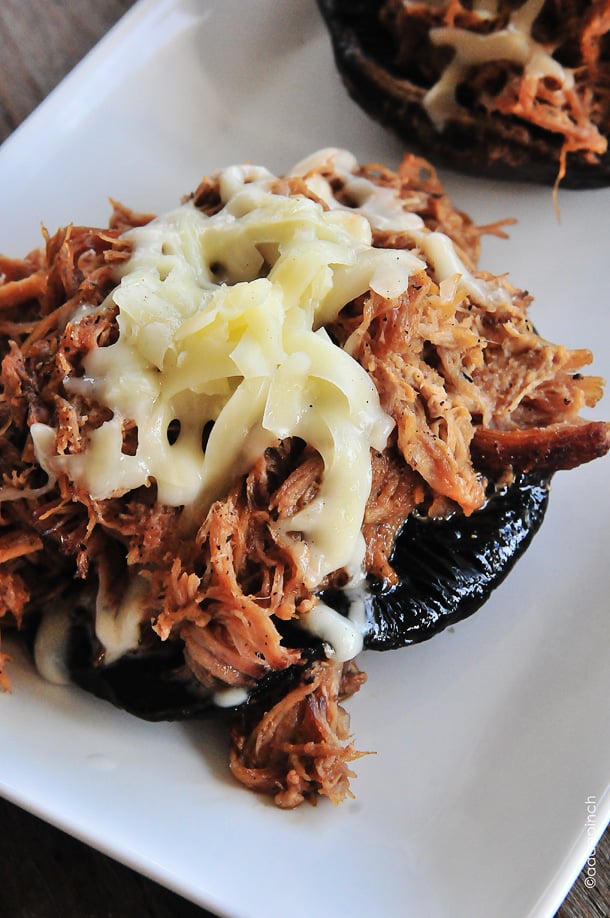 These only take a few minutes to make. The slow cooker does all of the work making the spicy pulled pork and then it just takes a few minutes to soften the portobello on the stove. Then, I like to pile the portobello high with BBQ and toss on some Monterrey Jack cheese for good measure. Quick, easy, filling, and oh so satisfying. It's a keeper for sure.
And you know what I did after all of the dishes were washed and cleared away? I dove into a piece of this.
Yep, I'm so glad I'm cutting back on my bread.
Here's the recipe for my BBQ Stuffed Portobellos Mushrooms. I think you'll love it.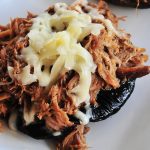 Print Recipe
BBQ Stuffed Portobello Recipe
BBQ Stuffed Portobellos make a simple, hearty and filling meal.
Prep Time10 mins
Cook Time4 hrs 10 mins
Total Time4 hrs 20 mins
Servings: 6 -8
Calories: 553kcal
Ingredients
Slow Cooker Spicy Pulled Pork
1 3-5 pound pork butt bone-in
1-2 teaspoons Siracha Sauce depending on the amount of spice you like
BBQ Stuffed Portobellos
olive oil
4-6 large portobellos cleaned
salt
pepper
8 ounces Monterrey Jack cheese
Instructions
Slow Cooker Spicy Pulled Pork
Add pork butt into the insert of a slow cooker. Pour in your BBQ sauce. Add Sirachi sauce to your taste, about 1-2 teaspoons. Cook on high for 4 hours or low for 8-10, until the pork falls apart when pulled with a fork.
BBQ Stuffed Portobellos
Drizzle olive oil into a large skillet over medium heat. Place portobello mushrooms gill side down into the skillet and cook for about 3-5 minutes. Flip over and cook another 3-5 minutes. Using a pair of tongs or a large spoon, place spicy pulled pork on top of the gill side of the portobello mushroom. Sprinkle with cheese.

Cover the skillet with a lid for about a minute to lightly melt the cheese. Remove the lid and sprinkle portobellos with salt and pepper. Serve warm.
Nutrition
Calories: 553kcal | Carbohydrates: 3g | Protein: 67g | Fat: 29g | Saturated Fat: 13g | Cholesterol: 215mg | Sodium: 424mg | Potassium: 1260mg | Fiber: 1g | Sugar: 2g | Vitamin A: 5.8% | Vitamin C: 0.6% | Calcium: 32.6% | Iron: 22.6%
Enjoy and Happy Tuesday!