Best Chocolate Cake Recipe (9×13 Recipe)
This is the easiest 9×13 chocolate cake recipe I've ever made. Adjusted from my Best Chocolate Cake that everyone absolutely loves, I've now made the cake even easier and sized for a 9×13 sheet cake!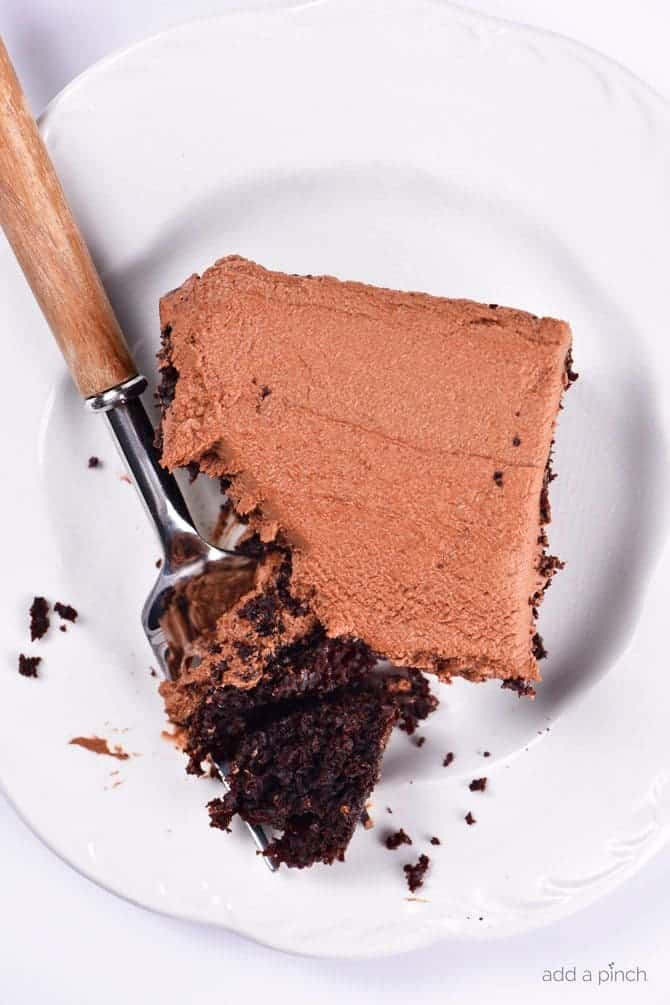 One of the recipes that I receive the most emails about is my Best Chocolate Cake Recipe. Generally, the emails are asking me if they can omit the espresso powder, if they can substitute this or that, or if it can be made into either a major multi-tiered confection for an upcoming wedding or something similar. But last week, I received an email asking if the cake could be made into a 9×13 recipe.
Rather than simply responding with a quick, "Yes" to the email, I headed to the kitchen to make it so that I could show you.
Best Chocolate Cake (9×13 Recipe)
Truth be told, I was actually craving chocolate and decided that making the chocolate cake sounded like just the way to answer the craving and that the scaled down version would be just perfectly sized, too! LOL!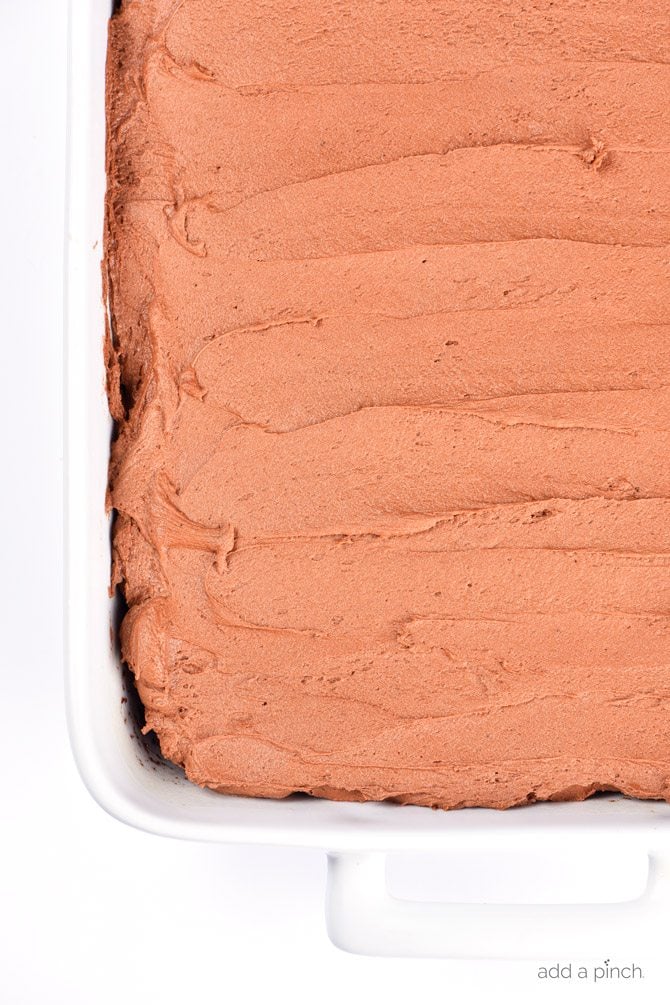 To make it, I scaled both the recipe and the chocolate buttercream frosting to work perfectly in a 9×13 baking dish. The cake still rises nicely so that you have a nice, thick cake that you then top with a nice, generous amount of the fluffy chocolate buttercream.
Talk about heavenly!
I love this size cake for taking to pot lucks, tailgating, baking, taking to friends or neighbors, and just for making a quick and easy cake! It transports beautifully in the 9×13 baking dish and I love that I don't have to worry about a cake slipping or sliding on a cake plate!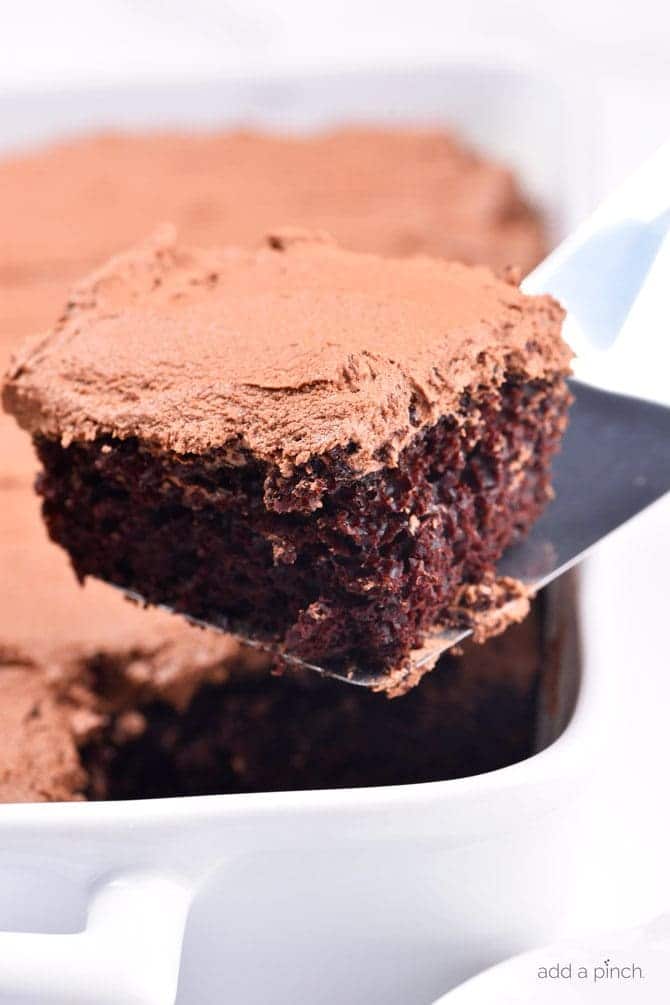 When you cut into the cake, you'll notice that it has that moist tender crumb like my original Best Chocolate Cake Recipe. It is seriously amazing!
As with any 9×13 cake recipes, you can cut the pieces as generous or as conservatively as you please. You can cut the cake into 2- inch x 2-inch pieces for 24 servings or into 2- inch x 3- inch pieces for 18 servings.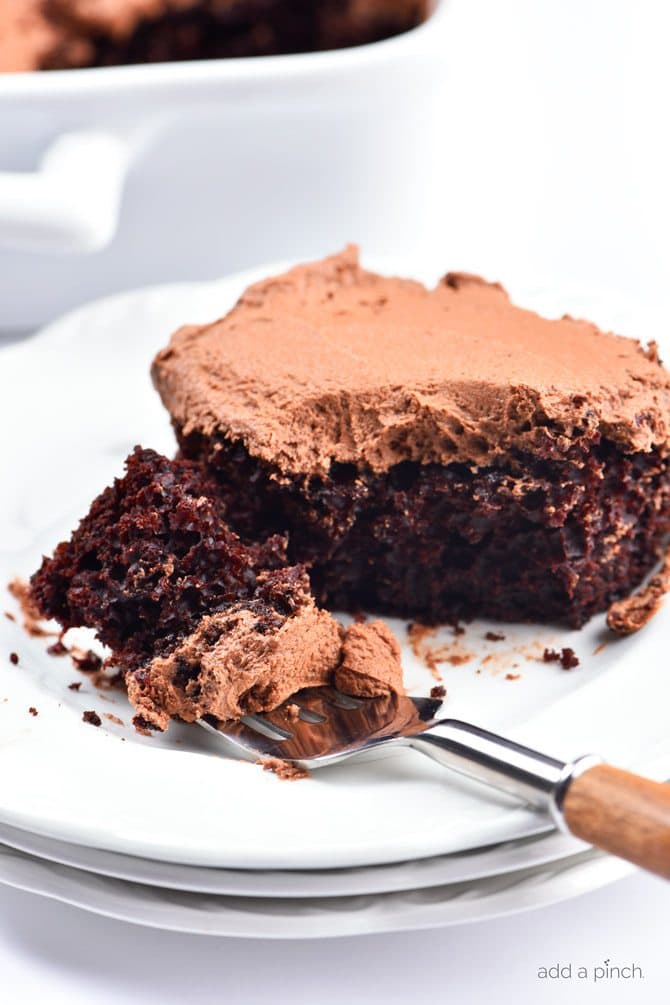 How to Make It
To make the cake, you just need a large mixing bowl and a whisk!
It comes together so quickly and easily and bakes into a beautiful 9 x 13 cake that everyone just loves!
I put together a quick little video to show you just how easy the cake is to mix together. Seriously the easiest and most delicious cake ever, I think! 🙂
Here's the 9×13 Chocolate Cake Recipe. I think you are going to just love how simple it is!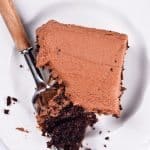 Print Recipe
Best Chocolate Cake Recipe (9x13 Recipe)
My Best Chocolate Cake that everyone absolutely loves, made even easier and sized for a 9x13 sheet cake! It's so easy, delicious and perfect to make anytime!
Prep Time10 mins
Cook Time30 mins
Total Time40 mins
Servings: 24 servings
Ingredients
Chocolate Cake Recipe (9x13 Recipe)
1 cup all-purpose flour
1 cup granulated sugar
1/2 cup unsweetened cocoa powder
1 teaspoon baking powder
1/2 teaspoon baking soda
1/2 teaspoon salt
1/2 teaspoon espresso powder
1/2 cup buttermilk, whole milk, or coconut milk
1/4 cup vegetable oil
1 large egg
1/2 teaspoon vanilla extract
1/2 cup boiling water
Chocolate Buttercream Frosting (9x13 Recipe)
Instructions
Preheat oven to 350º F. Prepare one 9x13 baking dish by spraying with baking spray or buttering and lightly flouring.

For the cake:

Whisk together add flour, sugar, cocoa, baking powder, baking soda, salt and espresso powder to a large mixing bowl.

Add milk, vegetable oil, eggs, and vanilla to flour mixture and mix together until well combined. Carefully stir the boiling water into the cake batter and pour into the prepared 9x13 dish.

Bake for 30-35 minutes, until a toothpick or cake tester inserted in the center comes out clean.

Remove from the oven and allow to cool completely.
Chocolate Buttercream Frosting (9x13 Recipe)
Add cocoa to a large bowl or bowl of stand mixer. Whisk through to remove any lumps.

Add the butter and cream together butter and cocoa powder until well-combined.

Add sugar and milk to cocoa mixture by adding 1 cup of sugar followed by about a tablespoon of milk. After each addition has been combined, turn mixer onto a high speed for about a minute. Repeat until all sugar and milk have been added.

Add vanilla extract and espresso powder and combine well.

If frosting appears too dry, add more milk, a tablespoon at a time until it reaches the right consistency. If it appears to wet and does not hold its form, add more confectioner's sugar, a tablespoon at a time until it reaches the right consistency.

Spread the frosting on top of the cooled cake. Cover and keep on the counter for up to 3 days for best taste.
Enjoy!
Robyn xo