Buttermilk Drop Biscuits are one of my favorite things to make! Easy to make, delicious to eat!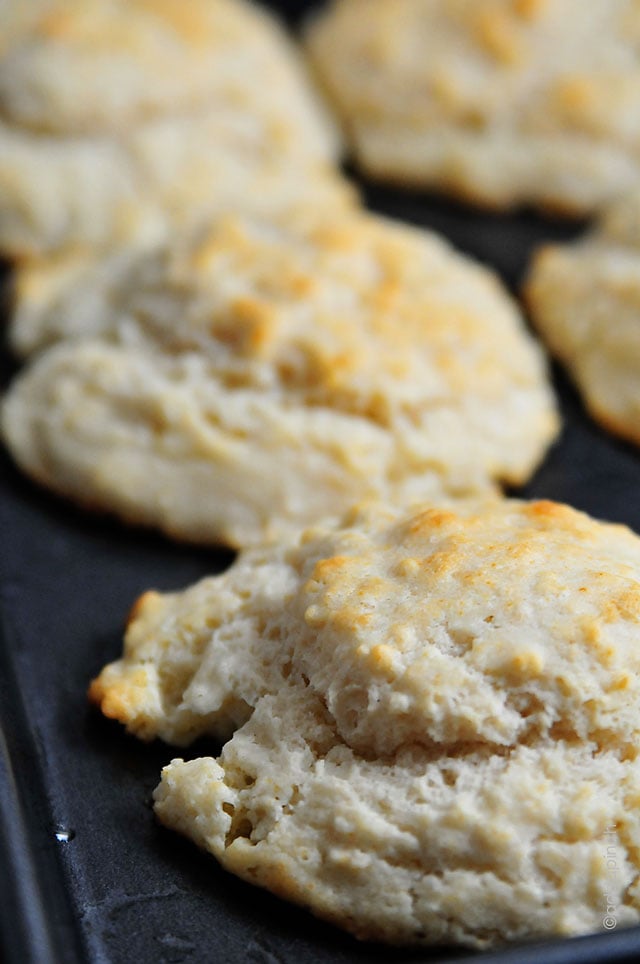 And I've never been one to turn down the opportunity to make biscuits.
Or eat them, it seems.
They'll be perfect to whip up for Father's Day weekend! Or anytime, really!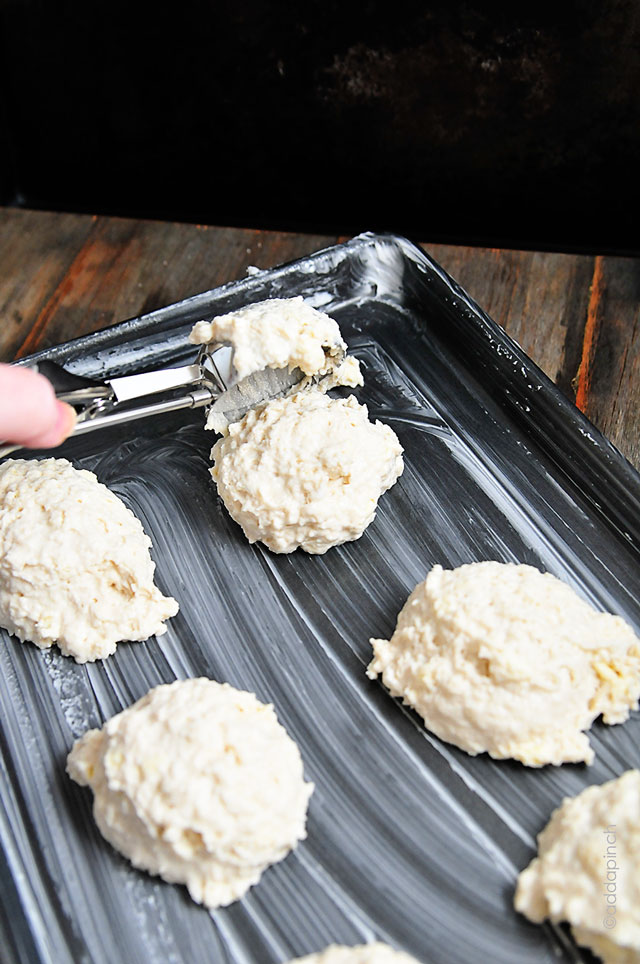 For my Buttermilk Drop Biscuits, I simply combine all of the ingredients in a large bowl and then scoop them out with a large ice cream scoop onto a sheet pan that has been liberally coated with shortening, butter, or lined with a Silpat baking sheet. The shortening or butter adds a crunchy bottom to the biscuits, so that is my preferred method, but you decide what way works best for you!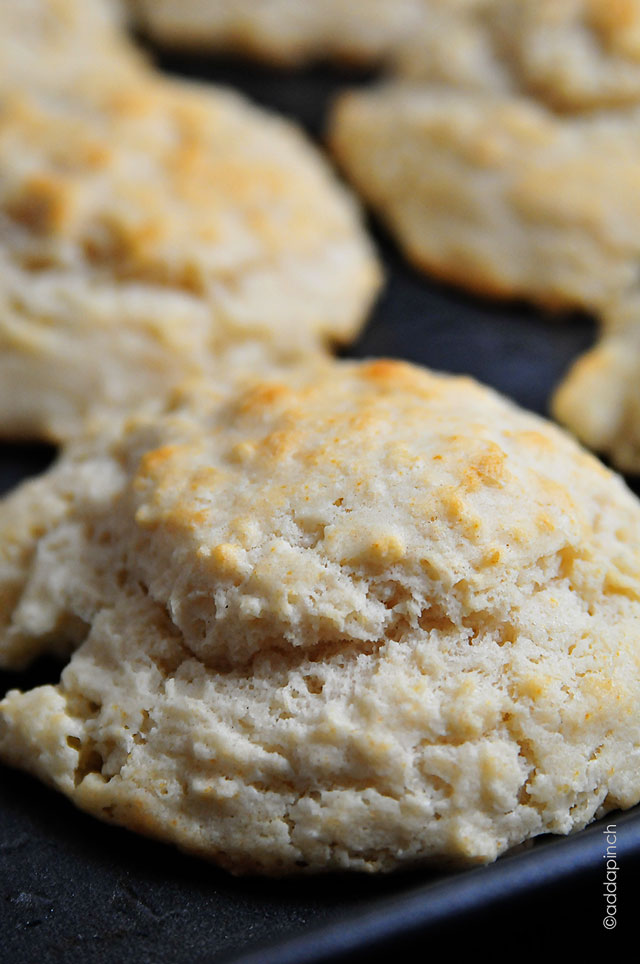 Then, I pop them into a preheated oven and let them do their magic.
That's it. No rolling, no floured countertops, no doughy hands.
Isn't that the best thing ever? Delicious buttermilk biscuits without the mess?!
I used my largest scoop when making these drop biscuits, so they were huge-ish. You can use whatever size you prefer for your biscuits based on the number of biscuits you want to serve. With this large scoop, I made six biscuits. Normally, I reduce the size and have a good dozen or 13 biscuits.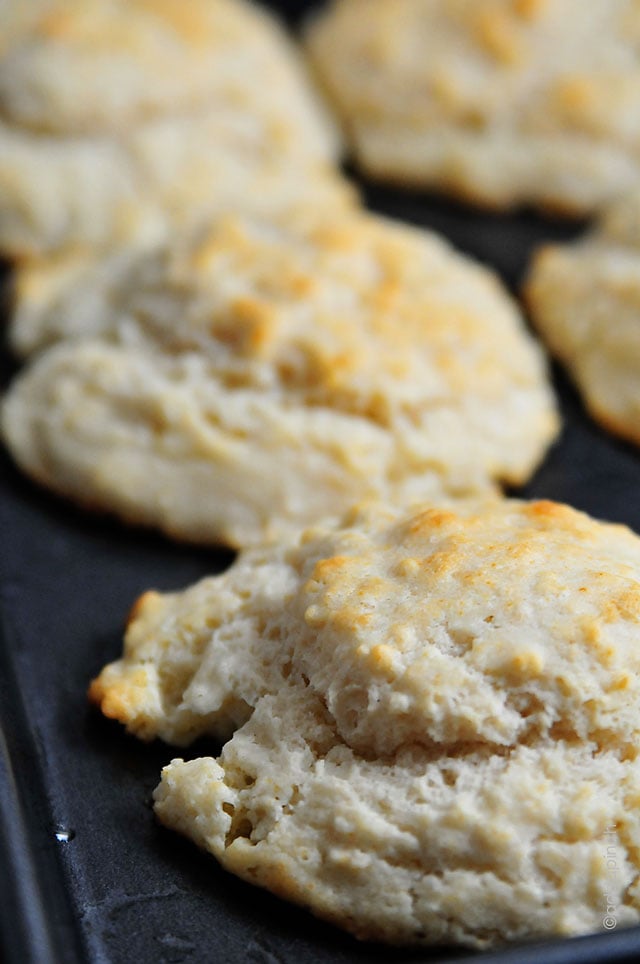 These buttermilk drop biscuits are perfect with all sorts of dishes or right by themselves with a bit of butter and a drizzle of honey.
Here's my Buttermilk Drop Biscuits Recipe. Make 'em soon!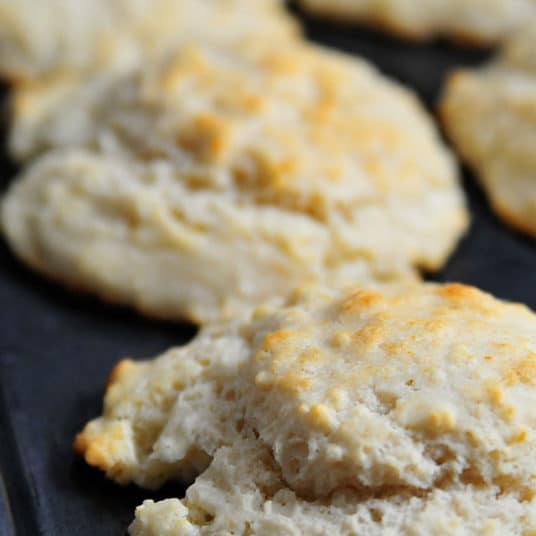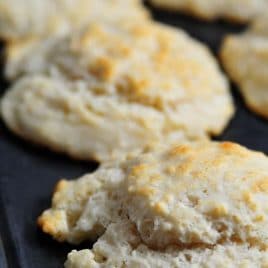 Buttermilk Drop Biscuits Recipe
Buttermilk Drop Biscuits make a delicious addition to any meal! Get this simple, delicious family-favorite recipe for buttermilk drop biscuits!
Ingredients
2

cups

self-rising flour

2

pinches

salt

1

pinch

sugar

3

tablespoons

shortening

1

tablespoon

butter

very cold

1/2

cup

buttermilk

1/2

cup

whole milk

1

tablespoon

butter

melted
Instructions
Preheat oven to 475º F. Prepare baking sheet pan with shortening, butter, or a nonstick cooking mat.

Add flour, salt and sugar to a large mixing bowl. Cut shortening and very cold butter into dry ingredients of flour, salt and sugar.

Slowly pour milks into your dry ingredients. Mix lightly.

Using a large scoop or spoon, scoop dough and place onto prepared baking sheet pan about 2-inches apart.

Place into hot oven and bake for 10-12 minutes. Remove from oven and brush lightly with the melted butter.
Enjoy!
Robyn xo
Need more biscuit ideas?
Head over to see all of my biscuit recipes!