Jump to Recipe • Print Recipe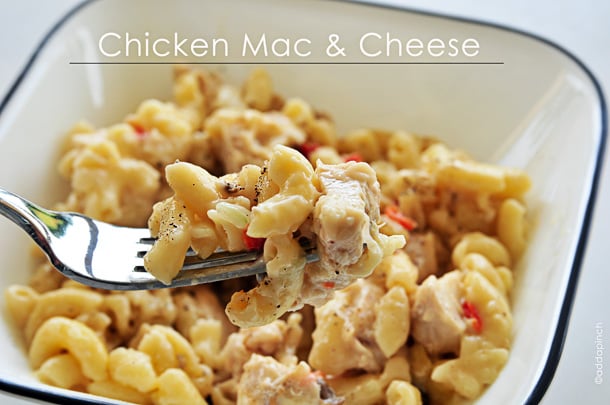 Chicken Mac and Cheese. What is it about it that with just one bite, it immediately feels like you are getting a great big hug from your Grandmother? Or like your snuggling up with the coziest of blankets on the coolest of evenings. Chicken Mac and Cheese is one of those comforting meals that makes you feel better no matter what the situation. It also seems like one of those dishes that I make to take to friends and family on so many occasions.
Sick member of the family? Chicken Mac and Cheese will surely make them feel better – or at the very least help them so they don't have cook for their family.
New baby? A casserole dish full of Chicken Mac and Cheese is great for them to keep in the freezer until just the night when they have no idea what's for supper. It definitely happens when new babies arrive, doesn't it?
New neighbor? Nothing welcomes them to the area like a pan of this stuff. They will never want to move away so use it with extreme caution.
Chicken Mac and Cheese just works, y'all. I promise.
The wonderful thing about this recipe, in addition to its pure comfort, is it easily makes enough for two 9×13 casserole dishes. In other words, it even makes enough for a family reunion or church covered dish, to have one for yourself and one to share, to eat tonight and have one ready made in the freezer for another busy evening.
Since it's already fully cooked, you just have to remove it from the freezer the night before and allow to thaw in the refrigerator. If I've not planned that far in advance, I'll place it in the oven while the oven is preheating and then just cook it until it is well-heated throughout, an extra 10 to 20 minutes or so.
You can also shorten the total initial cooking time of this Chicken Mac and Cheese recipe by using store-bought rotisserie chicken for a quicker-cook meal.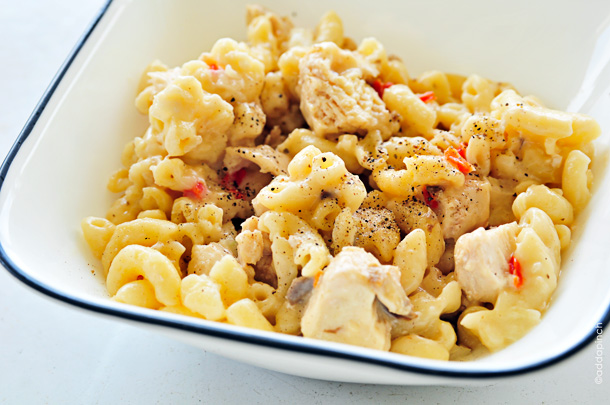 Here's the recipe for my Chicken Mac and Cheese you can save to your recipe box, print, or bookmark.
Chicken Mac and Cheese Recipe
Chicken Mac and Cheese is a delicious, comforting meal perfect for serving large crowds or sharing.
Author:
Robyn Stone | Add a Pinch
Ingredients
6 boneless, skinless chicken breasts or thighs
16 ounces package elbow noodles
16 ounces Monterrey Jack cheese, grated
2 10¾ ounce cans cream of mushroom soup
2 cups chicken stock
½ cup onion, chopped
2 cloves garlic, chopped
3 heaping tablespoons mayonnaise
¾ cup pimento pepper, chopped (large jar)
1 large sleeve Ritz crackers, crushed (optional)
Instructions
Preheat oven to 350 degrees.
Cook chicken, covered with water, in a large stockpot over medium heat until tender, about 20 minutes. Remove chicken from stockpot with a slotted spoon and set aside to cool.
Pour elbow noodles into stockpot over medium heat and cook until al dente, about 10 minutes. As the noodles are cooking, chop chicken into bite sized pieces. Once noodles are cooked, strain them from chicken stock, reserving the chicken stock for later use.
Add noodles and chicken to a large mixing bowl. Add remaining ingredients and stir until well-combined.
Pour into two 9x13 casserole pans.
Cover with Ritz Crackers on top. (optional)
Bake at 350º degrees for 30 minutes.
Place in preheated oven and cook for 30 minutes. Remove from oven and serve.
Freezing instructions:
For freezing, prepare with the exception of baking. Wrap tightly with aluminum foil and store in the freezer. The night before ready to serve, place in the refrigerator to allow to thaw before cooking. Then cook as normal. If planning to bake frozen, place in the oven while it is preheating and add about 10-20 minutes to the cooking time to make sure heated throughout.
Preheat oven to 350º.
Mix all ingredients except Ritz Crackers in a large bowl. Pour into a baking dish.
Cover with Ritz Crackers on top.
Bake at 350º degrees for 30 minutes.
I hope you enjoy this recipe as much as our family does. Best of all, I hope you enjoy sharing it with others.
Love ya,
Robyn xoxo
If you like this recipe, you may also enjoy:
Avocado Mac and Cheese from Two Peas and Their Pod
Three Cheese and Sausage Mac and Cheese  from Picky Palate
Cajun Chicken Pasta from The Pioneer Woman
+ more pasta on Add a Pinch
+ more quick-cook shortcuts at Cooking Light