Chili Stuffed Sweet Potatoes Recipe
Chili Stuffed Sweet Potatoes makes a quick and easy meal! Ready and on the table in 30 minutes or a great make-ahead meal for even easier weeknights!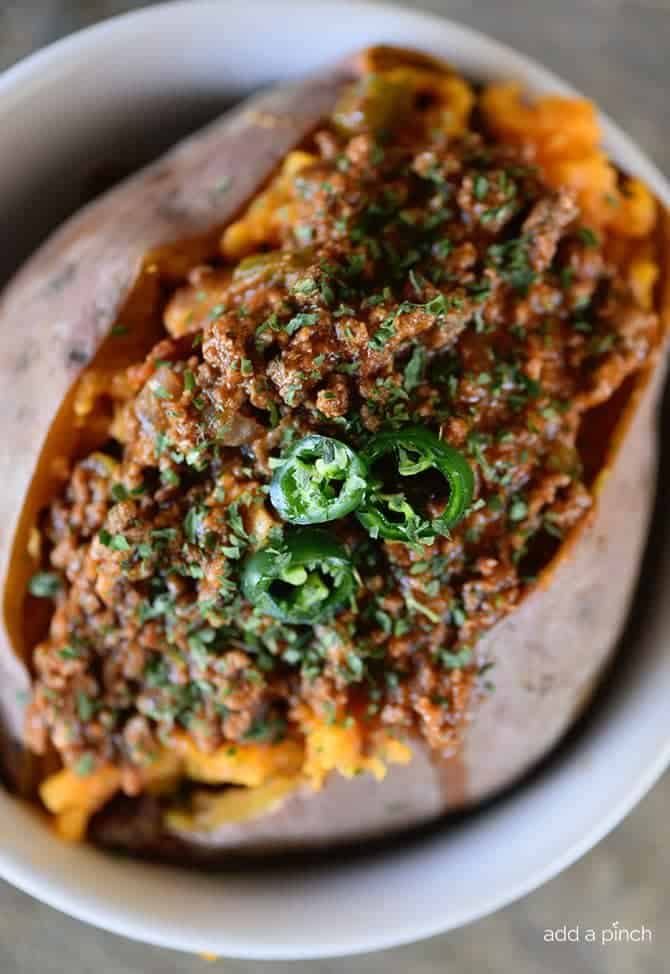 If your day goes anything like mine, it begins in a rush out the door to school, stays running on full throttle and then winds up with everyone coming in the door asking, "what's for supper?"
That's when I love to turn to meals that I can make in a snap or make-ahead meals that are ready and waiting for just such an occasion.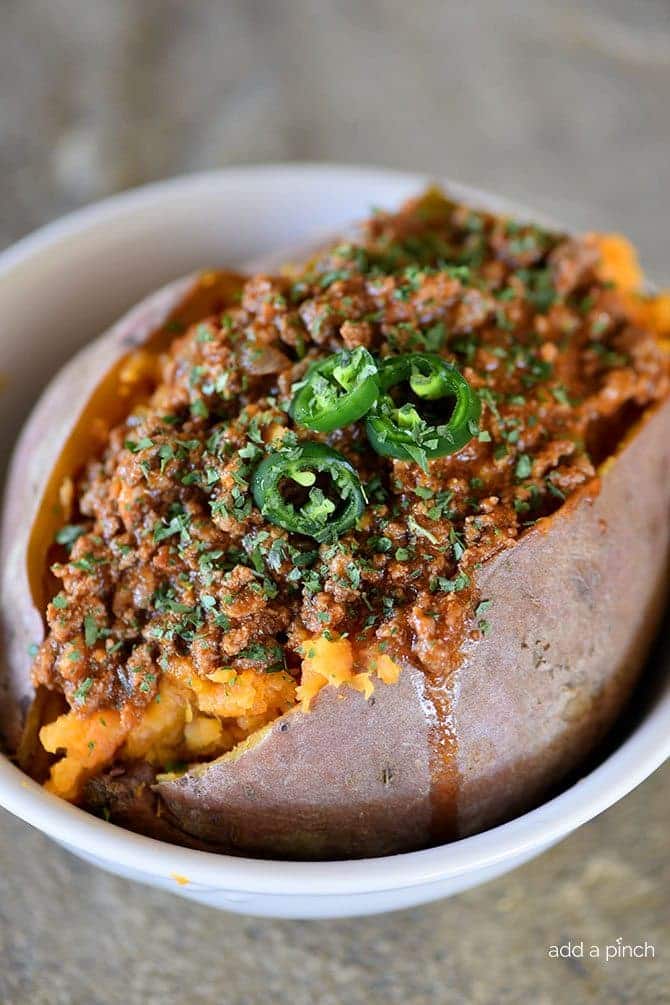 These Chili Stuffed Sweet Potatoes fit the bill perfectly. While the recipe from start to finish takes 30 minutes to make, it is also one that works perfectly for repurposing leftovers from previous meals during the week or to simply make-ahead and keep in the refrigerator if you like to meal prep earlier on the weekends for easy weeknights throughout the week.
To make this recipe all at once, I prepare my sweet potatoes in my Instant Pot (what a time-saver that thing is!) while I'm cooking my chili. If you don't have an Instant Pot, don't worry, you can throw them into your slow cooker earlier in the day or bake them conventionally in the oven. The conventional method will take a bit longer than the 30 minutes, just so you note the time requirement.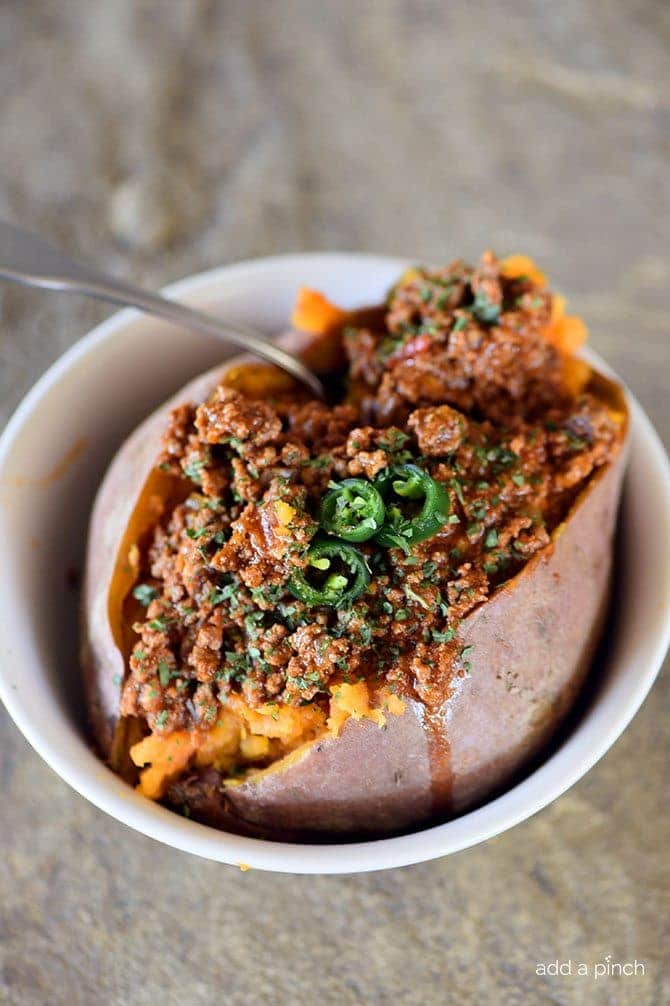 As a make-ahead recipe, I love to prepare a few recipes over the weekend when I have a little bit more time on my hands and am not so rushed. I then let the chili cool completely and then package it into smaller containers. At this point, you can either store it all in the refrigerator to be used during the week, or divide the chili by putting some in the refrigerator for use over the next few days and the remainder in to the freezer to be used within the next few months. That way, you've solved what's for supper for two nights! 🙂
You can also prepare the sweet potatoes over the weekend and then wrap well and store in the refrigerator. As with the chili, I love to bake them and then wrap each of them for storing in the refrigerator to use for quick lunches or suppers throughout the week!
To serve, you'll just reheat the chili in a medium saucepan over medium heat until it has been warmed throughout or pour it into a microwave-safe container and pop it into the microwave for reheating. For the sweet potatoes, you can either reheat in the oven or in the microwave. Then, place each sweet potato into a bowl, split it open and loosen the flesh of the sweet potato and then ladle on your chili, top with optional toppings and dig in!
Talk about comforting!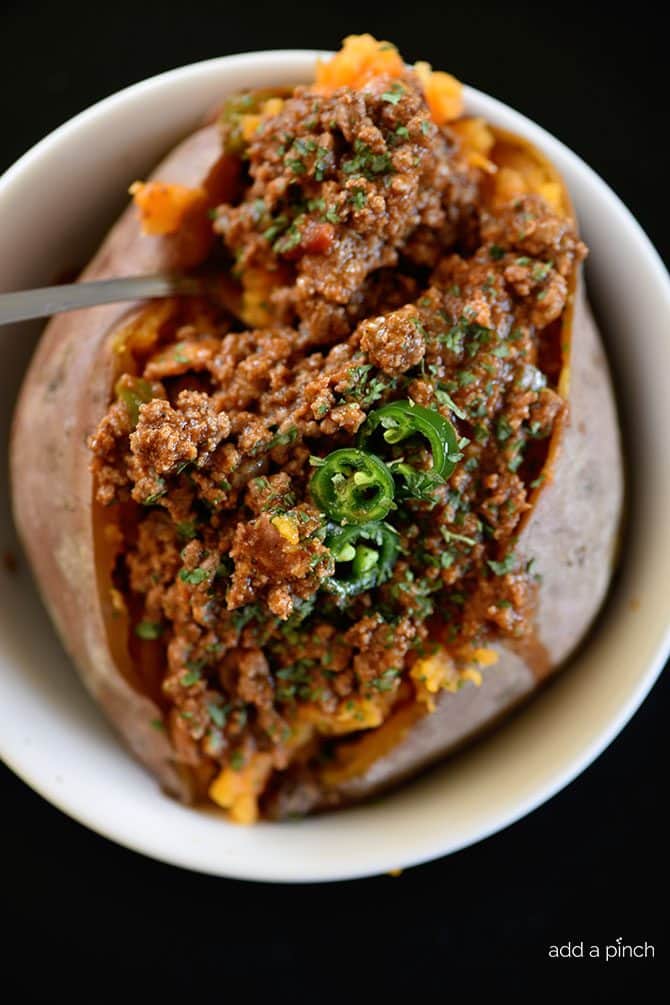 Here's my Chili Stuffed Sweet Potatoes recipe. It's a weeknight favorite!

Chili Stuffed Sweet Potatoes Recipe
Author: Robyn Stone | Add a Pinch
Serves: 6
Ingredients
Chili Recipe
2 tablespoons olive oil
1 medium onion, diced
3 cloves garlic, chopped
1 tablespoon chili powder
1 tablespoon cumin
2 teaspoons dried oregano
1 pound ground beef or turkey
3 tablespoons tomato paste
2 green bell peppers, seeded and chopped
2½ cups tomato sauce
1½ cups chicken stock
2 cups cooked pinto beans or 2 (14.5 ounce) cans pinto beans, rinsed and drained
1 teaspoon kosher salt
½ teaspoon freshly ground black pepper
Optional toppings: fresh parsley, sour cream, cheese, jalapeño slices
Instructions
Drizzle olive oil into a Dutch oven set over medium heat. Add onion, garlic, chili powder, cumin, and oregano and saute the onions until tender, about 2 minutes. Stir in the ground beef or turkey and cook until browned. Drain away grease and stir in tomato paste, bell pepper, tomato sauce, chicken stock, pinto beans, salt and pepper. Cook, stirring occasionally until the chili is thickened,about 20 minutes.
Meanwhile, prepare the Instant Pot Sweet Potatoes.
To serve, place each sweet potato in a bowl, split open and loosen the flesh of the sweet potato with a fork. Then, ladle on the chili and add any additional toppings desired.
Notes

Special Dietary Changes:
If you have special dietary concerns, you can easily modify this chili recipe to fit your needs. If you are following a paleo, Whole 30, or similar lifestyle, you would simply omit the beans included in this chili and not include the optional sour cream topping.
Make-Ahead:
This is a great make-ahead dish! Allow the chili and the sweet potato to cool separately. Then, wrap the sweet potatoes individually, pour the chili into a container and cover, and store all in the refrigerator. To serve, reheat the chili over medium heat, cooking until the chili has warmed throughout and reheat the sweet potato in the oven until warmed throughout. Then serve as included in the recipe instructions.
Freezer Friendly:
Prepare the chili as directed. Allow to cool completely and store in freezer-safe containers for up to 3 months. To serve, thaw in the refrigerator overnight and then reheat over medium heat in a Dutch oven or large saucepan until heated throughout. Serve with sweet potatoes as included in the recipe instructions.


Enjoy!
Robyn xo