These Chocolate Chip Peanut Butter Oatmeal Cookies are addicting. Seriously.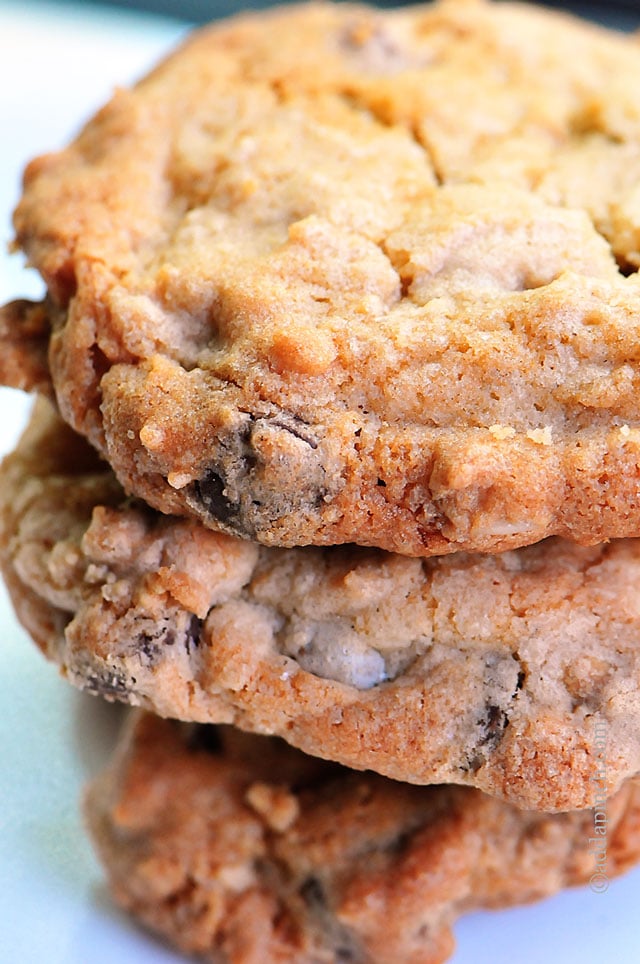 Also, I couldn't figure out the exact name to call them. I struggled with Peanut Butter Chocolate Chip and Chocolate Chip Peanut Butter, but then those both sounded like the cookie was peanut butter with just chocolate chips. And then I thought of a few fun names like PBCCO cookies, but then knew no one would have a clue what kind of cookies these were.

I think I'd do better at naming nail polish than trying to figure out names for these cookies. So, just excuse the enormously long name and enjoy them. Umkay?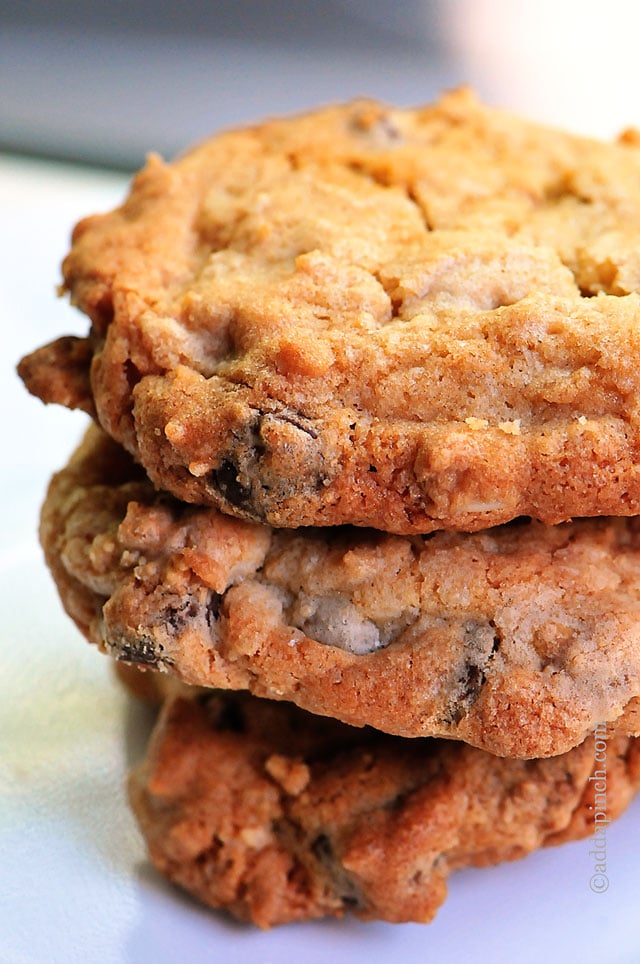 And let me tell you about how they happened.
You see, we're on an RV trip to OshKosh to the airshow that we like to go to during the summers whenever possible. We haven't been in a couple of years and decided that this would indeed be a great summer to go. My husband's sister and her husband (also a pilot) and their three boys actually were the instigators for this year's trip. This is their first year going and asked us if we'd like to RV.
Well, you know our answer! If there is any way possible my husband can manage it with work, we love to pack up the RV and hit the road. And with family to OshKosh? Even better.
Then, to make it even more exciting, another of my husband's sisters and her husband (another pilot) decided they could also make the trip with us! We loaded up our three RVs, families, made reservations and meal plans, and hit the road!
One of our planned "excursions" for our trip was a two night stop over near Chicago and to spend the day Saturday exploring Chicago with the kids. Wrigley Field, Millenium Park, Navy Pier, we planned as much as possible. Actually, so many folks gave input into where we should go, what we should see and do, and where we should eat on Twitter and Facebook. You all made the trip even better!
So, as we were headed to our stop over outside of Chicago, we were caught in stop and stop (not go) traffic for an extended period. I had Little Buddy plus my three nephews in the RV with my husband and me and decided it would make the perfect time to bake some chocolate chip cookies for the boys.
I mixed up the cookie dough and then pulled open the pantry to find a fresh bag of peanut butter chips I'd bought for the trip for no planned reason.
Hoorah! I knew what I was adding to the cookies!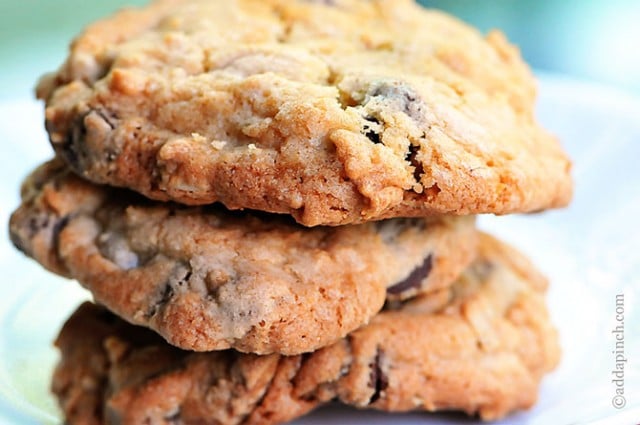 I asked all the boys if they liked peanut butter chips and let them all sample them before I tossed them into my cookie dough. They all loved them so I knew the cookies would be loved, too!
And you know I had to let them have a sample of the cookie dough. It just wouldn't be cookie making time unless they got a pinch of dough to taste.
They were all piled on our bed in the back of the RV playing fort and building Legos with flashlights and the shades closed. When I asked them what they were doing, they said they were playing in the "man cave". Where in the world they'd heard that, I don't know, but it was priceless.
So, I put their nibbles of dough on a plate and slid it under the fort "door" for them.
Within just a few seconds, the plate was sliding back to me through the opening of their fort and "ummmmm" was coming from inside. Then, my sweet nephew Stone stuck his head out of the opening and said, "that tastes delicious. I can't wait for the cookies."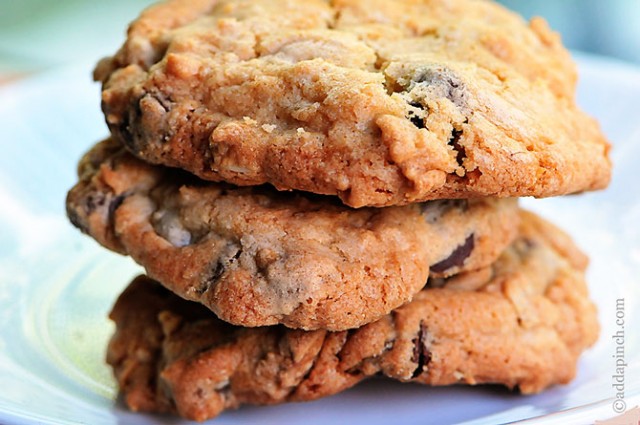 So, here are mine and the boys stuck in traffic, throw whatever you can find into the mixer bowl sorta Chocolate Chip Peanut Butter Chip Cookies. You'll love 'em.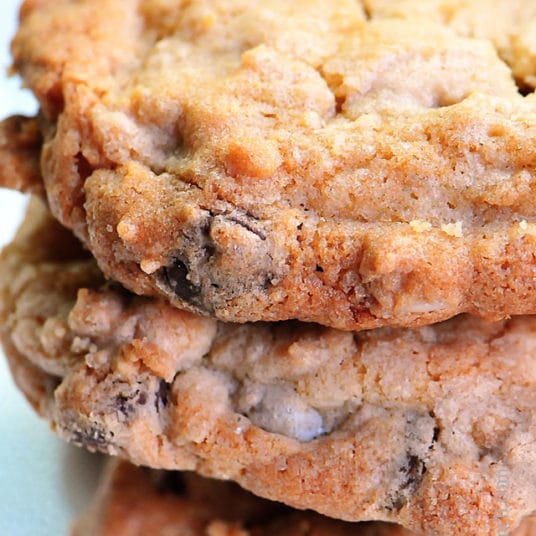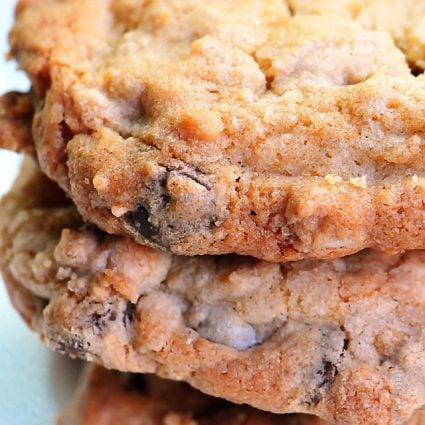 Chocolate Chip Peanut Butter Oatmeal Cookies Recipe
Chocolate Chip Peanut Butter Oatmeal Cookies provide the perfect combination of peanut butter and chocolate chips in a cookie!
Ingredients
1

cup

butter

1

cup

brown sugar

,

packed

1

cup

sugar

2

eggs

1

tablespoon

vanilla extract

3

cups

flour

½

cup

quick-cooking oats

1

teaspoon

sea salt

¾

teaspoon

baking soda

1

cup

chocolate chips

1

cup

peanut butter chips
Instructions
Preheat oven to 350º Fahrenheit.

Cream butter then add sugars and mix until light and fluffy, about 3 minutes. Add eggs and vanilla and mix until well-combined.

Add flour, oats, sea salt, and baking soda to butter mixture. Mix well and then stir in chocolate chips and peanut butter chips.

Scoop cookie dough onto a cookie sheet spacing well apart to allow room for the cookie to spread lightly.

Bake for about 8-10 minutes or until lightly browned.
Nutrition
Calories:
181
kcal
|
Carbohydrates:
25
g
|
Protein:
3
g
|
Fat:
8
g
|
Saturated Fat:
5
g
|
Polyunsaturated Fat:
1
g
|
Monounsaturated Fat:
2
g
|
Trans Fat:
1
g
|
Cholesterol:
24
mg
|
Sodium:
148
mg
|
Potassium:
27
mg
|
Fiber:
1
g
|
Sugar:
15
g
|
Vitamin A:
182
IU
|
Vitamin C:
1
mg
|
Calcium:
16
mg
|
Iron:
1
mg
Nutrition information is automatically calculated, so should only be used as an approximation.
Enjoy!
Robyn and gang xo