Enchilada Casserole Recipe
Enchiladas make one of my family's favorite meals. And this Enchilada Casserole just takes it over the top, let me tell you.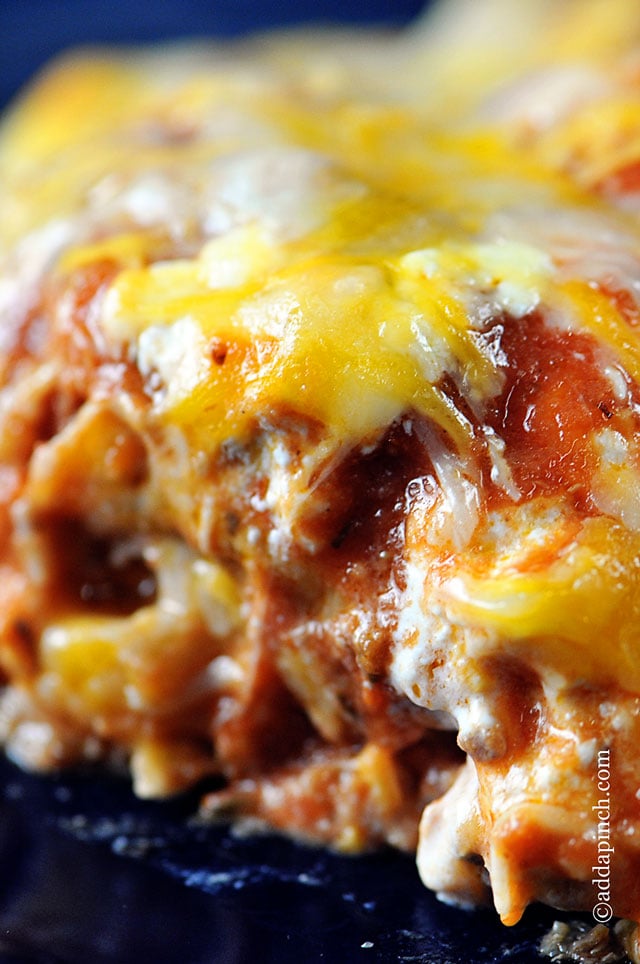 Thankfully, it only takes a little bit of time to put together. Here are a few things I've discovered over the years of making this enchilada casserole that make it easy as can be.
1. Use whatever you like. I'm not a stickler that it has to be chicken or beef. Actually, for the recipe photographed, I used pulled pork. We had left over pork roast that I'd made earlier and it went perfectly with all of the other flavors in this enchilada casserole. You can also omit the meat if you prefer and use beans or just use cheese. It is totally up to you and your preferences. I love those kinds of recipes.
2. Make ahead, if you wanna. This enchilada casserole is perfect as a make-ahead meal. When I know I'm going to have a crazy, busy day coming up during the week, I take a few extra minutes to throw this recipe together in a casserole dish, cover it tightly and pop it into the refrigerator. While it only takes a little bit of time to make anyway, having it ready to heat and serve out of the oven makes it faster than riding through a drive thru or ordering takeout. It also makes it perfect to take to neighbors, new parents who you are just dying to have a reason to take a peek at their sweet little bundle of joy, or even for friends as a little pick me up to give them a break, too. Can't beat that. I also love the flavors more the next day after preparing it anyway. They've had time to get all cozy with one another. Heh.
3. Love those leftovers. Okay, this may be a repeat of number one above, but bear with me. This enchilada casserole makes the perfect leftover meal – both ways. What? Well, what I'm trying to say is, the enchilada casserole is the perfect way to use up leftover meats, beans, or other items you've made earlier in the week. Likewise, it's also perfect to warm up again and again as a leftover itself. We never get tired of it and I always hate to see that last serving go. It just gets better and better.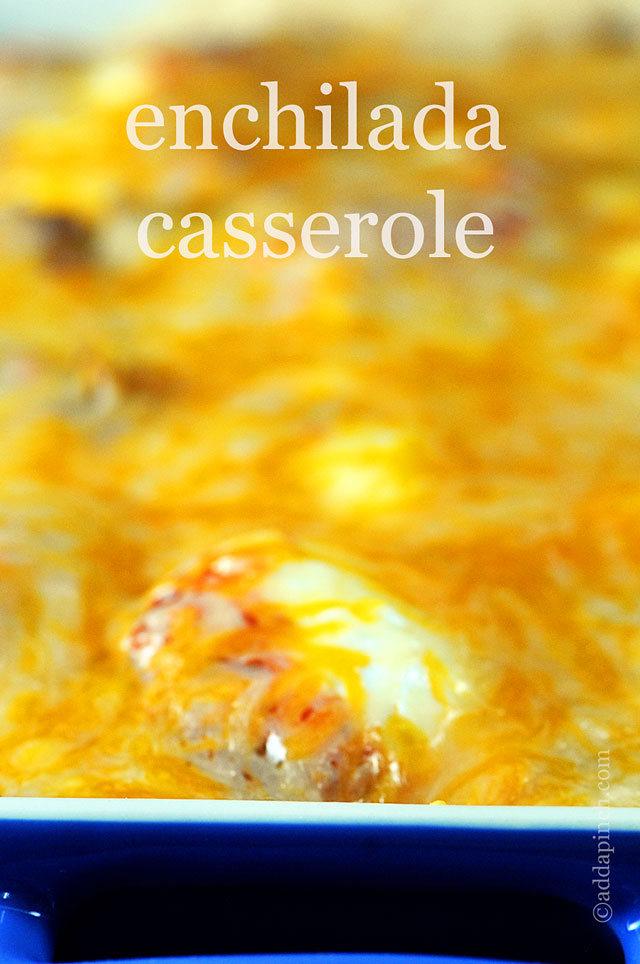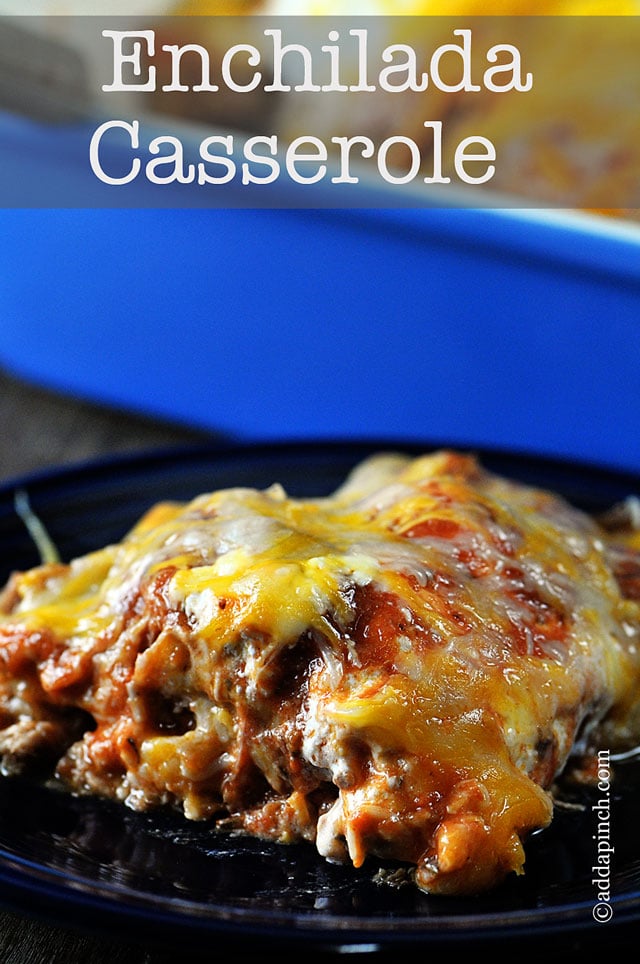 I also use my own homemade enchilada sauce recipe in my enchilada casserole. But, if you'd rather, you can certainly use the canned variety. Do whatever works for you and your family. There's no shame in that game.
Here's my enchilada casserole recipe. I sure hope your family loves it as much as mine does. Let me know your favorite combinations when you try it.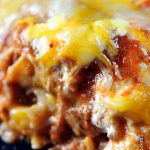 Print Recipe
Enchilada Casserole Recipe
Enchilada Casserole makes a perfect weeknight or weekend meal to serve family and friends. Enchilada Casserole is comfort food that feeds those spicy cravings. Get this family favorite enchilada casserole recipe and make it your own!
Prep Time5 mins
Cook Time30 mins
Total Time35 mins
Servings: 8
Calories: 0
Ingredients
olive oil
6 medium tortillas
2-3 pounds ground beef.
1 medium onion diced
2 cloves garlic minced
2 cups enchilada sauce
1-2 cups sour cream
1 cup grated cheddar cheese
1 cup grated Monterrey Jack cheese
Instructions
Preheat oven to 350º F.

Drizzle olive oil into bottom of 12-inch skillet over medium heat. Once warm, add a tortilla, one at a time, to the skillet. Cook until crisp on each side and place onto a kitchen pan lined with paper towels.

Add diced onions and garlic to skillet. Cook until just tender. Remove to a bowl and set aside. Add beef to skillet and cook until completely browned. Remove from heat and drain away any drippings. Add onions and garlic back to beef and stir to combine.

Spoon about 1/2 cup of enchilada sauce into the bottom of a 9x13 casserole dish that has been sprayed with nonstick cooking spray. Spread enchilada sauce to coat the bottom of the casserole dish.

Place 3 tortillas on top of the enchilada sauce, overlapping them slightly at the edges to make all 3 tortillas fit lengthwise. Ladle on additional enchilada sauce, about 1/2 cup. Layer on beef, onion and garlic mixture, making sure to spread mixture evenly over tortillas and enchilada sauce.

Top with large dollops of sour cream and spread slightly. Sprinkle on a little of both cheeses.

Repeat layering with 3 more tortillas, enchilada sauce, beef mixture, sour cream, and end with cheeses.

Bake in oven until cheeses have melted, about 20 minutes.

Serve warm.
Notes
You may substitute any other meat or bean for ground beef in the recipe. Additionally, you may add beans, lettuce, or diced tomatoes to the recipe, if desired.
To freeze: Prepare recipe through baking, wrap tightly with aluminum foil and place into the freezer. To heat once frozen, simply remove from the freezer and place in the refrigerator overnight to thaw. Bake as instructed in the recipe; however, note that baking time may take a bit longer to make sure all ingredients are heated throughout.
Enjoy!
Robyn xo