Jump to Recipe • Print Recipe
Happy Valentine's Day!!! I thought I'd share one of my favorite recipes from my childhood with you today! Homemade strawberry milk! Strawberry milk is perfect for Valentine's Day, birthdays, Mother's Day or just the random weekday morning you want to make something special for your kids!
Err…. or yourself.
With just a few ingredients, you'll be able to whip up this fun, pink, delicious strawberry milk that even the pickiest little eater will love.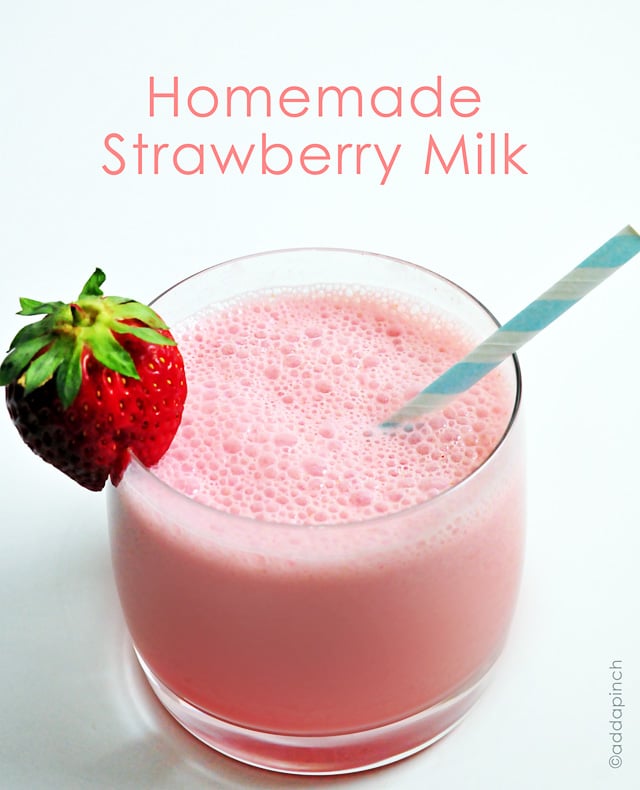 First, you'll start by bring strawberries, sugar, and water to boil over medium to low heat. Let the berries simmer for a little bit to make a delicious strawberry simple syrup.
Then, I like to throw my berry syrup into my blender to get it nice and smooth before allowing it to cool completely.
Usually, I like to go ahead and make my strawberry syrup the night before and allow it to cool in the refrigerator overnight.  But really, it's cool enough in about 15-20 minutes, even sooner if you pop it into the freezer for a quick chill.
Then, I just add a few tablespoons of the chilled strawberry syrup to a glass of ice cold milk and stir until it is well combined.
If I'm making more than one serving, I'll add the milk and enough of the strawberry syrup for each of the servings into my blender and have it ready to pour into about 10 seconds!
You can't beat that!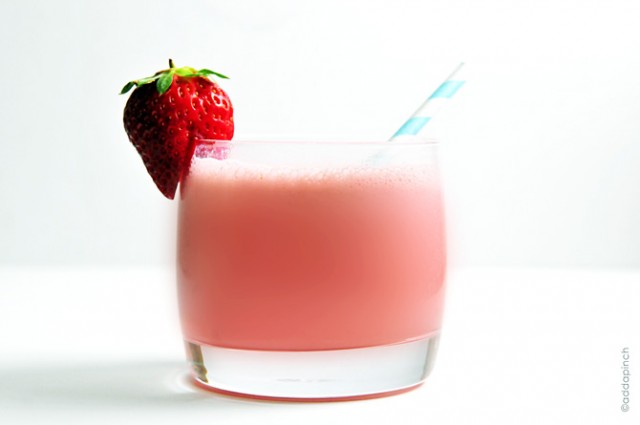 It's the perfect addition to a fun breakfast and definitely goes great with pancakes, waffles, or my strawberry and cream stuffed french toast or fresh strawberry cake!
You've just got to try it!
Here's my recipe for Homemade Strawberry Milk.

Homemade Strawberry Milk Recipe
Homemade Strawberry Milk is a fun addition to any breakfast or afternoon treat.
Author:
Robyn Stone | Add a Pinch
Ingredients
For the Strawberry Syrup
2 cups sliced fresh strawberries
½ cup granulated sugar
½ cup water
For the Strawberry Milk
8 ounces ice cold milk, almond milk, or coconut milk
Instructions
Add strawberries, granulated sugar, and water to a medium saucepan and bring to a boil over medium-low heat. Reduce heat and allow to simmer about 10 minutes. Remove from heat and pour into jar of a blender. Blend on high speed for 10 seconds or until smooth. Pour into a bowl, cover with plastic wrap, and refrigerate until chilled, about 20 minutes or overnight.
To make strawberry milk, add 3 tablespoons of strawberry syrup for each 8-ounce glass of milk. Stir well to combine.
Serve immediately.
Strawberry syrup may be stored in an airtight container in the refrigerator up to one week.
Enjoy and I hope your Valentine's Day is full of all those folks you love!
Robyn xoxo