Strawberry Cake made from scratch! This strawberry cake recipe is perfect for those looking for a homemade fresh strawberry cake.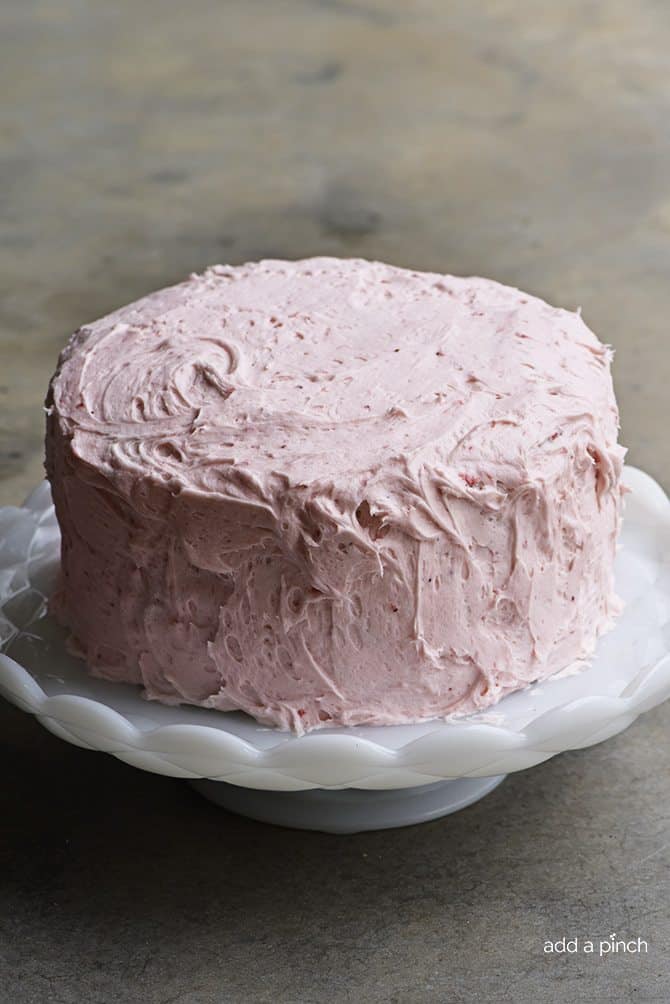 Strawberry Cake has to be one of my family's favorite cakes – especially my husband's. As much as I love my Grandmother Verdie's Strawberry Cake recipe, I wanted to make one that I made from scratch. I knew the party gave me the perfect opportunity to gauge my family's reaction to this updated version of my family's classic recipe.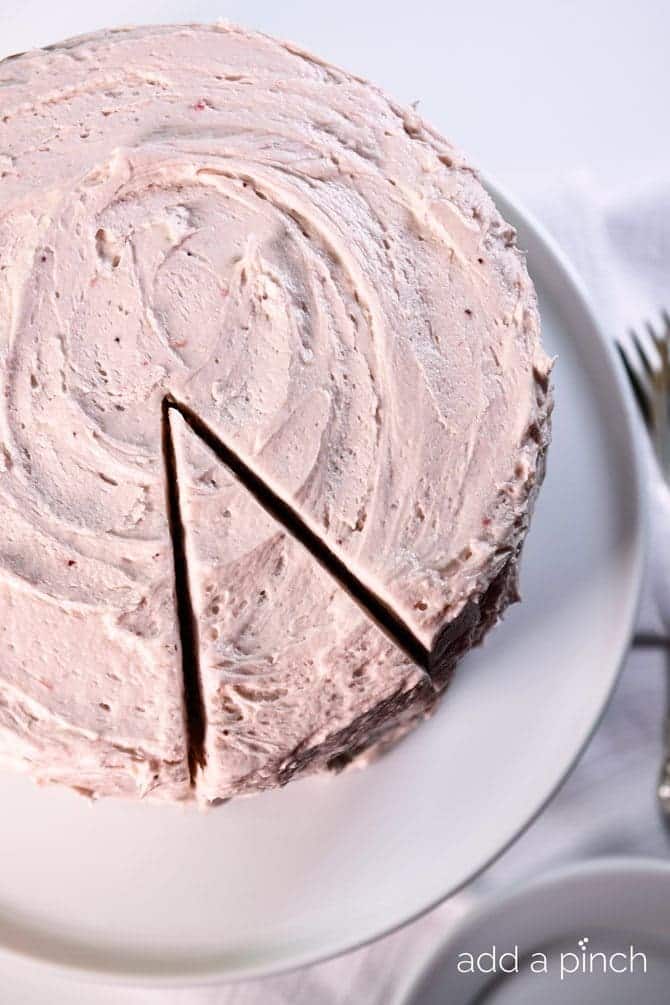 Quick, easy, delicious and made from just a few simple ingredients, this strawberry cake is definitely a keeper of a recipe.
The strawberry flavor is light, with bites of fresh strawberries throughout.  The cake also has a light pink tint rather than an over the top pink coloring that many strawberry cakes get from the addition of flavored gelatin to the mix.
So, if you are looking for a strawberry cake option that is made from scratch, this is for you! While it is perfect for just about any occasion at my house, it is especially nice for showers, weddings, birthdays, and luncheons.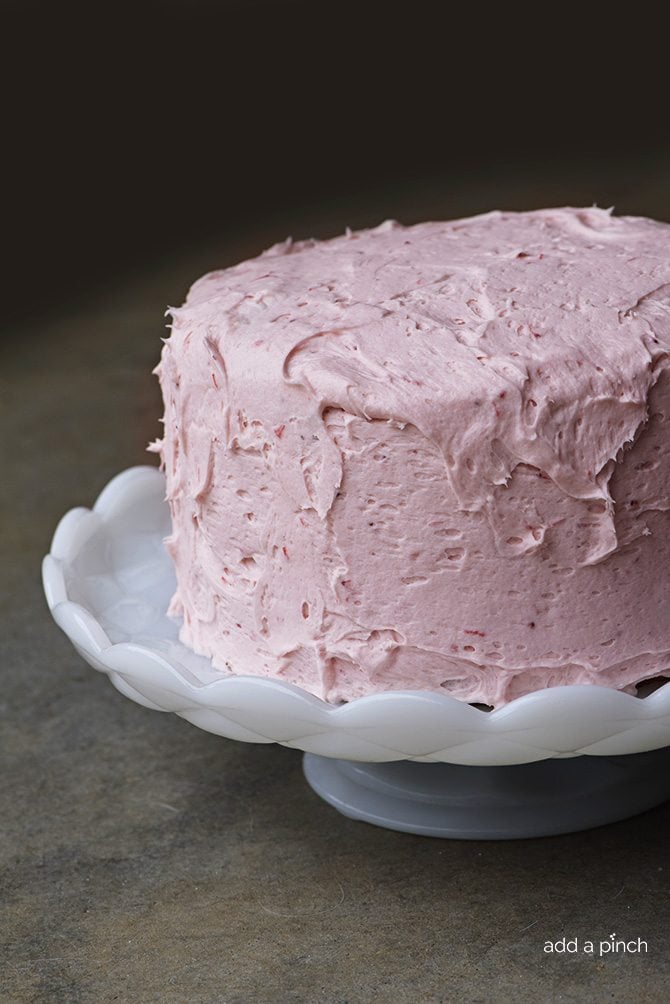 There were a few people who let me know they were having some issues with the cake recipe previously. So, I headed back into the kitchen to test and retest the recipe determine what the issue could be. Originally, I included the option to use strawberry syrup in the cake recipe, but since others were having issues with the center of the cake not setting, I decided to replace the strawberry syrup with strawberry puree instead. You still get delicious strawberry-ness with the puree, but with the puree you get a much lighter crumb for the cake texture. If you'd like a more pronounced pink color to your strawberry cake, you can use a little natural coloring.
Here's my Strawberry Cake recipe. I hope you love it!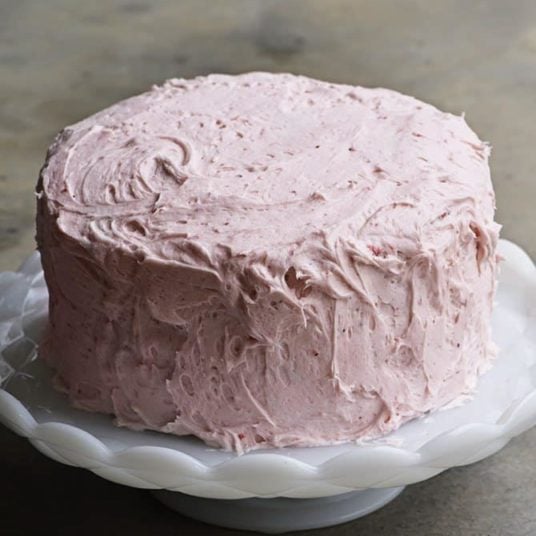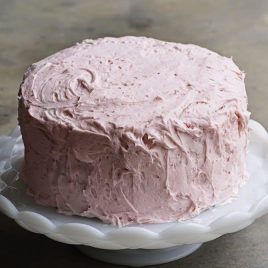 Strawberry Cake Recipe
Strawberry Cake made from scratch! This strawberry cake recipe is perfect for those looking for a fresh strawberry cake made from scratch ingredients.
Ingredients
12

medium

strawberries

hulled

1

cup

(2 sticks )unsalted butter, room temperature

1/2

cup

shortening

3

cups

granulated sugar

5

large

eggs

room temperature

3

cups

all-purpose flour

2

teaspoons

baking powder

1/4

teaspoon

salt

1/2

cup

whole milk

room temperature

1/2

cup

buttermilk

room temperature

2

teaspoons

vanilla extract

1 - 2

drops natural food coloring

optional
Instructions
Preheat the oven to 350º F. Prepare three 9-inch round cake pans with nonstick baking spray or prepare with butter and flour. Remove any excess flour.

Blend the strawberries in a blender on medium speed until pureed, about 3 minutes. This should result in 3/4 cup strawberry puree. Set aside.

Cream together the butter and shortening with an electric mixer until light and fluffy. Slowly add the sugar, one cup at a time, making sure to fully incorporate each cup before adding another. Add eggs one at a time, making sure to fully incorporate each egg before adding another.

Sift together the flour, baking powder, and salt in a medium bowl. Pour milks, vanilla, and the strawberry puree into a measuring cup and whisk together with a fork. Alternately add the flour mixture and the milk mixture to the butter and shortening, beginning and ending with the dry ingredients.

Gently stir all ingredients until well combined. Stop the mixer and scrape down the sides and bottom of the bowl, making sure to have all ingredients well mixed.

Evenly distribute the batter between the cake pans and place the pans into the preheated oven. Bake for 30 to 40 minutes, or until the cake releases from the edges of the pan and springs back to a light touch. Remove the pans from the oven and allow to cool in the cake pans for about 10 minutes. Turn the cakes out onto wire racks and let them cool completely.

Frost cake with strawberry buttercream frosting.
Notes
If a more pronounced strawberry flavor is desired, add 1 teaspoon strawberry extract to the cake batter as you are adding the vanilla extract.
If you would like a more pronounced pink color to your cake, add 1 - 2 drops of natural pink or red food coloring to the batter.

From the Add a Pinch recipe archives. Originally published July 2013.