Jump to Recipe • Print Recipe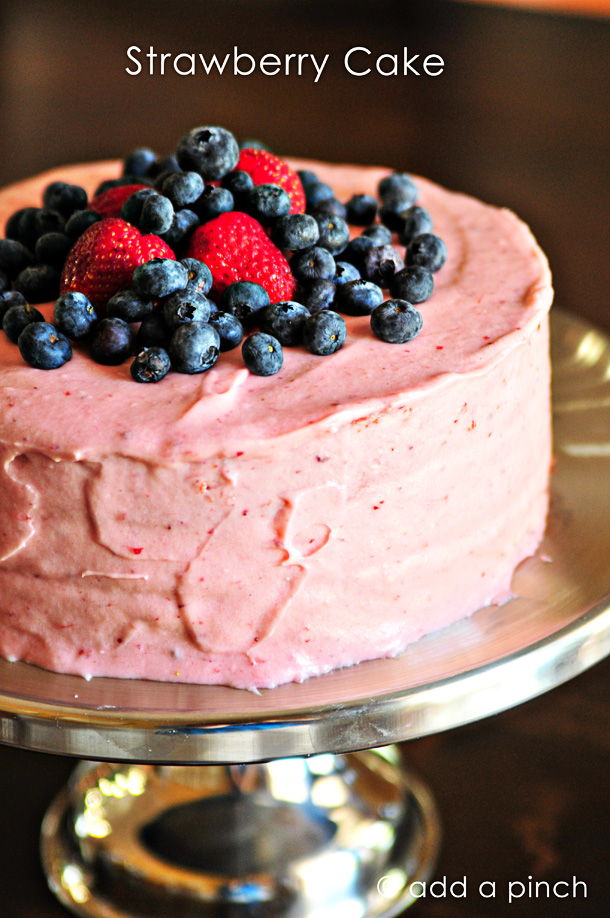 My Grandmother Verdie was such an inspiration to me. She was quick to give a hug, say a prayer for and with you, and to share her talents. She was an excellent seamstress, a wonderful homemaker, and you were truly blessed when you were able to eat a meal at her table. The meals were always fresh and delicious.
I've shared previously about the notebook of her handwritten recipes she gave me as one of my wedding presents. Like her Chicken Casserole, these recipes bring back a flood of memories of growing up with her.
This weekend, we celebrated my mother's Mother's Day. I prepared many of my mother's favorite things, but the most special had to have been her own mother's Strawberry Cake.
Grandmother Verdie's Strawberry Cake Recipe
Delicious Southern family recipe for Strawberry Cake
Author:
Robyn Stone | Add a Pinch
Ingredients
1 Box White Cake Mix, Duncan Hines
3 Tablespoons All-Purpose Flour
1 Small Box (3 oz) Strawberry Flavored Gelatin, Jello
½ Cup Water
1 Cup Crisco Oil, coconut oil, or melted butter
4 Eggs
10 oz. Box Frozen Halved Strawberries in Syrup, Birdseye, thawed and divided
Instructions
Preheat ovens to 350 degrees. Butter and flour 3 8-inch round cake pans.
Add cake mix, flour, gelatin, water, oil and eggs to a large mixing bowl. Add half of the box of strawberries (other half will be used in frosting). Mix all ingredients together in mixer until well combined.
Divide batter evenly into the cake pans.
Bake for 30 minutes or until toothpick inserted in the center of cake layers comes out clean.
Remove from oven and cool completely.
Strawberry Buttercream Recipe
This recipe for strawberry buttercream is an all-time family favorite. Works perfectly with Southern Strawberry Cake.
Author:
Robyn Stone | Add a Pinch
Ingredients
1 Stick (1/2 cup) Butter
1 lb. Box Confectioner's Sugar (about 3½ cups)
½ 10 oz Box Frozen Strawberries, Birdseye, thawed (remainder from used in cake batter)
Instructions
Mix all ingredients in mixer until well combined.
Add more confectioner's sugar if icing is too thin, add strawberries if too thick.
Spread over layers.
Refrigerate until ready to serve. Garnish with fresh strawberries.
Note: As my Grandmother taught me, make a double batch of the Strawberry Buttercream Icing. You may have about 2 cups icing left over to be used on cupcakes or tea cake filling later in the week.
I love pulling out the notebook of her recipes. I feel like she is right beside me, giving me tips the entire time I am cooking. I am so appreciative of the gift she gave me as a young bride.
And today, I just pour over her handwriting and remember.
Do you have a favorite recipe that is an heirloom in your family?