Dried Orange Slices make great additions to floral arrangements, wreaths and as Christmas ornaments.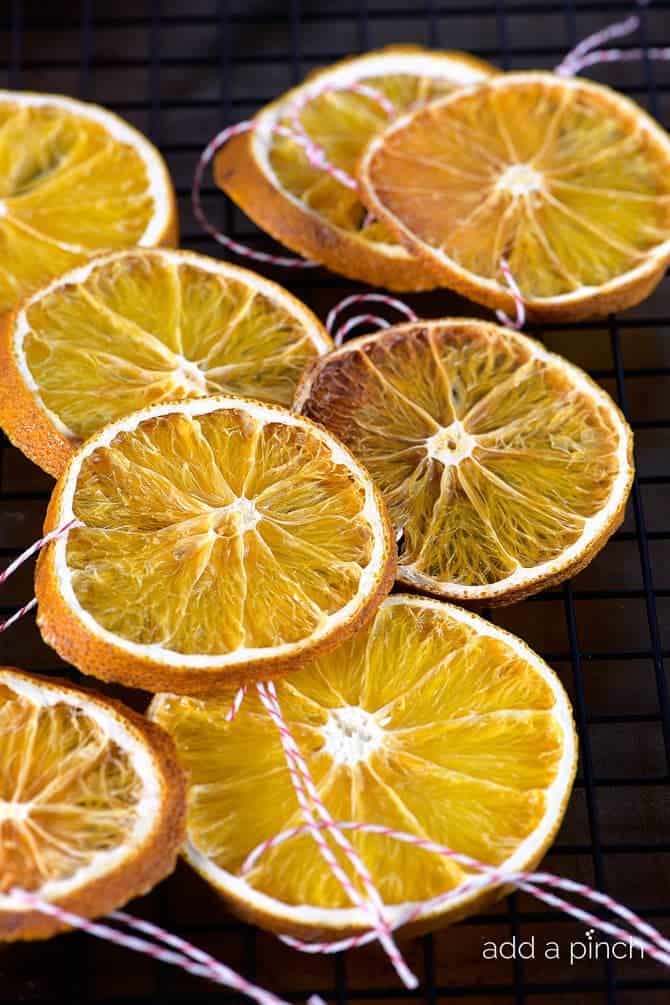 One of my favorite things to do during the Christmas season is to make homemade baked goods, crafts, and ornaments. I think that love started when I was a little girl and Grandmother, my sister Wendy and I would spend the days leading to Christmas making things for family and friends, the birds outside, and to decorate Grandmother's Christmas tree and her tables. 
As I got older, I thought store-bought was the only way to go and didn't return to my love for making things during the holidays until after Sam was born and could participate in helping me make them. Photos, personalized ornaments and strands of popcorn garland are the norm for our house now and I wouldn't have it any other way.
As we're kicking off the advent season, today's advent activity card was to make a new ornament for the Christmas tree. If you've not discovered those activity cards, you may want to check them out. They are filled with wholesome activities that are memory building things for the whole family to do together. I wasn't so sure how Sam, now 14, would feel about them this year, but I was pleasantly surprised. If you have a teenager, you know what I mean – right?
Anyway, so today's activity was to make a new ornament for our Christmas tree and I knew exactly what I wanted to make. We make these dried orange slices each year to hang on our tree, wreaths and in floral arrangements, too. I love the way that the light shines through them like a burst of orange stained glass and how they freshen the air, too! Pretty and fresh smelling? That is a definite win around my house!
Here's how I make my dried orange slices.
How to Make Dried Orange Slices
You'll need:
medium navel oranges
rimmed baking sheet
wire rack to fit baking sheet
string or ribbon
scissors
Preheat oven to 200º F. Slice oranges into thin slices and arrange in a single layer on a wire rack on top of baking sheet. Bake until the flesh of the orange becomes translucent and the peels are dry, about 2 hours. Remove from oven and allow to cool completely.
To add a ribbon or string for hanging, simply pierce through the flesh of the orange next to the skin and insert the ribbon or string, pulling enough through to use as a hanger. Clip string and tie.
Enjoy!
Robyn xo