This pesto recipe makes a basic pesto with so many uses. Additional options are included in this pesto recipe you will love.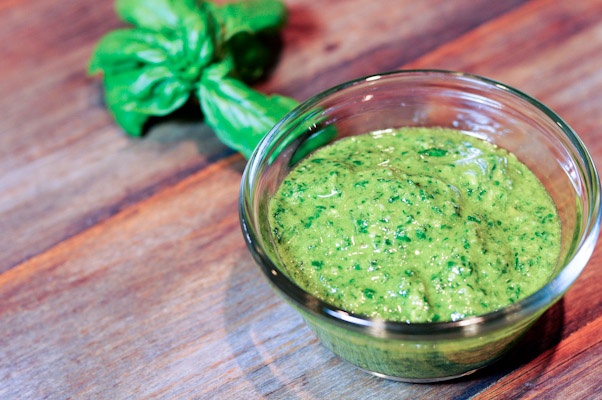 Y'all might think I'm just a tad bit obsessive, but I have to tell you – I've been cranking out the pesto lately.
Pesto, pesto, and more pesto.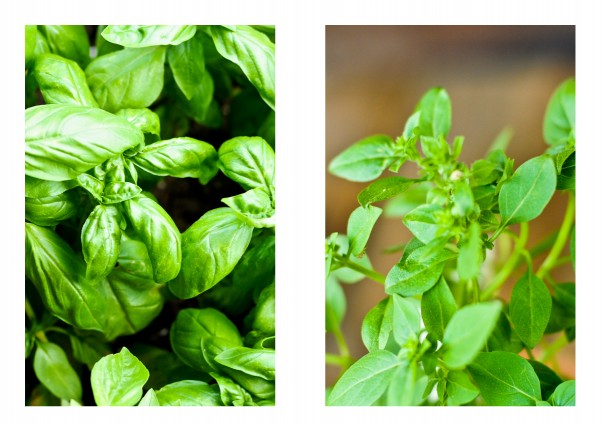 During the summer while my basil is thriving, I'm working like a squirrel storing up for winter.
I might just end up with a freezer full of zip top bags filled with little bits of summertime deliciousness.
That will be a good thing in my book.
Well, I'll have to squeeze it in between the creamed corn, okra, green beans and peas I'm planning on freezing, too. But that's another story for another day.
Today is all about glorious pesto.
It is a pretty classic pesto recipe – so easy to make and goes great on pizza, pasta, chicken, and any number of other dishes.
Here is how I make my pesto.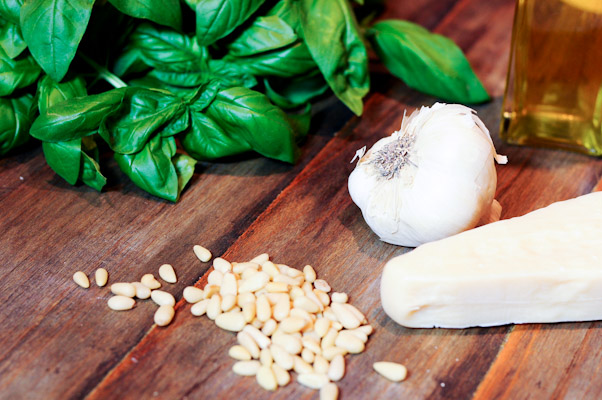 Start with these lovely ingredients – basil, olive oil, garlic, Parmesan cheese, and pine nuts.
If you are planning on making your pesto to freeze, hold off on including the Parmesan cheese.
You'll add that later when you are ready to use it.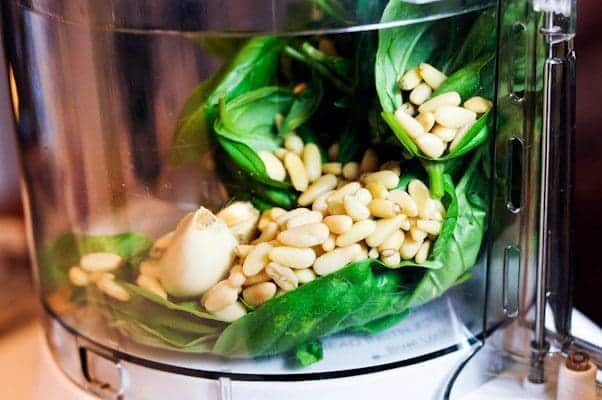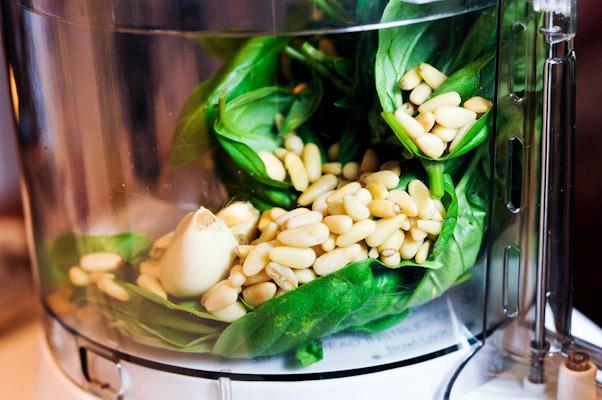 Throw all of your dry ingredients into your food processor.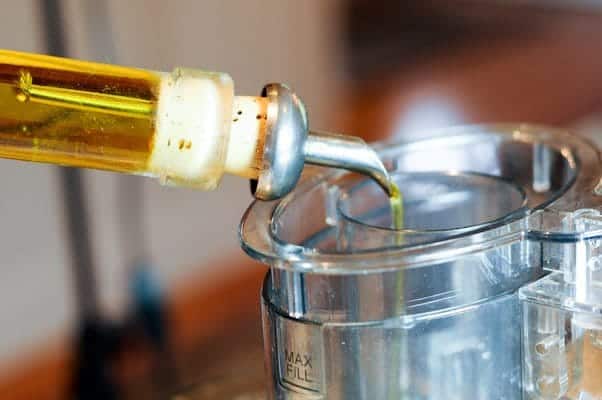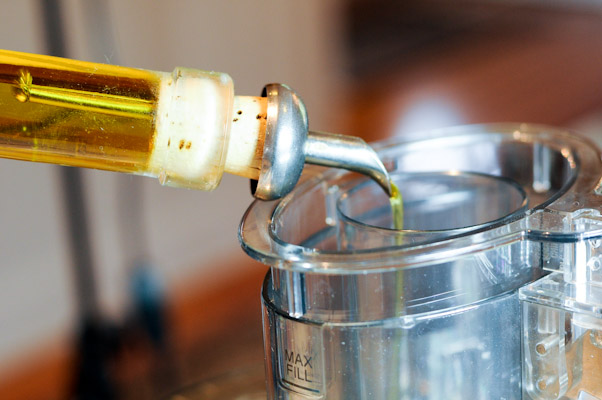 Now turn your food processor on and begin slowly pouring the olive oil through the chute to emulsify.
Stop your machine about halfway through, open up the top and scrape the sides of the bowl down to make sure you get every little bit incorporated into your pesto.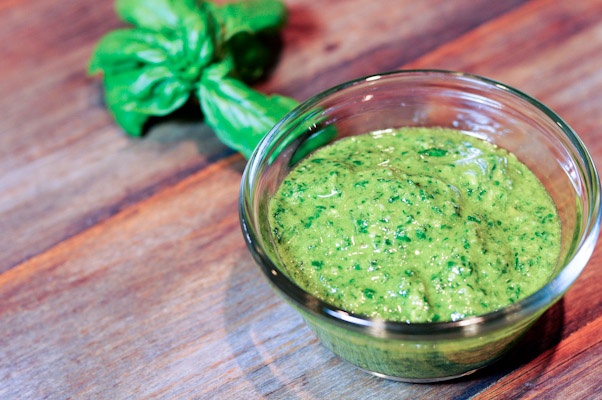 Pour it into a bowl and use it in absolutely every dish you are planning on cooking for the day.
I totally plan my menu around pesto.
Don't you?
I love to use it instead of a red sauce on pizzas, with pasta, with chicken or fish, or just spread it on a crusty piece of bread.
Yum!
Here's how I make my Pesto Recipe. Make it soon. Make it often!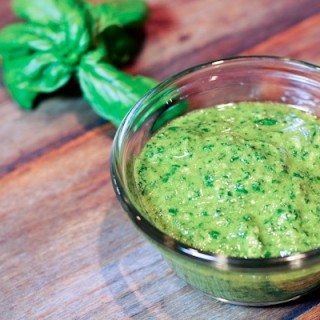 Pesto Recipe
This pesto recipe makes a basic pesto with so many uses. Additional options are included in this pesto recipe you will love.
Ingredients
2

cloves

garlic

peeled

4

cups

basil leaves

1/4

cup

pine nuts

1/2

teaspoon

salt

3/4 – 1

cup

olive oil

3/4

cup

Parmesan cheese

grated
Instructions
Add garlic, basil, pine nuts, and salt to the bowl of a food processor.

Turn food processor on and begin slowly pouring olive oil through the chute of the machine, stopping to scrape down the sides of the bowl.

Store in the refrigerator for a few days or freeze in ice cube trays and then store in zip top bags for a few months.

Add Parmesan cheese to pesto when ready to use.
Nutrition information is automatically calculated, so should only be used as an approximation.
Pesto Recipe Options
There are quite a few ways to make pesto and I enjoy trying out various options from time to time.
Use other herbs besides basil for a non-traditional "pesto". Great herbs include: parsley, spinach, arugula, dill, mint, as well as rosemary and thyme.
Have fun and use two herb combinations such as basil and oregano, rosemary and thyme, and even a touch of mint or dill with parsley.
Try a different nut besides pine nuts such as walnuts, cashews, pecans, or even pistachios.
Enjoy!
Robyn xo