Red Velvet Marble Cake Recipe
Red Velvet Cake takes a place of stature here in the south. It is sure to be a part of plenty of Christmas dessert buffets and always seems to be one of the first cakes to disappear.
But, there is another way that I love Red Velvet Cake that I think you'll enjoy, too.
A Red Velvet Marble Cake.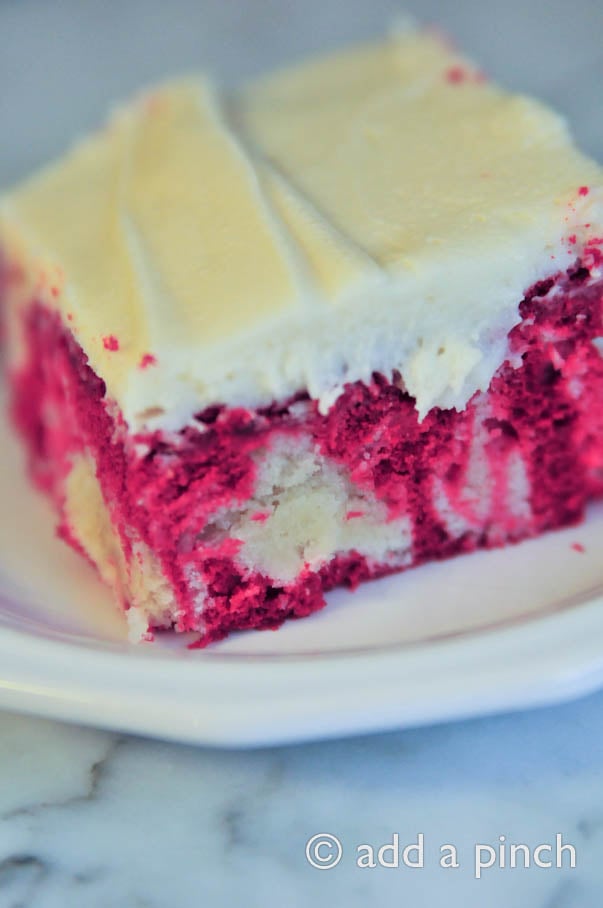 Oh yeah, it's good.
With a generous spread of cream cheese frosting on the top and a cold glass of milk or hot cup of coffee, it's pretty amazing actually.
No fiddling with layers and crumb coats.
Just pure deliciousness.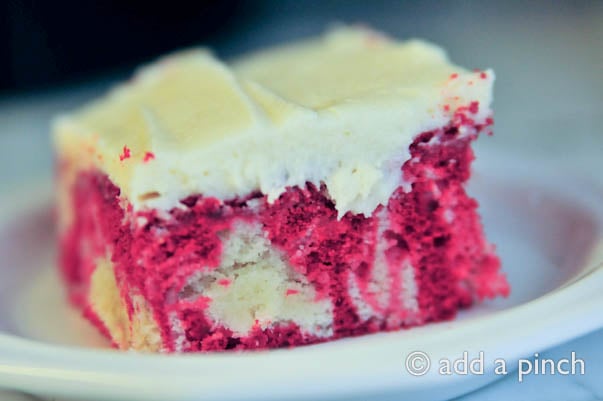 My recipe for Red Velvet Marble Cake is the perfect answer for those Christmas parties or other get togethers where you want to serve something just a little bit different from the classic recipes, but with a nod to the tradition.
And you know, I'm thinking it might be just perfect for Valentine's Day, too.
Here's my Red Velvet Marble Cake Recipe. I hope you love it!

Red Velvet Marble Cake Recipe
Red Velvet Marble Cake is a fun twist on the favorite classic red velvet cake.
Author: Robyn Stone | Add a Pinch
Serves: 12
Ingredients
For the Red Velvet Batter
¼ cup vegetable shortening
1 cup sugar
1 egg
1 ounce red food coloring
1 tablespoon cocoa
1½ cups all-purpose flour
½ teaspoon salt
1 teaspoon vanilla
½ teaspoon baking soda
½ cup buttermilk
2 teaspoons vinegar
For the Butter Cake Batter
1 cup butter, softened
2 cups all-purpose flour
2 teaspoons vanilla
2 cups sugar
4 eggs
½ teaspoon salt
Instructions
Preheat oven to 350 degrees.
Prepare 9 x 13 baking pan with butter and flour or a baking spray.
For the Red Velvet Batter
Cream together vegetable shortening, sugar and eggs.
Make a paste of food coloring and cocoa and add to mixture.
Add salt and flour with buttermilk and vanilla.
Alternately add soda and vinegar; just blend, don't beat hard.
For the Butter Cake Batter
In a separate bowl, cream together butter, sugar, and vanilla until creamy.
Add eggs one at a time, beating well after each addition.
Add flour and salt, mix well.
For the Red Velvet Marble Cake
Spread red velvet cake batter across bottom of prepared baking pan.
Add dollops of butter cake batter alternately across red velvet cake batter.
Run knife through batter to marbleize.
Bake 45-50 minutes at 350º or until toothpick or cake tester inserted into the center comes out clean.
Remove from oven and allow to cool completely.
Top with Cream Cheese Frosting
Enjoy!
Robyn xoxo