Roasted Eggplant Recipe
Roasted Eggplant makes an easy and delicious dish on its own or to use in so many other recipes!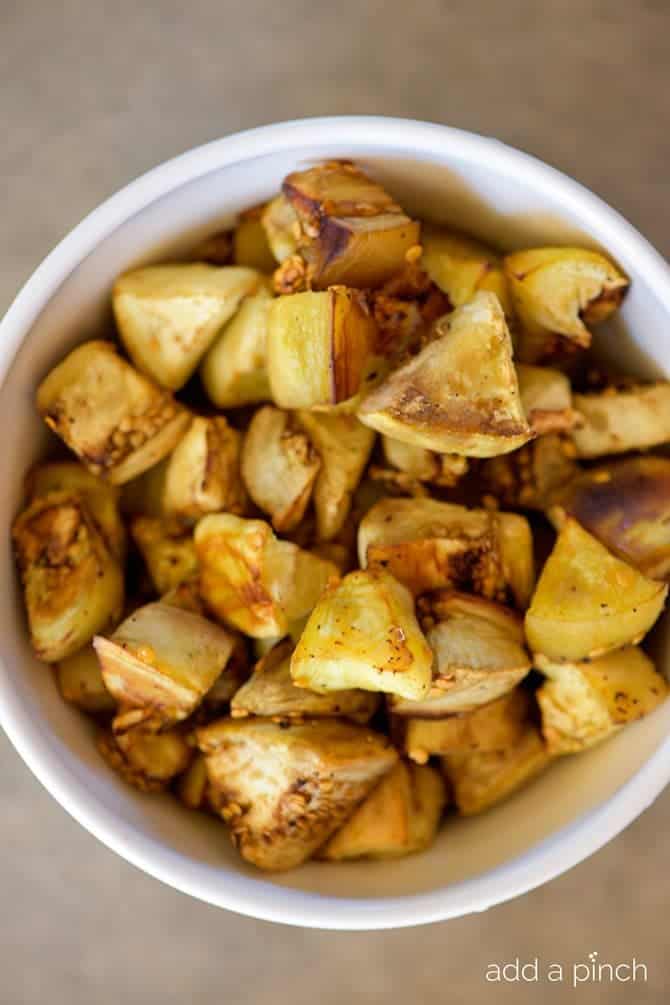 The eggplant in my garden is still coming in week after week and I am loving every one of them! From making this oh so simple roasted eggplant that I can serve as a side dish or add to all sorts of other dishes to my eggplant lasagna, we have definitely enjoyed the bounty of those two little plants we started in the garden. 
But, I've gotten tickled at myself over this last week as I've been preparing so much of my eggplant for storing in the freezer to enjoy this winter. As I was wrapping a pan of my eggplant lasagna and had just pulled out a pan of this roasted eggplant to cool, I started thinking of myself like a squirrel storing away food for winter! But hey, I think it is a pretty well thought out plan if I do say so myself!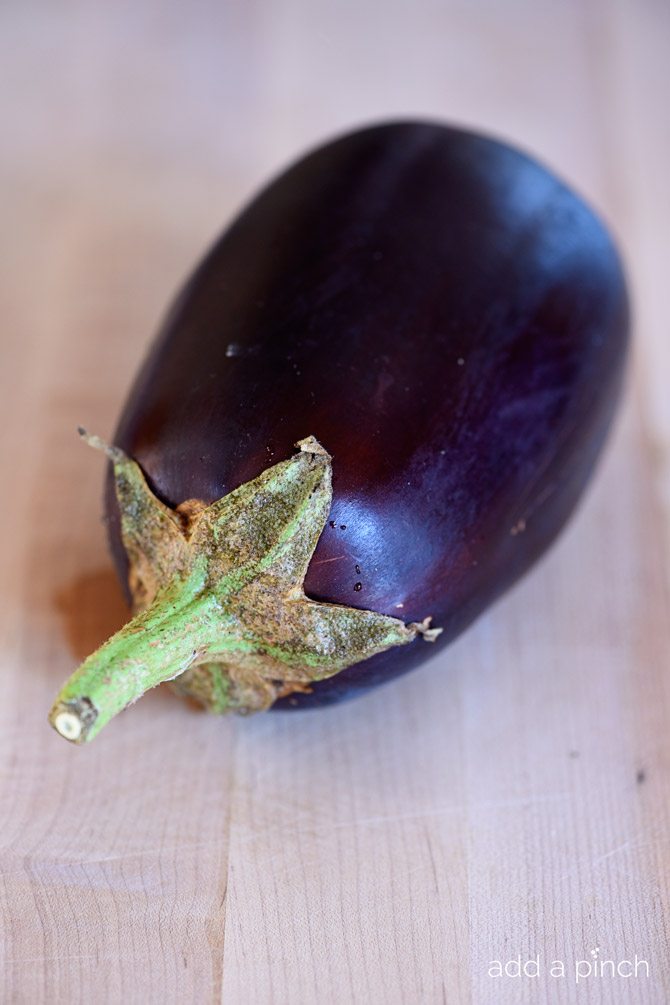 For roasting eggplant (to enjoy immediately or for freezing), you'll want to start with fresh eggplant that is firm and doesn't feel mushy. You'll want to slice away the ends of the eggplant and then peel the eggplant if you are planning on using it as a side dish, blending into a dip, or using in dishes like quinoa bowls, etc.
Then, I like to cut the eggplant into bite-sized pieces and place onto a paper-towel lined baking sheet and sprinkle the eggplant with salt to draw out a great deal of the moisture. Let the eggplant set until beads of moisture appear and then just blot the tops of the eggplant with another paper towel to remove the moisture. Remove the paper towel lining from the baking sheet, drizzle with olive oil and sprinkle with salt and pepper. I then give the eggplant cubes a good toss with my hands to make sure that every piece is well coated with the oil and seasonings.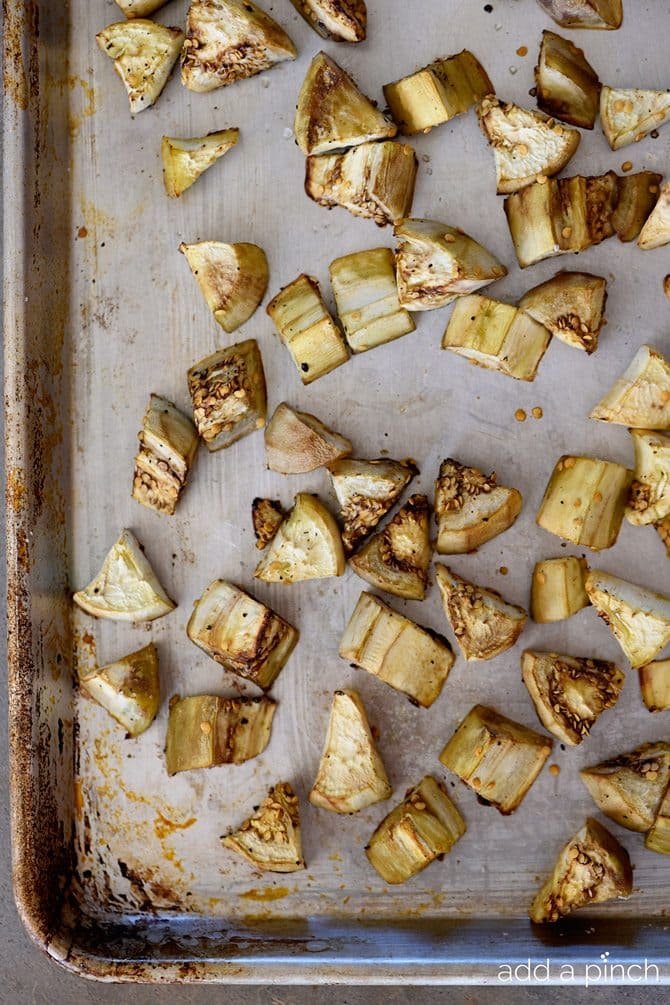 Once that is done, I roast the eggplant cubes until they are fork tender and slightly browned, about 25 minutes. The eggplant is ready to enjoy immediately or you can allow the eggplant to cool completely and then use a spatula to loosen it from the baking sheet, place the baking sheet into the freezer for about 15 minutes for the roasted eggplant cubes to freeze and then transfer the roasted eggplant cubes into a freezer-safe bag and freeze for up to 3 months.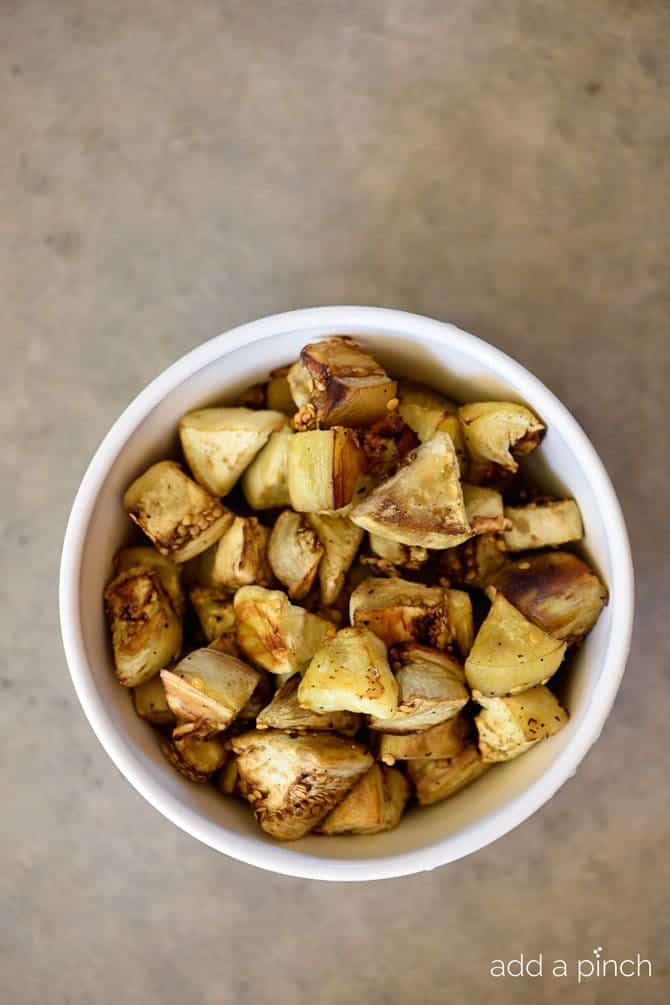 Talk about a win win of a recipe!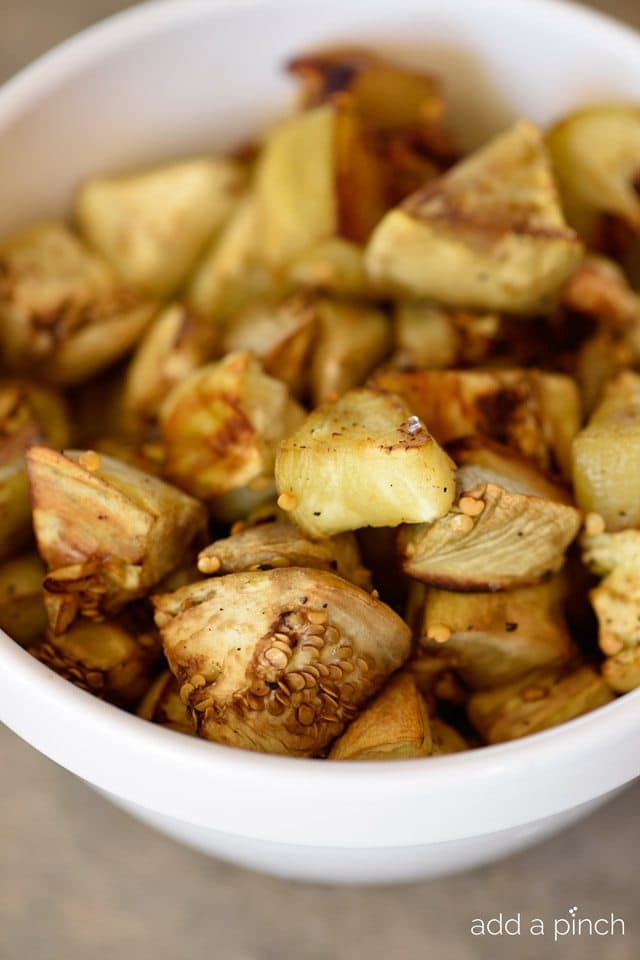 Here's my Roasted Eggplant Recipe. I hope you love it as much as we do!  Yay for eggplant!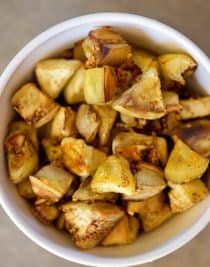 Roasted Eggplant Recipe
Total Time 40 minutes
Prep Time 15 minutes
Cook Time 25 minutes
Roasted Eggplant Recipe - Roasted Eggplant makes an easy and delicious dish on its own or to use in so many other recipes!
Ingredients
1 pound eggplant peeled and cut into 2-inch cubes
1 1/2 teaspoons kosher salt
2 tablespoons olive oil
1/2 teaspoon freshly ground black pepper
Directions
Arrange eggplant cubes in a single layer on a paper towel lined baking sheet. Sprinkle the eggplant cubes with 1/2 teaspoon of the kosher salt and allow to rest for about 15 - 20 minutes until moisture beads on the eggplant. Pat dry with paper towels. Remove the paper towel from underneath the eggplant and preheat the oven to 425ºF.

Drizzle the olive oil over the eggplant and sprinkle with the remaining salt and pepper. Toss to make sure that the eggplant is coated completely.

Roast the eggplant until just fork tender, about 25 minutes.
Notes
!Freezer Instructions:
Allow roasted eggplant to cool completely. Use a spatula and toss the eggplant on the pan so that it doesn't stick. Place the baking sheet into the freezer for 15 minutes to freeze the eggplant cubes.
Remove the baking sheet from the freezer and place the eggplant cubes into freezer-safe containers and freeze for up to 3 months.
To use, remove from the freezer and allow to thaw overnight. Then, reheat and serve or use in other dishes.

All images and text © Robyn Stone for Add a Pinch
Enjoy!
Robyn xo