These sausage cheddar biscuit bites are a quick and easy, yet oh so delicious biscuit recipe your whole family is sure to love!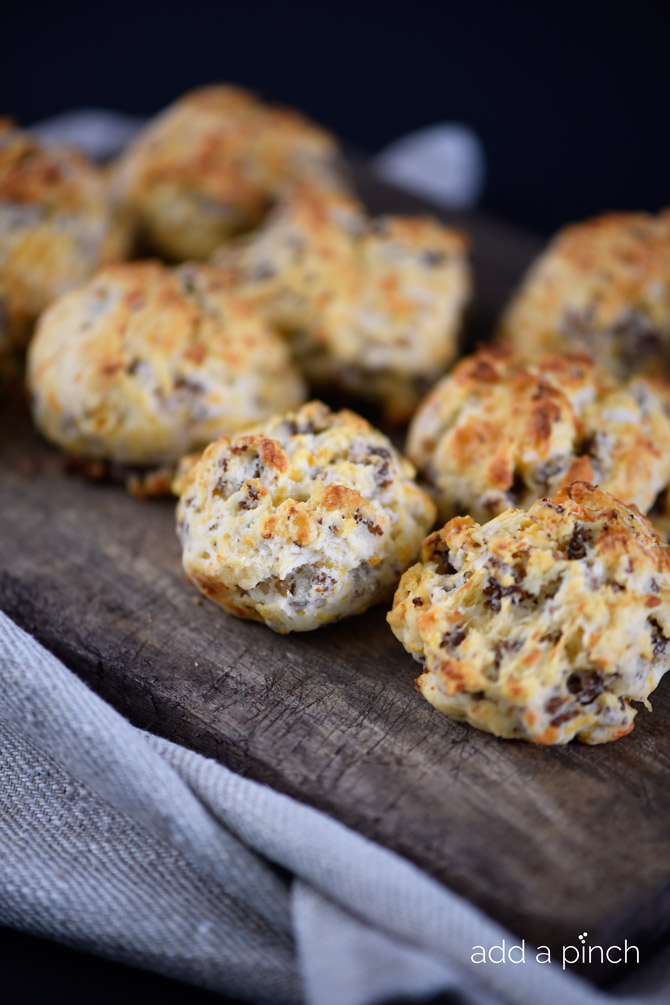 Lately, I've been trying to make sure that I keep the freezer stocked with homemade dishes that I can quickly reheat in the mornings for breakfast on the go or that Sam (and I) can grab and reheat in the afternoons for a snack. I don't know what it is about teenage boys, but they seem to always be hungry no matter how often you feed them! Ha!
I'm certainly not complaining though!
Since cooking and feeding people is one of my favorite things, we've sort of developed an even deeper bond in the kitchen. Especially since he's out of that phase where nothing sounds good and he's now squarely in the phase where everything sounds amazing. Or at least for the moment. I'm crossing my fingers it continues.
Sam has always been a great eater, willing to try new things and sometimes surprising me with his requests for meals, but for a short while there I was getting a slight bit worried. He was always requesting the same things and barely picking at the food on his plate, more moving it around with his fork than really enjoying it. And like all Mamas, I fretted over him and over his plate and over whether or not he was eating enough. I sounded like my grandmother, I feel sure.
But as if something magical occurred overnight one night, boom, we are now squarely out of that phase and into the, "Hey Mama, what are we having for supper?" at 3 o'clock in the afternoon. And now, you can just imagine the smile on my face as I'm stocking the pantry, refrigerator and freezer full of food that not only fills him up but keeps him going.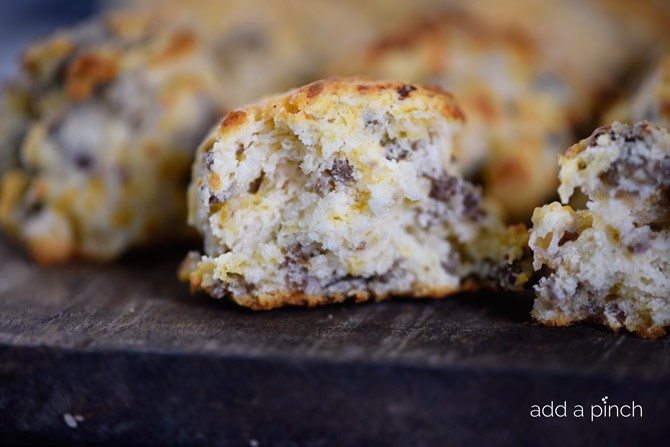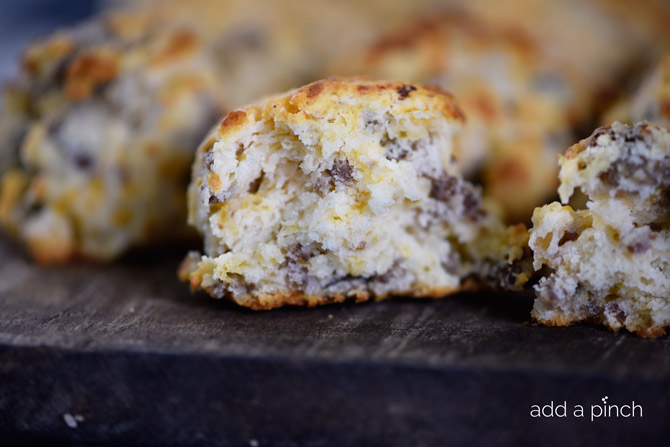 Since biscuits have always been one of Sam's absolute favorite things, I decided we needed something quick and easy to tide him over until suppertime that included that tried and true favorite. These delicious little nibbles came to be and have been a favorite in my house ever since. They remind me a combination of a sausage and cheese biscuit and sausage balls. In other words, they are simply scrumptious!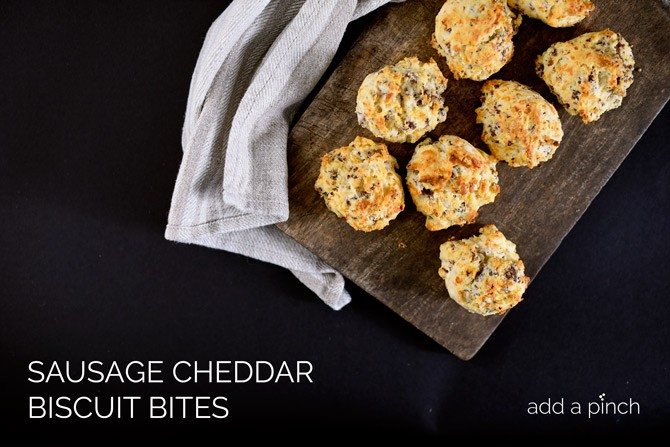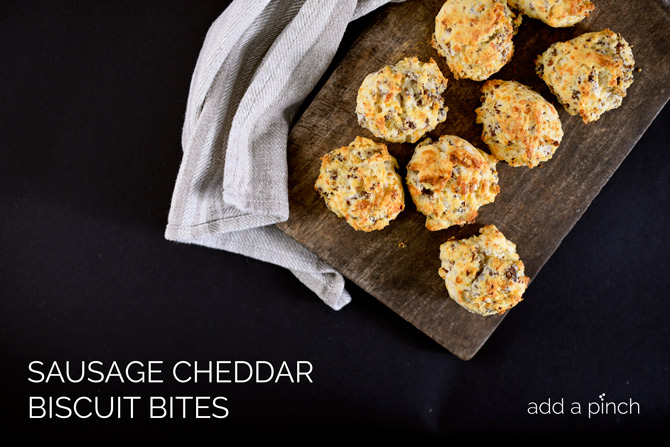 Here's my Sausage Cheddar Biscuit Bites recipe. Make 'em soon! I think you'll love them!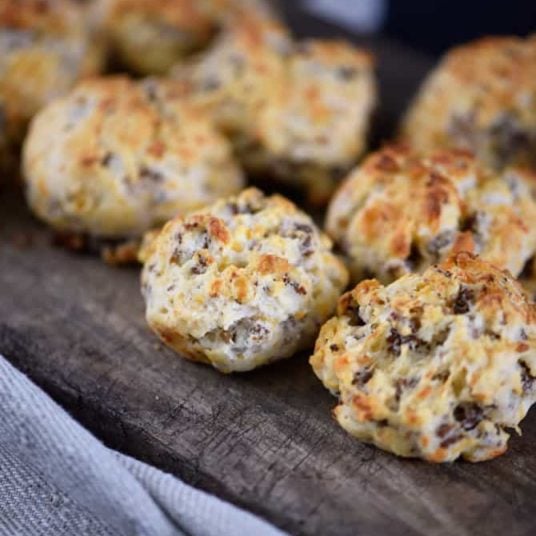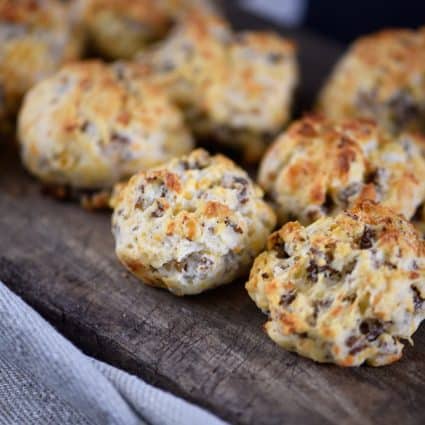 Sausage Cheddar Biscuit Bites Recipe
These sausage cheddar biscuit bites are a quick and easy, yet oh so delicious biscuit recipe your whole family is sure to love!
Ingredients
3

cups

self-rising flour

1

teaspoon

baking powder

1/4

cup

shortening

1

(16-ounce) package

breakfast sausage

,

, browned and drained

1

cup

shredded sharp cheddar cheese

3/4

cup

buttermilk

1/2

teaspoon

hot sauce

,

optional
Instructions
Preheat oven to 475º F. Whisk together flour and baking powder in a large bowl. Cut in shortening with a pastry blender or using a fork until the flour mixture resembles coarse crumbs.

Stir in sausage, cheddar cheese, buttermilk and hot sauce until well combined. The dough will be moist and shouldn't have any visibly dry flour remaining in the mixture.

Scoop biscuit bites using a tablespoon or a small cookie scoop and place onto rimmed baking sheets. Place into the oven and bake until cooked through and lightly browned, about 8 to 10 minutes. Remove from the oven and serve.
Freezer instructions:
Bake as directed and allow to cool completely. Then, place into freezer safe zip top bags and place into the freezer for up to a month. To reheat, simply remove the number of biscuit bites you need and reheat in a 350º F preheated oven for about 8 to 10 minutes or heat in the microwave at 80% power for about 45 seconds.
Nutrition
Calories:
99
kcal
|
Carbohydrates:
12
g
|
Protein:
3
g
|
Fat:
4
g
|
Saturated Fat:
2
g
|
Polyunsaturated Fat:
1
g
|
Monounsaturated Fat:
1
g
|
Trans Fat:
1
g
|
Cholesterol:
6
mg
|
Sodium:
40
mg
|
Potassium:
47
mg
|
Fiber:
1
g
|
Sugar:
1
g
|
Vitamin A:
60
IU
|
Vitamin C:
1
mg
|
Calcium:
52
mg
|
Iron:
1
mg
Nutrition information is automatically calculated, so should only be used as an approximation.
Enjoy!
Robyn xo