Shrimp Skewers make a delicious, quick-fix lunch or supper that I absolutely love. And boy, do I have a scrumptious twist on this classic for ya.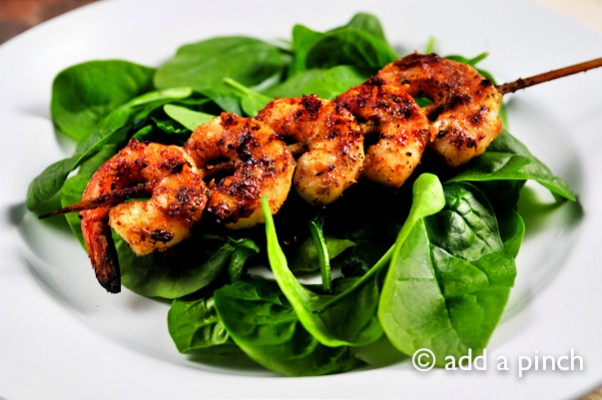 Yesterday, I shared my Cajun Spice Mix recipe and today I have one of my new favorite ways to use it! This Spicy Cajun Shrimp Skewer. Oh my goodness! So much flavor and so dad gum simple to make! It's truly a keeper recipe if I've ever seen one!
These skewers are perfect on a bed of baby spinach for a quick salad or even with a side of smashed potatoes if you need a heartier meal.
They are ready in just a few minutes, making them a definite quick-fix supper idea that is waistline friendly.
There are usually about 25-30 large shrimp per pound, so I generally use about five large shrimp per skewer for about eight skewers. Perfect for a supper for four or lunch portions for eight. It also makes a beautiful appetizer if you'd like to use the smaller skewers with just one or two shrimp.
Can you tell how much I'm in love with these?
Here's how I make my Spicy Cajun Shrimp Skewers.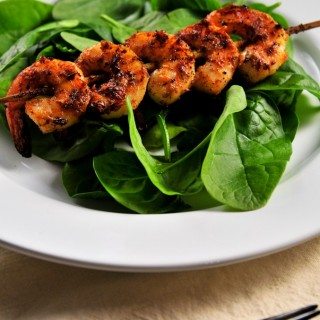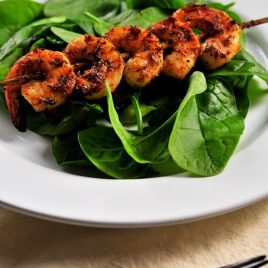 Spicy Cajun Shrimp Skewers
A must-have recipe for Spicy Cajun Shrimp Skewers.
Ingredients
1 1/2

pounds

uncooked

peeled and de-veined shrimp

olive oil

2

tablespoons

[Cajun Spice Mix|https://addapinch.com/?p=3331]
Instructions
Preheat grill or grill pan to medium heat or about 350 degrees. Lightly brush grill pan with olive oil to prevent sticking.

Skewer four to seven shrimp per skewer, depending on size.

Drizzle with olive oil.

Sprinkle both sides with [Cajun Spice Mix|https://addapinch.com/?p=3331].

Place onto grill or grill pan over medium heat and cook until shrimp turns pink, about 10-15 minutes.

Remove from grill and serve warm.
I think you'll love them forever! You really do need to try these soon!!!