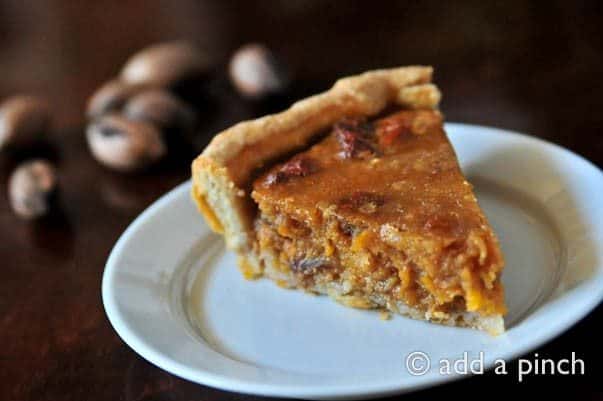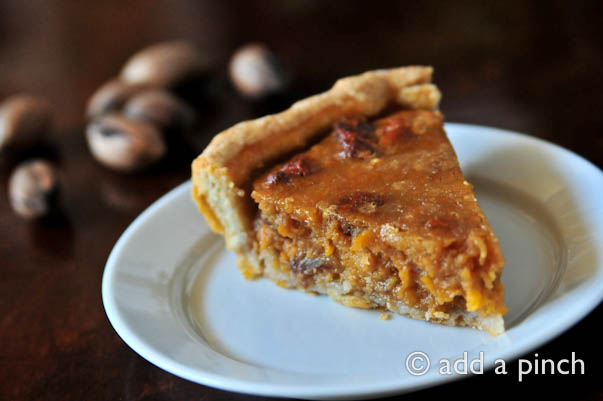 I've told you all about how much my family loves my Aunt Ellen's sweet potato pies. I start thinking about those pies as soon as the leaves start to turn from their bright green shades of summer and start picking up hints of their bright fall colors.
Well, last week I made my Aunt Ellen's sweet potato pie for a family supper and decided that instead of making two of her traditional sweet potato pies, I'd throw some chopped pecans into the batter for the other pie. Then I thought, I would add just a touch of maple syrup for a sweet potato pecan pie that makes you think of the classic Southern pecan pie, but with a little bit of a twist.
I was pretty anxious to see how my family would react to this switcheroo on these two classic pies. I knew one thing was for certain. They would definitely let me know how they felt about it. My husband doesn't fool around about his pecan pies and is as fond of the sweet potato pies as I am. I knew he'd let me know lickety split if I'd messed two of his favorite pies up.
But you know what?
They loved it!
I mean LOVED it!
The flavors are wonderful together and the additional crunch and texture of the pecans is perfect.
I think my Aunt Ellen would be proud.
Here's how I make it.
Sweet Potato Pecan Pie Recipe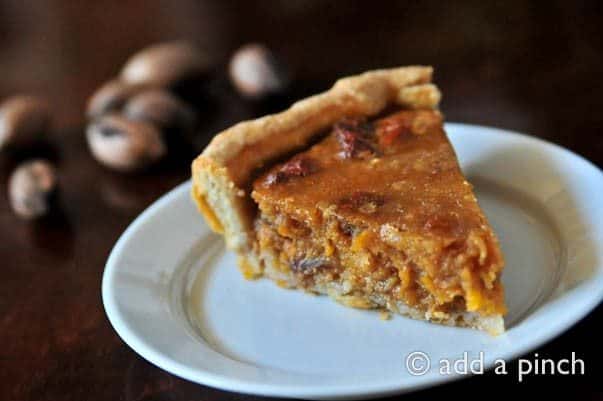 A delicious little twist on my Aunt Ellen's recipe for Southern sweet potato pie.
Ingredients
3

cups

sweet potatoes

1/2

cup

butter

3

cups

sugar

2

teaspoons

vanilla

3

eggs

beaten

1

cup

milk

2

tablespoons

maple syrup

1

cup

chopped pecans

2

unbaked pie crusts
Instructions
Peel and cube sweet potatoes. Boil until very tender. Remove from heat and drain. Add butter and mash. Add sugar and vanilla. Mix well.

Pour milk into a measuring cup, add in eggs, and mix well with a fork. Pour milk and egg mixture into sweet potatoes. Combine until well-blended.

If you would like to make one as the traditional Southern sweet potato pie, then pour half of the batter into one of the unbaked pie shells. Then add 2 tablespoons maple syrup and 1 cup chopped pecans to your batter. If you want two sweet potato pecan pies, then you'll double the quantity for both the maple syrup and the chopped pecans.

Pour into unbaked pie crust.

Bake each pie at 350 degrees for about 1 hour or until set in the center.
I'll definitely be serving one Southern sweet potato pie and one sweet potato pecan pie this Thanksgiving, along with our traditional Southern pecan pie. It's not that far away, you know.
I may have just started a new family tradition.
Do you have a favorite pie that you serve for Thanksgiving?