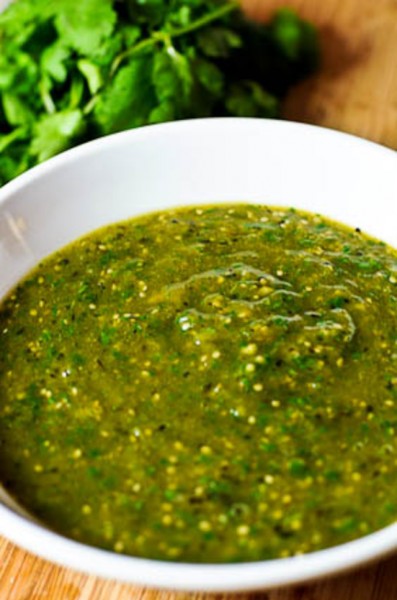 I have a funny story to tell you about tomatillo salsa verde. Growing up, this was not a sauce that was common in my house. I think I was probably in high school before I tasted salsa of any kind. While pepper sauce was served with every meal from breakfast to supper, salsa was not part of my reality until I was beginning to date, learning to drive, and teasing my bangs to the heavens.
You see, there was a new restaurant in a nearby town that quickly became all the rage. Oddly enough, I think it was the first Mexican restaurant in our area. We'd drive for 20 minutes to happily wait for a least an hour or so for a seat before heading to catch the latest movie and hold hands. But honestly, the cheese dip, chips, and salsa were as much of a draw as the excitement of hand holding.
I remember very well the first time I saw Tomatillo Salsa Verde on the menu. I remember it because I swore to my date the menu item had to be misspelled.
"How cool is it that this dish is named the same thing as my Grandmother Verdie?"
"What? I don't think it's spelled Verdie. It's spelled verde as in green."
Turning 15 shades of a color other than green, I quickly understood my faux pas – taking French in school rather than Spanish. I should have known, verde isn't too far off from vert.
Oh well. Lesson learned.
But oh how have times changed.
We've gone from that one focal Mexican restaurant in town to having one on just about every corner.
We've gone from only having salsa on a special occasion to making it ourselves on a routine basis.
We've gone from thinking they'd named a dish after my Grandmother who'd never stepped foot in the restaurant to happily rolling our tongue with a Southern drawl as we order from the menu.
So now that I've thoroughly embarrassed myself and my lack of "worldliness", I think I'll just get to showing you how I make it.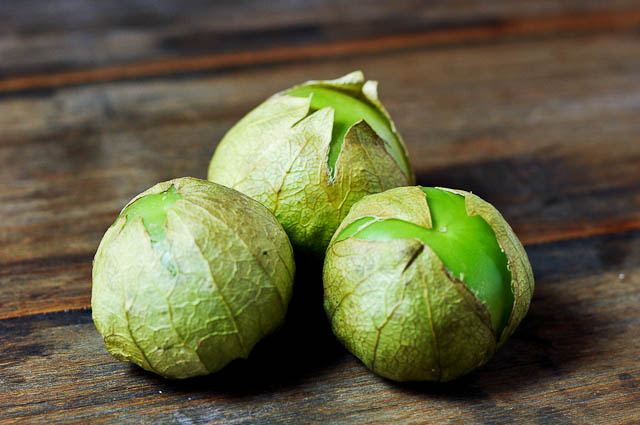 Start with fresh tomatillos.
If you are lucky enough to have remembered to plant your tomatillo seeds (I did not), then I bet you have them starting to come in right about now.
Lucky dogs.
Anyway, peel away the papery husks and wash the tomatillo well.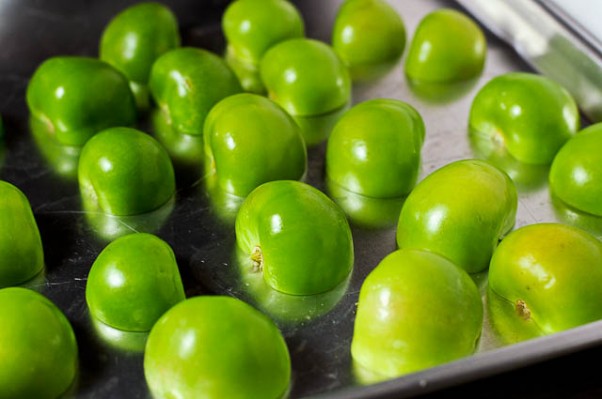 Slice them in two and place on a baking sheet.
Place them in the oven under the broiler until the skins are roasted.
Remove from the oven and throw your tomatillos and other ingredients into a blender or food processor.
Process until well-blended.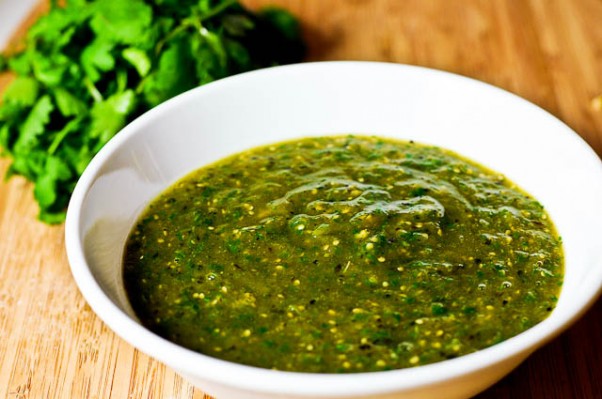 Gobble it up!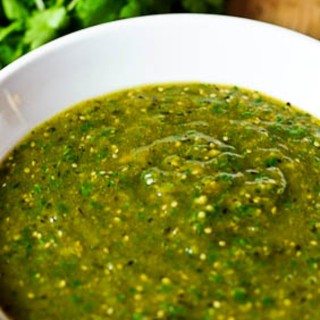 Tomatillo Salsa Verde
Tomatillo salsa verde makes a delicious, simple and easy salsa recipe made with fresh tomatillos!
Ingredients
1

lb

tomatillos

1/2

onion

,

quartered

1/2

cup

cilantro

,

chopped

2

Jalapeno peppers

1

tablespoon

lime juice

pinch

kosher salt

pinch

of sugar
Instructions
Remove husks and wash tomatillos well.

Cut in half and place on a baking sheet.

Broil in oven until skins become well-roasted, about 7-10 minutes.

Remove from oven.

Depending on your preference and age of the pepper, stem and seed to reduce the amount of heat.

Place all ingredients in food processor or blender.

Process until well-combined.

Serve immediately or store in an airtight container in the refrigerator.
Nutrition
Calories:
15
kcal
|
Carbohydrates:
3
g
|
Protein:
0.5
g
|
Fat:
0.4
g
|
Saturated Fat:
0.1
g
|
Polyunsaturated Fat:
0.2
g
|
Monounsaturated Fat:
0.1
g
|
Sodium:
1
mg
|
Potassium:
119
mg
|
Fiber:
1
g
|
Sugar:
2
g
|
Vitamin A:
114
IU
|
Vitamin C:
8
mg
|
Calcium:
5
mg
|
Iron:
0.3
mg
Nutrition information is automatically calculated, so should only be used as an approximation.
Have you ever embarrassed yourself silly over something? You sure do remember it, don't ya?