Apple Cake Recipe
An apple cake recipe filled with apples, apple pie spice and so much more. This apple cake recipe is easy to make and a year-round favorite!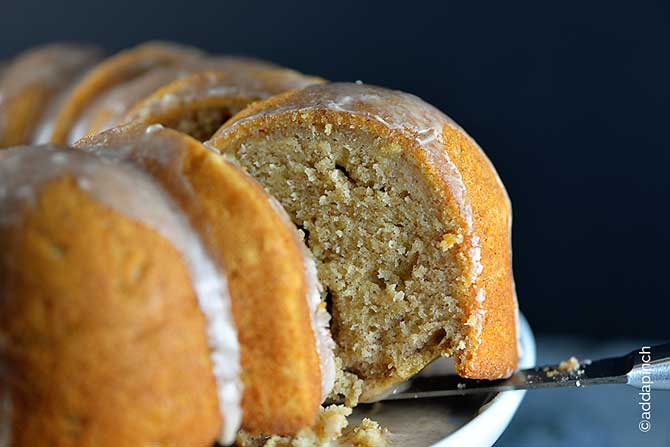 I love a fresh, homemade apple cake this time of year. But, in all reality, I love them anytime of year. They are simply hard to beat in my book. My apple cake recipe uses apples that I've grated on the largest hole of the box grater. I find that the grated apple mixes well in the cake batter to give you that fresh apple taste throughout. If you don't have a box grater, you can simply dice your apple pieces really well and use those instead. But, if you can possibly, I definitely recommend grating your apples for this cake recipe. So good!
The spiced apple cider glaze that I used on this apple cake recipe is also one of those things that you can skip if for some reason you prefer to do so, but I highly, highly, highly recommend that you not skip it. It is out of this world!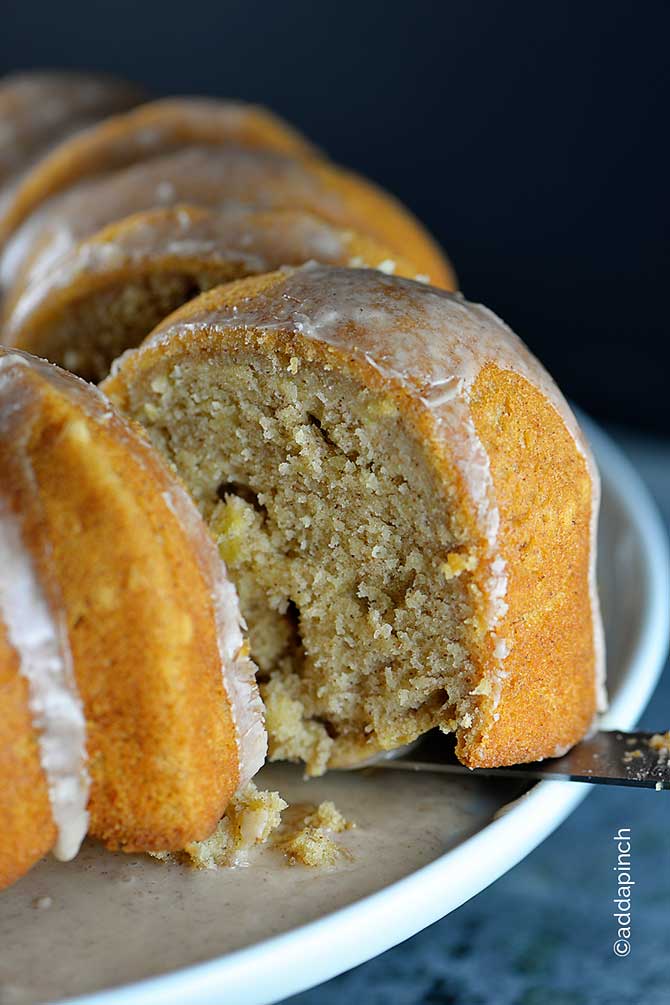 Here's my Apple Cake Recipe. I hope you love it!
Apple Cake Recipe
Prep Time10 mins
Cook Time1 hr
Total Time1 hr 10 mins
Servings: 12 slices
Ingredients
1 cup butter softened
2 cups brown sugar
3 large eggs
3 cups all-purpose flour
3 teaspoons baking powder
1/4 teaspoon salt
2 teaspoons apple pie spice
2 medium Granny Smith apples peeled and grated on large hole or box grater
1 1/2 teaspoons vanilla extract
2 cups buttermilk
For the Spiced Cider Glaze
Instructions
Preheat oven to 350º F. Spray bundt pan with nonstick baking spray. Set aside.

Cream together butter and brown sugar until light and fluffy, about 3 minutes. Add in eggs, one at a time and incorporate completely before adding another.

Whisk together flour, baking powder, salt, and apple pie spice in a medium bowl. Reduce speed of mixer to low and spoon flour into wet batter. Stir in grated apples, vanilla and buttermilk.

Pour cake batter into prepared bundt pan and place in oven. Bake 60 minutes or until skewer comes out clean when inserted in cake. Remove from oven and allow to sit for about 10 minutes. Turn out onto cake plate and stop with glaze or serve without.

Spiced Cider Glaze

Whisk ingredients together until smooth. Spoon over cake.
Enjoy!
Robyn xo