Bean Dip Recipe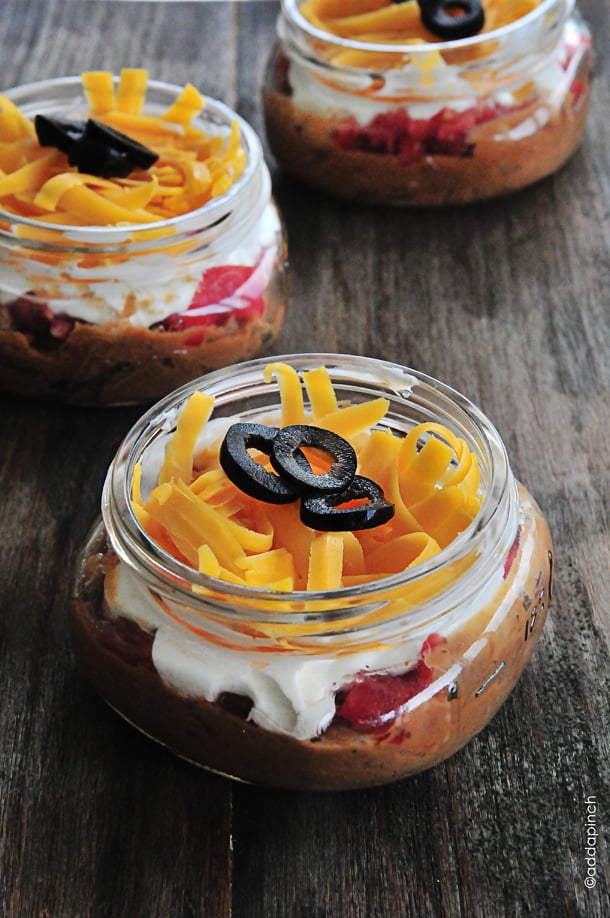 There's something about cooler weather, fall, and football that always has me craving this Bean Dip.
It's a no-frills sort of dip that always seems to disappear in the blink of an eye. A while back, as we were getting ready for watching an afternoon game, I decided to change how I served my bean dip from one large platter to small, wide-mouthed individual jars that guests could serve themselves.
I served a large salad, grilled chicken, pulled pork, and a few other sides but the bean dip actually turned into one of the most requested dishes of the day!
The best part? It took all of 5 minutes to prepare and another 5 minutes or so to place in the jars.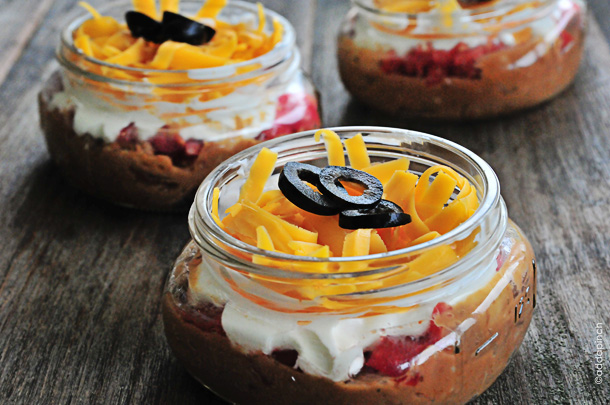 This humble bean dip turned into so much more and went perfectly with all of the other items served that day. But honestly, I think bean dip and a chip are about all I need.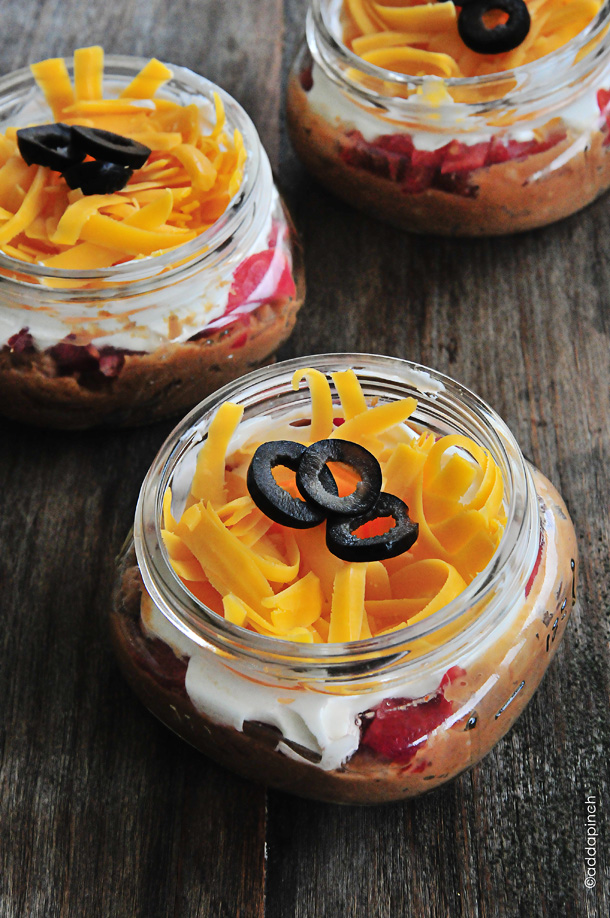 Here's the recipe for my Bean Dip. I can't wait to hear how you like it!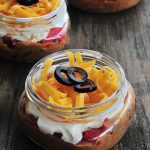 Print Recipe
Bean Dip Recipe
Bean Dip is the perfect quick-fix recipe for fall, football, and serving friends!
Prep Time5 mins
Cook Time5 mins
Total Time10 mins
Servings: 8
Calories: 48kcal
Ingredients
2 cups refried beans
1/2 medium onion diced
3 cloves garlic chopped
2 medium plum tomatoes diced
1 (8-ounce) container sour cream
1 (8-ounce) package cheddar cheese, grated
sliced black olives optional
Instructions
In a large skillet, add refried beans, onion, and garlic. Heat thoroughly. Remove from heat and set aside to cool slightly.

Layer beans, then tomatoes, then sour cream, and top with shredded cheese.

Garnish with sliced black olives, if desired.

Store in an airtight container in the refrigerator until ready to serve. Allow to reach room temperature before serving.
Notes
If serving in jars as pictured, makes 8 (1/2-pint) jars.
Nutrition
Calories: 48kcal | Carbohydrates: 8g | Protein: 3g | Fat: 1g | Saturated Fat: 1g | Cholesterol: 1mg | Sodium: 347mg | Potassium: 51mg | Fiber: 3g | Sugar: 2g | Vitamin A: 180IU | Vitamin C: 3mg | Calcium: 25mg | Iron: 0.6mg
Be sure to keep all of these ingredients on hand throughout the fall. You can have a quick dip ready in 10 minutes or less that is sure to be a favorite!
Enjoy!
Robyn