Southern Beef Hash is a great way to use leftover roast beef in a whole new way. Full of potatoes, onions, garlic, and roast beef, beef hash is a favorite.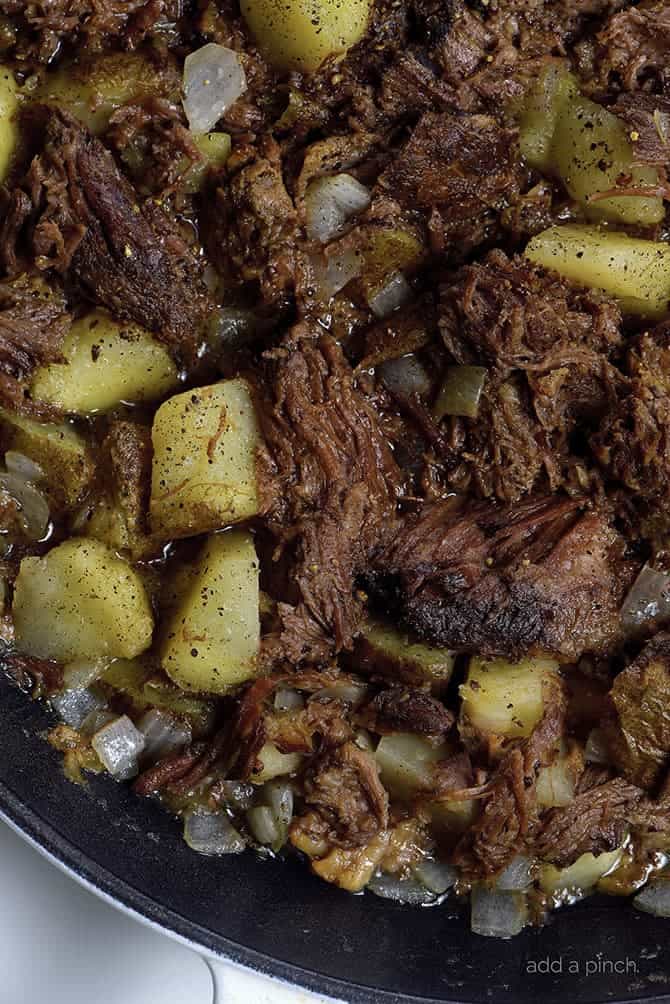 Sam started school the end of last week, his sophomore year of high school to be exact. I'm not going to lie and say that I still don't get a little misty eyed (okay, very misty eyed!) as he and Bart pull out of the driveway for the first day of school. You'd think after all this time I would be used to it by now, but I'm one of those super sappy people that gets sentimental about practically every little thing.
It dawned on me this year that I'll only have two more years of taking those back-to-school photos on the front porch as he rushes me to hurry up and I'm saying, "just one more."
I only have two more years of those back-to-school days to go pick up his school schedule with my fingers crossed that he got all the classes that he registered to take (with the teachers he hoped for, too!).
I only have two more years of picking up his shoes from beside the front door where he kicked them off as he came in from one activity or another.
I only have two more years of gathering up the bath towels scattered across the bathroom floor and counter as he's rushed out the door in the morning.
I only have two more years of hugging him tight as he heads out the door and texting him a Bible verse for the day before the car has met the end of the driveway.
I'm going to embrace these next years and make the most of every second of them!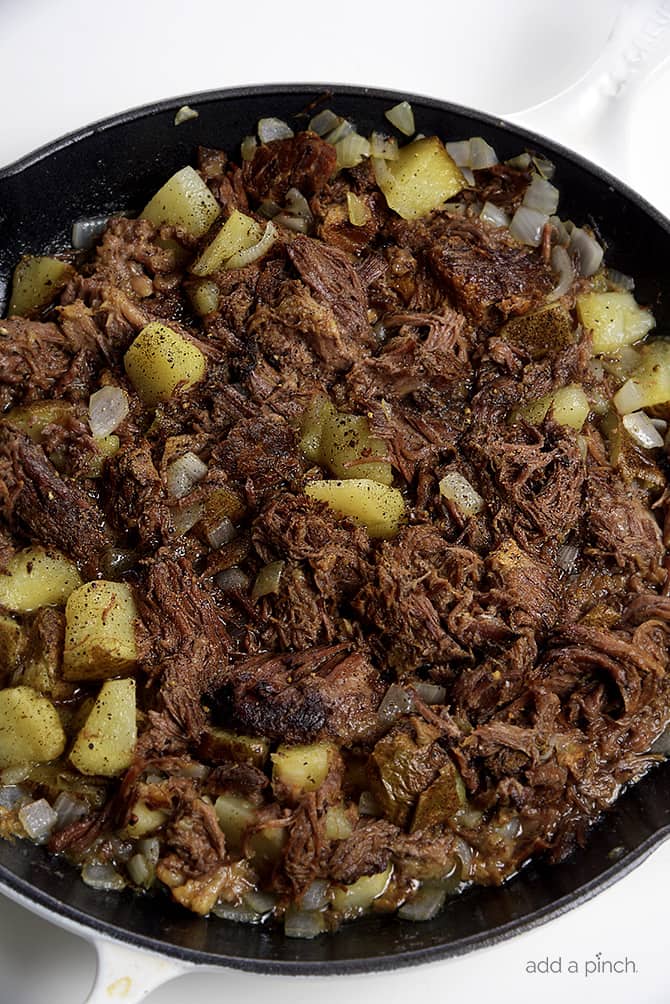 You may be wondering what in the world this back to school saga has to do with this beef hash recipe. Well, it is one that I remember my Grandmother Verdie and my Mama making many, many nights.
We always knew that after we had roast beef, more than likely, this delicious beef hash would happen soon! And honestly, I couldn't wait for it.
We'd rush home from some activity or another after school and Mama would pull her skillet out of the cabinet and set it on the stovetop. To it she would add a little oil and then her potatoes. She'd cook them potatoes until they were crispy on the outside and oh so tender on the inside. Then, she'd add her onions and leftover roast beef that she'd shredded into chunks with two forks.
It was a favorite at our house and one that now that I have my own family, I love it even more than I did growing up. Who knew it was so easy!
As the potatoes, onions, and beef have cooked through, she would reheat the drippings from the roast beef in a small saucepan. She would cook the drippings until they reduced by about half and would then stir in a bit of cornstarch to thicken it into a gravy. Then, she'd pour the gravy into the beef hash, sprinkle it with a little bit of freshly ground black pepper and serve.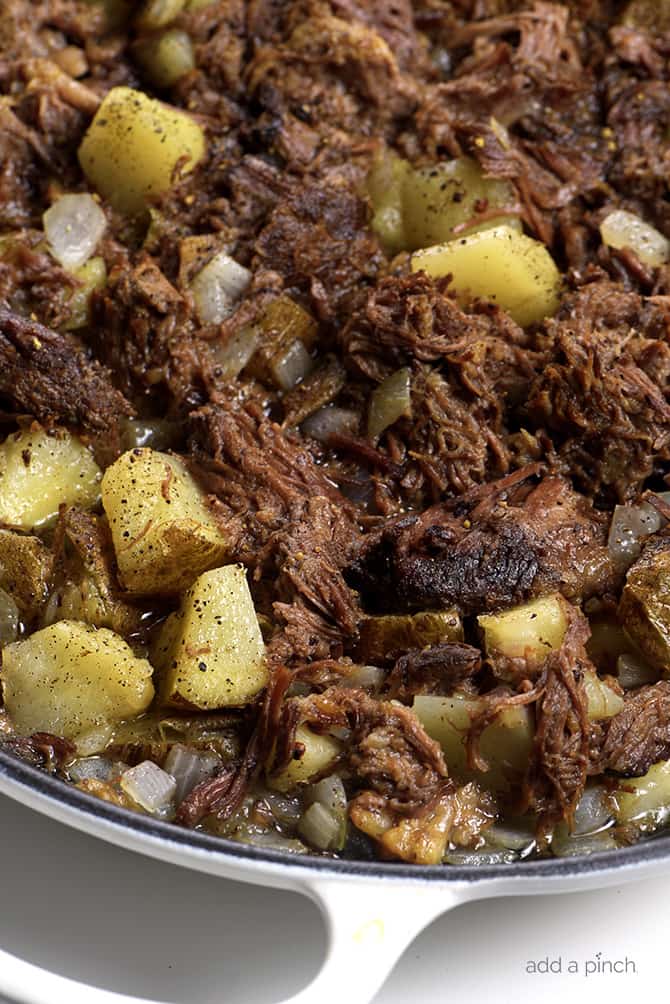 Here's my family's Beef Hash recipe. I think you'll love it!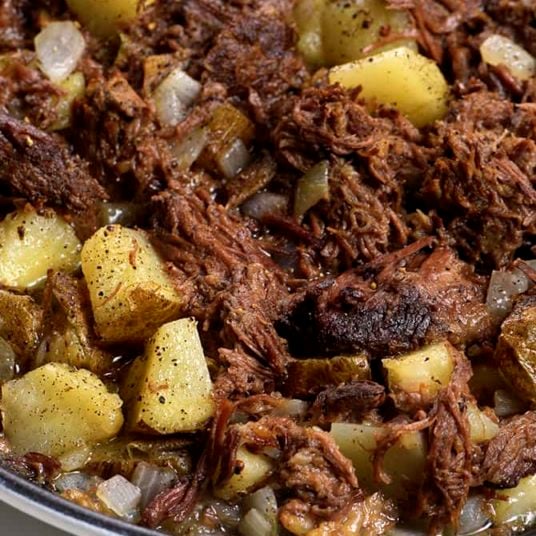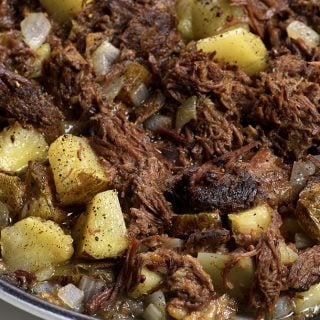 Beef Hash Recipe
Southern Beef Hash is a great way to use leftover roast beef in a whole new way. Full of potatoes, onions, garlic, and roast beef, beef hash is a favorite.
Ingredients
1

tablespoon

olive oil

1

Russet or Yukon Gold potatoes

,

scrubbed and diced

1/2

onion

,

diced

2

celery

,

diced

1

clove

garlic

,

minced

2 – 3

cups

cooked roast beef

,

shredded

1

cup

drippings from roast beef

1

teaspoon

cornstarch

salt and pepper
Instructions
Add olive oil to medium skillet set over medium heat. Add diced potato and cook until tender on the inside and crispy on the outside, about 5 minutes, stirring frequently. Add in the onions and celery and cook until tender, about 3 more minutes.

Stir in the garlic and the shredded roast beef and cook until the beef is heated throughout.

Meanwhile, heat the roast beef drippings in a small saucepan set over medium heat until reduced by about half, about 8 minutes. Whisk in the cornstarch until well combined and then pour into the beef hash.

Salt and pepper to taste and serve.
Nutrition
Calories:
440
kcal
|
Carbohydrates:
13
g
|
Protein:
66
g
|
Fat:
14
g
|
Saturated Fat:
4
g
|
Polyunsaturated Fat:
1
g
|
Monounsaturated Fat:
7
g
|
Cholesterol:
169
mg
|
Sodium:
4470
mg
|
Potassium:
1125
mg
|
Fiber:
1
g
|
Sugar:
1
g
|
Vitamin A:
91
IU
|
Vitamin C:
138
mg
|
Calcium:
848
mg
|
Iron:
7
mg
Nutrition information is automatically calculated, so should only be used as an approximation.
Enjoy!
Robyn xo
From the Add a Pinch recipe archives. Originally published 2011. Updated August 2017.