Blueberry Banana Bread Muffins Recipe
These blueberry banana bread muffins make a delicious treat for breakfast or an afternoon snack. So easy to make, these are banana bread muffins are full of flavor!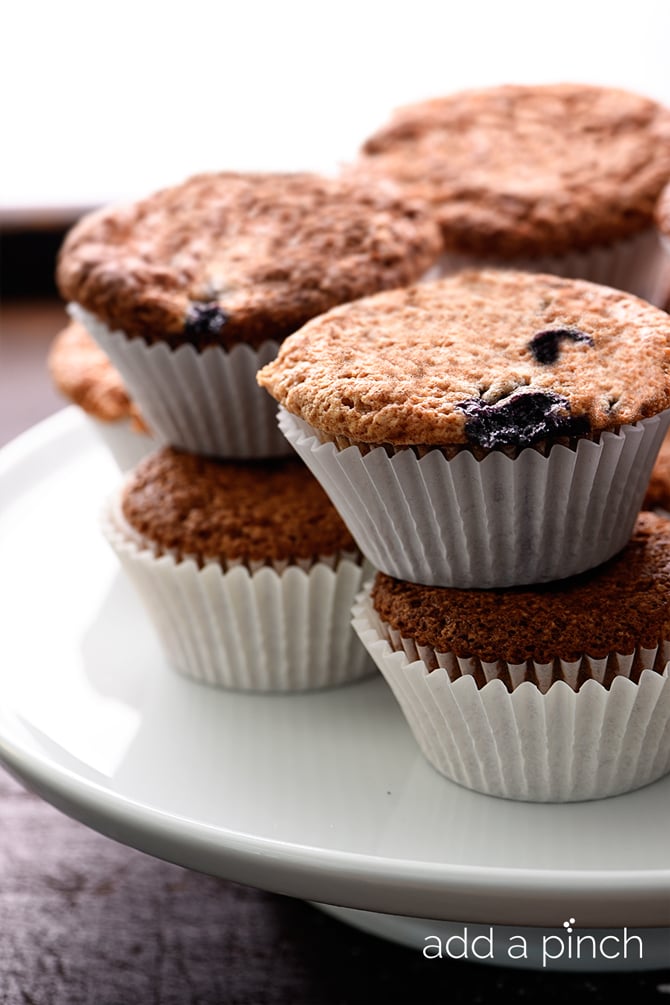 My family loves banana bread, but let me tell you, this blueberry banana bread is one of our absolute favorites. It is the perfect mix of a blueberry muffin and banana bread in every single bite.
They are so light and tender and just absolutely delicious! Thankfully, they couldn't be much simpler to whip together!
First, I start by prepping all of my ingredients. This only takes a few seconds, but makes all the difference in being able to then just quickly fold everything together for your muffin batter. I whisk together my dry ingredients of all-purpose flour, baking powder, baking soda and salt in one bowl and then toss my fresh blueberries with a little bit of flour in another bowl. Coating the blueberries in a little flour helps to prevent them from all sinking to the bottom during baking. If you've not tried that little trick before, give it a try when you bake these. It makes a huge difference.
Next, I cream together my bananas with the sugar until they are well combined. This takes about 2 to 3 minutes with an electric mixer, but makes all the difference in making banana bread and these muffins. Then, I incorporate softened butter, an egg and my vanilla into the banana mixture. Then, I just fold the flour mixture into my banana mixture until well combined and then gently fold in my coated blueberries. Finally, I scoop the batter into my prepared pans, filling them about three-fourths and then pop them into the oven to bake.
The smell that comes from the oven is absolutely amazing and has you craving these muffins before you've even gotten them out of the oven! They definitely help me to get everyone to the table in the mornings!
As you guys already know, I only use White Lily flour. Founded in 1883, it has been a southern staple for generations in my family and many others, I would imagine. It is the flour that my Grandmother and Mama have always used and the flour I grew up learning to bake and cook with. It has always been consistent and gives me the results I expect for all my baked goods. I love knowing that when I bake my Grandmother's cake recipes or Mama's banana bread, they will taste just like the ones I grew up with since I'm using the same ingredients they used. How great is that?
I was absolutely thrilled when I heard that White Lily was introducing three new culinary-inspired flours to the market and couldn't wait to try them. The really great thing about these flours is that they make me feel even closer to the farm and farmer where the flour was grown, making me realize that a whole lot of love goes into it before it ever reaches my pantry. The three new flours are all-purpose wheat flour, wheat and red grape seed flour blend, and wheat and white grape seed flour blend. Each bag of flour can be easily traced back to the exact wheat grower in the Pacific Northwest who grew the wheat. These new flours are easily used in your favorite savory and sweet recipes, since they have the same bake-up functionality as traditional all-purpose flour and are used as a cup-for-cup replacement in those recipes. The grapes in the red and white grape seed flour blends adds flavor and texture to dishes that I'm loving experimenting with.
For these blueberry banana bread muffins, I tested with all three of the new premium flours and loved the different nuances of each. The red grape seed flour blend adds a hint of red natural coloring to the final muffin and enhanced the blueberry flavor, I thought! And I thought the white grape seed flour blend brought out the banana flavor even more than the wheat flour or regular all-purpose flour. Spending time in the kitchen is one of my favorite things and I love being inspired by new ingredients like this! It makes it even more fun!
Here's my Blueberry Banana Bread Muffins Recipe. I think you'll love them as much as we do!

Blueberry Banana Bread Muffins Recipe
Author: Robyn Stone | Add a Pinch
Serves: 12
Ingredients
1½ cups all-purpose flour + 1 tablespoon for berries
1 teaspoon baking powder
1 teaspoon baking soda
½ teaspoon salt
1 cup fresh blueberries
3 large bananas
¾ cup granulated sugar
⅓ cup butter, softened to room temperature
1 large egg
1 teaspoon vanilla extract
Instructions
Preheat oven to 350º F. Line muffin pan with paper liners and set aside. Whisk together flour, baking powder, baking soda, and salt and set aside. Toss blueberries to coat them well in 1 tablespoon of all-purpose flour and set aside.
Cream together bananas and granulated sugar until well-combined with an electric mixer, about 2 to 3 minutes. Then, incorporate butter, egg and vanilla. Fold flour mixture into banana mixture until well combined and then carefully fold in coated blueberries. Scoop batter into prepared muffin pans, filling them about ¾ full.
Bake until golden and muffins spring back to the touch, about 25 minutes. Additionally, a toothpick should come out clean when inserted into the center of a muffin. Allow to cool slightly before removing from muffin pan.

Enjoy!
Robyn xo

I am excited to continue to work with White Lily flour since it is the flour used in my family for generations! Opinions are always 100% mine!