Buffalo Chicken Lettuce Wraps Recipe
Lettuce wraps have been a favorite quick-fix menu item that my husband and I have loved for years.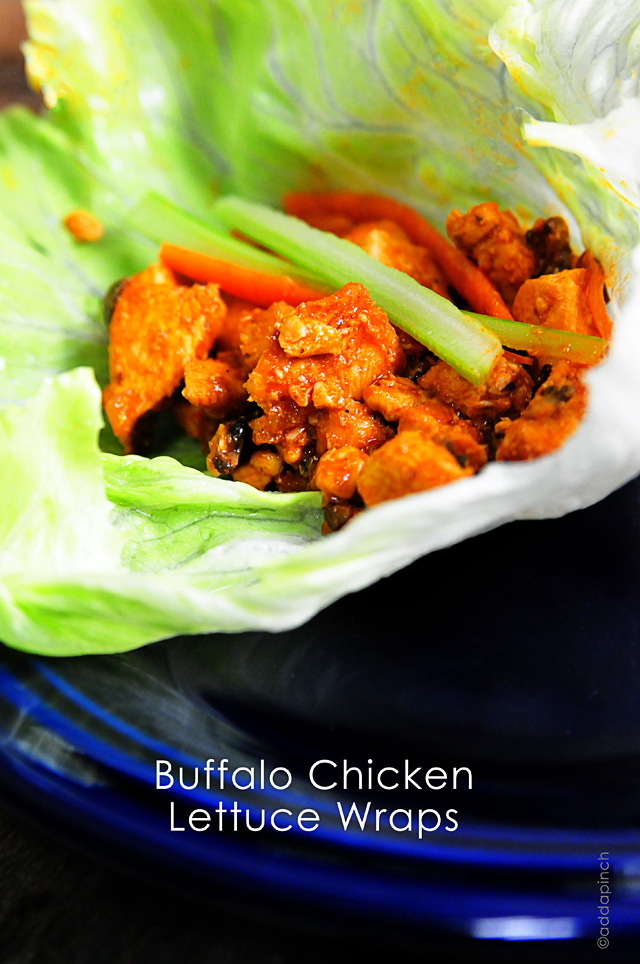 The tender, flavorful buffalo chicken all encased in crisp iceberg lettuce was just perfect – fresh tasting even.
To make them, I used skinless, boneless chicken breasts and chopped them into about 1-inch pieces. Then, I sauted the chicken in my large skillet with a bit of olive oil for about 7-10 minutes. Once the chicken was cooked through, I tossed in diced red onion, garlic, and mushrooms along with buffalo sauce and allowed it all to simmer for about 3 minutes.
As that was simmering, I began pulling apart the head of my iceberg lettuce to make assembly even easier.
Rather than making everyone's buffalo chicken lettuce wraps for them, I simply made a lettuce wrap buffet including a platter of the lettuce leaves, a bowl for the buffalo chicken, toppings of celery and carrot sticks (since they normally go with buffalo wings!), and some blue cheese crumbles. Beside the buffet was a bowl of blue cheese dip as a sauce as well as some ranch dressing for spooning onto the wrap as a final touch before eating.
All in all, we were enjoying our buffalo chicken lettuce wraps 15 minutes after I began cooking them.
And since they only took 15 minutes to prepare, they are perfect for a quick-fix lunch or supper even on those busiest of days!
Here's my buffalo chicken lettuce wraps recipe. I hope you love them as much as we did.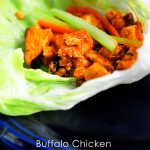 Print Recipe
Buffalo Chicken Lettuce Wraps Recipe
Buffalo Chicken Lettuce Wraps make a perfect quick-fix menu idea. Ready from start to finish in 15 minutes!
Prep Time5 mins
Cook Time10 mins
Total Time15 mins
Servings: 6 -8
Calories: 0
Ingredients
olive oil
2 skinless boneless chicken breasts, chopped into 1-inch pieces
1/2 medium onion diced
2 cloves garlic diced
1/2 cup mushrooms diced
1/4 cup buffalo sauce
12 lettuce leaves such as iceberg or bibb
1 celery stalk thinly sliced into 2-inch lengths
1 carrot thinly sliced into 2-inch lengths
blue cheese crumbles optional
blue cheese dipping sauce
Instructions
Drizzle olive oil into a 12-inch skillet over medium-low heat. Add chicken and cook, stirring occasionally, until cooked through, about 7-10 minutes.

Add onion, garlic, mushrooms and buffalo sauce. Stir to combine and allow to simmer for about 3 minutes.

While buffalo chicken mixture is simmering, assemble platter for making lettuce wraps of lettuce leaves, celery, carrots, blue cheese crumbles, and blue cheese dipping sauce.

Serve warm.
Enjoy!
Robyn xo