Buffalo Chicken Lettuce Wraps Recipe
Lettuce wraps have been a favorite quick-fix menu item that my husband and I have loved for years, but I was definitely inspired to make them again after watching last week's quickfire challenge using iceberg lettuce on Top Chef.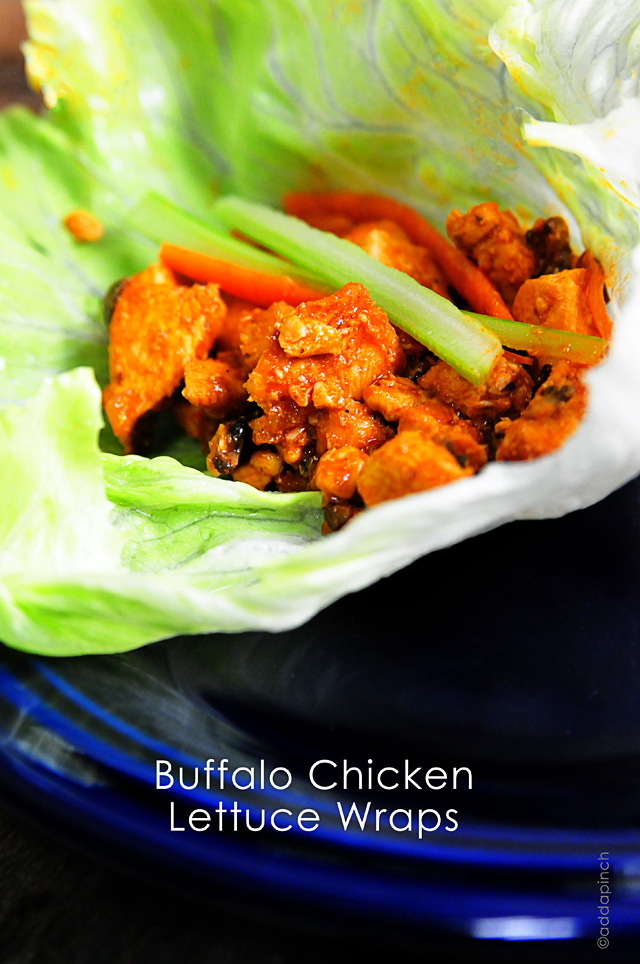 Now, granted Sheldon's lettuce wraps were definitely different from my own as he made Vietnamese Lettuce Wraps, I decided to go with a flavor that my husband adores – Buffalo Chicken Lettuce Wraps.
Let me just say, they were a definite hit!
The tender, flavorful buffalo chicken all encased in crisp iceberg lettuce was just perfect – fresh tasting even.
To make them, I used skinless, boneless chicken breasts and chopped them into about 1-inch pieces. Then, I sauted the chicken in my large skillet with a bit of olive oil for about 7-10 minutes. Once the chicken was cooked through, I tossed in diced red onion, garlic, and mushrooms along with buffalo sauce and allowed it all to simmer for about 3 minutes.
As that was simmering, I began pulling apart the head of my iceberg lettuce to make assembly even easier.
Rather than making everyone's buffalo chicken lettuce wraps for them, I simply made a lettuce wrap buffet including a platter of the lettuce leaves, a bowl for the buffalo chicken, toppings of celery and carrot sticks (since they normally go with buffalo wings!), and some blue cheese crumbles. Beside the buffet was a bowl of blue cheese dip as a sauce as well as some ranch dressing for spooning onto the wrap as a final touch before eating.
All in all, we were enjoying our buffalo chicken lettuce wraps 15 minutes after I began cooking them.
The end result? Well, while they definitely weren't as gorgeous as the lettuce wraps that Sheldon made for Top Chef, they absolutely won the quick fire challenge in my house since everybody loved them!
And since they only took 15 minutes to prepare, they are perfect for a quick-fix lunch or supper even on those busiest of days!
Here's my buffalo chicken lettuce wraps recipe. I hope you love them as much as we did.
Buffalo Chicken Lettuce Wraps Recipe
Buffalo Chicken Lettuce Wraps make a perfect quick-fix menu idea. Ready from start to finish in 15 minutes!
Author: Robyn Stone | Add a Pinch
Serves: 6-8
Ingredients
olive oil
2 skinless, boneless chicken breasts, chopped into 1-inch pieces
½ medium onion, diced
2 cloves garlic, diced
½ cup mushrooms, diced
¼ cup buffalo sauce
12 lettuce leaves, such as iceberg or bibb
1 celery stalk, thinly sliced into 2-inch lengths
1 carrot, thinly sliced into 2-inch lengths
blue cheese crumbles (optional)
blue cheese dipping sauce
Instructions
Drizzle olive oil into a 12-inch skillet over medium-low heat. Add chicken and cook, stirring occasionally, until cooked through, about 7-10 minutes.
Add onion, garlic, mushrooms and buffalo sauce. Stir to combine and allow to simmer for about 3 minutes.
While buffalo chicken mixture is simmering, assemble platter for making lettuce wraps of lettuce leaves, celery, carrots, blue cheese crumbles, and blue cheese dipping sauce.
Serve warm.
Giveaway
As part of working with Bravo Top Chef, they are offering one lucky member of the Add a Pinch family as 12-month subscription to Food and Wine magazine.
Here's how you enter:
Leave a comment telling me your favorite type of food to cook!
You can also get a few extra entries with the following:
Then head back to this post and leave a comment that you did.
Giveaway ends February 14th at 11:59 PM Eastern. The winner will be announced sometime the following day.
Giveaway open to US residents only.
Enjoy!
Robyn xoxo
Content and/or other value provided by our partner, Bravo.
Disclosure: I worked with and was compensated by Bravo Top Chef in developing this recipe. Bravo Top Chef sponsored the giveaway of Food and Wine magazine. All photographs, recipe, and text are my own, except Bravo Top Chef Seattle logo.