Jump to Recipe • Print Recipe
This Homemade Buffalo Sauce Recipe makes a quick and easy homemade version of a classic!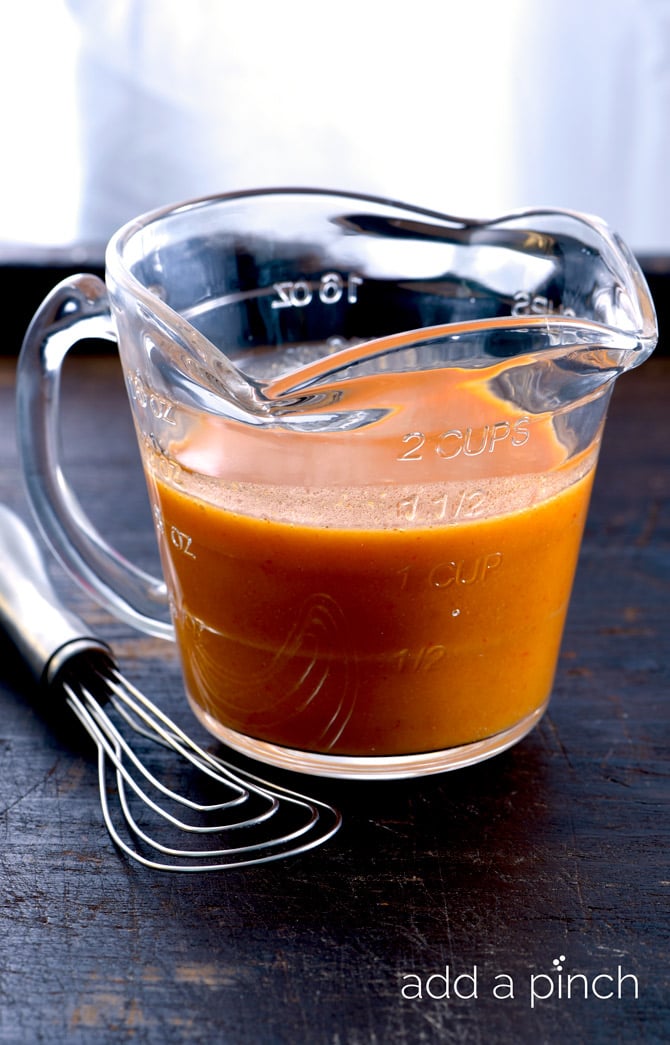 I can always depend on Bart and Sam loving any dish that includes that signature buffalo sauce flavor. From chicken wings to our favorite buffalo chicken dip, I know those are surefire hits whenever I make them for them. There's just something about that little vinegary, spicy kick that can liven up so many dishes. 
For years now, I've been making my own using ingredients that I always have on hand in my refrigerator and pantry – butter, hot sauce, vinegar, Worcestershire and garlic.
And by the way, I can't think of anything that wouldn't possibly be good with those ingredients in it! No wonder we go through it so quickly around here!
I use it in so many things – more than just for wings, too!
I actually use it in a few ways that may be a little out of the norm for you guys, but I just have to tell you in case you'd love it as much as I do. I love to add a splash of my homemade buffalo sauce to my ranch dressing for a kickier version (please let me think that's a word, okay?), or even onto avocado toast for an update on that classic morning staple that definitely wakes you up! And don't even get me started on using it with fried cheese sticks! I just add a couple of splashes as I coat my cheese before cooking and it just makes for a whole new world where cheese sticks are concerned in my book. You really have to give it a whirl sometime.
So, now that I've shown you just how crazy in love with buffalo sauce I am, I better go ahead and give you that recipe so you can make it at home yourself! Now, neither one of us will get strange looks from the bag boy at the grocery store for the insane amounts of buffalo sauce we're buying. And for that, I'm ever so grateful!
Here's my homemade buffalo sauce recipe. I think you'll love it as much as we do!

Homemade Buffalo Sauce Recipe
This Homemade Buffalo Sauce Recipe makes a quick and easy homemade version of a classic!
Author:
Robyn Stone | Add a Pinch
Ingredients
½ cup melted butter
½ cup hot sauce
2 tablespoons distilled white vinegar
2 teaspoons Worcestershire sauce
pinch granulated garlic
Instructions
Whisk together melted butter, hot sauce, vinegar, Worcestershire sauce, and garlic until well combined. Store in an airtight container in the refrigerator, shaking to blend well before using, for up to one month.
Enjoy!
Robyn xo