Chocolate Chip Blondies have now become one of my go to quick fix desserts. But this week, I took them to another level entirely – Dark Chocolate Ganache.
Oh yes I did.
And they are even better than I imagined.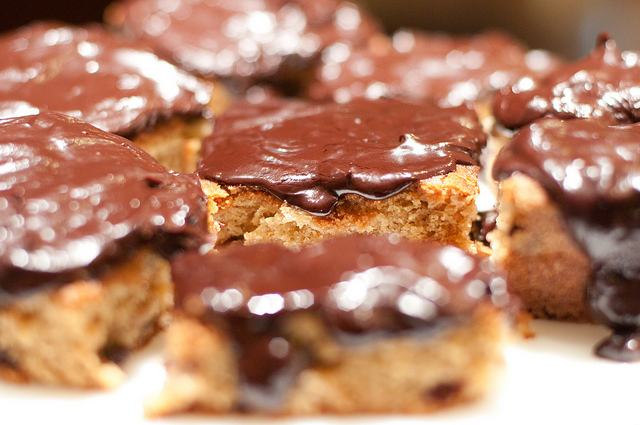 It was actually Little Buddy's idea to make the ganache dark chocolate. I had plenty of milk chocolate on hand and was ready to get the ganache started when he specifically asked if I'd make it dark chocolate. Surprisingly, he's preferred dark chocolate since he was four years old. He has a sophisticated palate when it comes to some things. Other things – not so much.
I looked for dark chocolate and sadly had to tell him we didn't have any to use in the ganache. "Wait just a second, Mama. I think I may have something."
He quickly returned to the kitchen with this.
His Dove dark chocolate bunny from Easter. Our family knows how much he loves dark chocolate and he lucked up with five of these this past Easter. I had no idea he'd stashed one. But, he was happy enough to contribute this guy to the brownies.
He stood close as we gave it a quick chop.
He hovered even closer to the bowl as we waited for the cream to warm.
I couldn't tell what he was thinking when we had to wait the five minutes for the warm milk and chocolate to sit.
And then we began to use the whisk and stir the milk and chocolate together.
He sighed a big sigh of relief when the ganache finally came together. And was even happier when he saw it on top of his favorite blondies.
I have to admit, I'm glad he had stashed that bunny!
Here's the recipe for our Chocolate Chip Blondies with Dark Chocolate Ganache.
Chocolate Chip Blondies with Dark Chocolate Ganache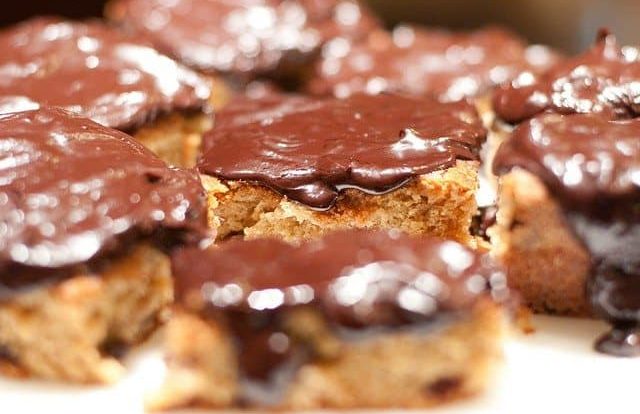 Chocolate Chip Blondies are even more incredibly delicious once topped with an incredible dark chocolate ganache.
Ingredients
Dark Chocolate Ganache
8

ounces

dark chocolate

3/4

cup

whipping cream

2

tablespoons

butter
Instructions
Prepare Chocolate Chip Blondies as directed in the recipe. Allow to cool.

Prepare dark chocolate ganache (recipe instructions to follow). Pour over the blondies for a thin coating or allow to stand for five minutes and spoon a thicker ganache over top of the blondies.
Dark Chocolate Ganache
Chop dark chocolate into thin pieces and set aside in medium bowl.

Heat whipping cream over medium heat and pour over chocolate pieces.

Allow to sit for five minutes and then stir with a whisk until combined.
Nutritional Information
Calories:
223
kcal
|
Carbohydrates:
14
g
|
Protein:
2
g
|
Fat:
17
g
|
Saturated Fat:
9
g
|
Cholesterol:
26
mg
|
Sodium:
26
mg
|
Potassium:
146
mg
|
Fiber:
2
g
|
Sugar:
5
g
|
Vitamin A:
285
IU
|
Vitamin C:
0.1
mg
|
Calcium:
23
mg
|
Iron:
2.3
mg
Enjoy!