Divinity Recipe
Grandmother's Divinity was always a part of our Christmas celebration. She'd watch the weather carefully during the week before Christmas to pick just the right day, the one with the lowest possible humidity, and she'd begin making this delicious confection.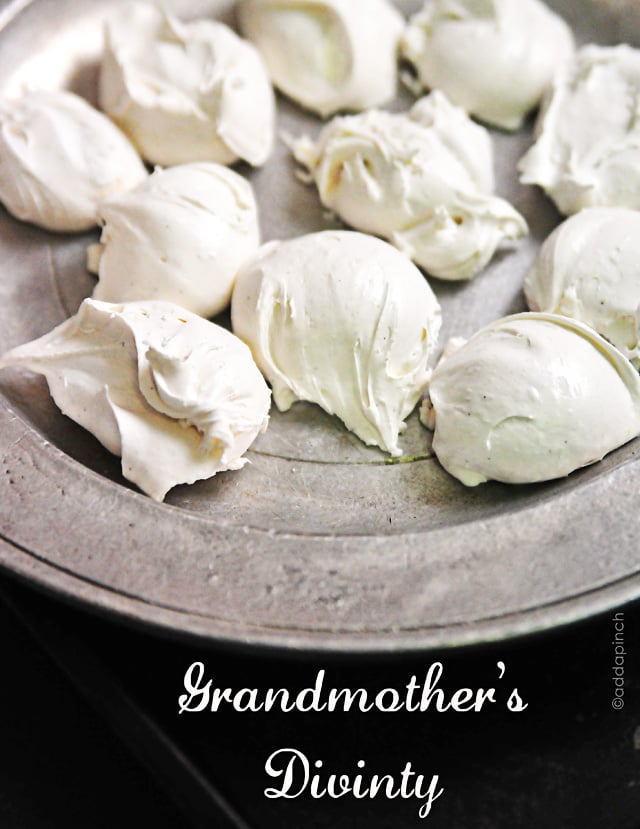 Tasting a lot like marshmallows, her billowy, white divinity was always one of my favorites. Some years, she'd tint in pink or green, but more often than not, she'd leave it pure white.

I always wanted to be there to help her as she made her divinity recipe each Christmas. Watching her as she worked magic before my eye, I would press myself as close as possible against the laminate countertop for a better look.
I dared not move from the station where Grandmother had told me to stand while she turned the molten sugar to fluffy, light clouds of confection. I knew that I would be able to help her drop teaspoons full of divinity onto the waxed paper if I did as she'd gently asked me to do.
Since Grandmother had chosen the day with the lowest to no humidity, her divinity would dry well and then we'd package it into waxed paper lined tins that were used from year to year to hold her Christmas candies.
When I married, Grandmother gave me a book of her recipes that she'd collected throughout the years. Many of them were taught to her by her own mother and grandmother, some were given to her from friends, but most she'd created herself.
Each Christmas, I carefully pull out my book and turn to the pages of Christmas candies, including her date nut roll recipe and divinity recipe, and make them for my own family. Her Christmas tradition continues as I carefully watch the weather to pick just the right day.
Here's Grandmother's Divinity Recipe. I hope you enjoy it as much as my family does.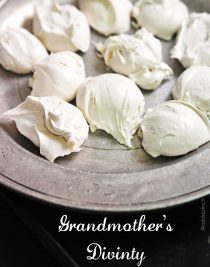 Divinity Recipe
Total Time 45 minutes
Prep Time 10 minutes
Cook Time 35 minutes
Divinity candy is a delicious confections. This heirloom divinity recipe is a family tradition and never fails me.
Ingredients
2 cups sugar
1/2 cup white corn syrup
1/2 cup cold water
2 egg whites room temperature
pinch of salt
1 teaspoon pure vanilla
1 cup chopped pecans optional
Directions
Heat the sugar, corn syrup and water over medium heat in a heavy bottomed saucepan. Using a candy thermometer, heat the mixture until it reaches 250º F, a hard ball stage.

As the syrup is cooking, whip egg whites, along with a pink of salt, until stiff peaks have formed.

When the sugar syrup has reached hard ball stage (250º F), remove it from the heat and begin to slowly pour it into the beaten egg whites, whipping together at a high speed.

Add the vanilla and continue whipping the mixture on high until it holds its shape and does not fall back onto itself, about 5-6 minutes. Stir in chopped pecans, if using.

Using two teaspoons and working quickly, drop scoops of divinity onto sheets of waxed paper that has been placed on top of cooling racks. If the divinity begins to harden, add a few drops of warm water to help loosen it while working.

Allow the divinity to dry and harden. This usually takes a couple of hours to overnight. Store in an airtight container for up to two weeks.
All images and text © Robyn Stone for Add a Pinch
Merry Christmas!
Robyn xoxo