Grilled Chicken and Gorgonzola Salad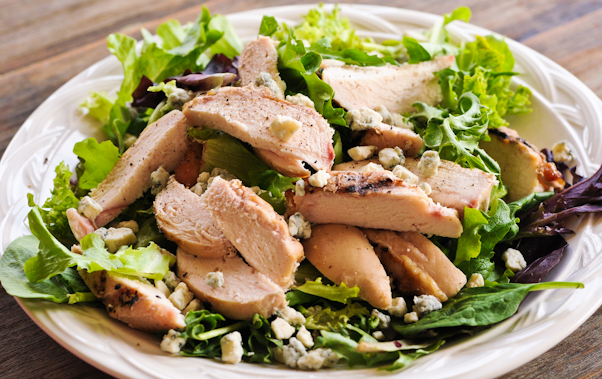 When the temperature rises, our suppers start including more cool yet filling main dishes. In other words, we start eating a lot more salads around here.
One of our favorites is this grilled chicken and Gorgonzola salad.
It's so simple to make and comes together really quickly. I do want to tell you a few of tricks we've learned along the way on this salad though. I think you'll like them.
Trick #1 – Take a bag of frozen chicken breasts and open the bag. Add in water and 1 teaspoon of salt. Close the bag and place the chicken in your refrigerator to thaw during the afternoon. When you get home, your chicken will have thawed and will be really moist and tender when cooked.
Trick #2 – To take this salad to a lunch, add a few more ingredients like sliced pears and toasted pecans. It kicks this salad up a notch and is quiet a delight on the tastebuds.
Trick #3 – IF you have any of this salad left over (which I seriously doubt, but just in case), throw it in a wrap for a yummy lunch or dinner the next day!
Here's how I make it.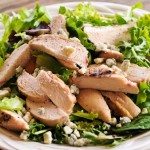 Print Recipe
Grilled Chicken and Gorgonzola Salad
Grilled Chicken and Gorgonzola Salad makes a quick and easy, delicious and hearty salad recipe that is perfect for lunch or supper!
Prep Time5 mins
Cook Time30 mins
Total Time35 mins
Servings: 6
Ingredients
6 boneless skinless chicken breasts
6 cups spring salad greens
1 cup Gorgonzola cheese crumbles
homemade blue cheese dressing
Instructions
Grill chicken and slice into 1" slices.

Place salad on each plate, topped with chicken slices and Gorgonzola cheese.

If adding additional ingredients, add those and serve with your favorite dressing.
Enjoy!