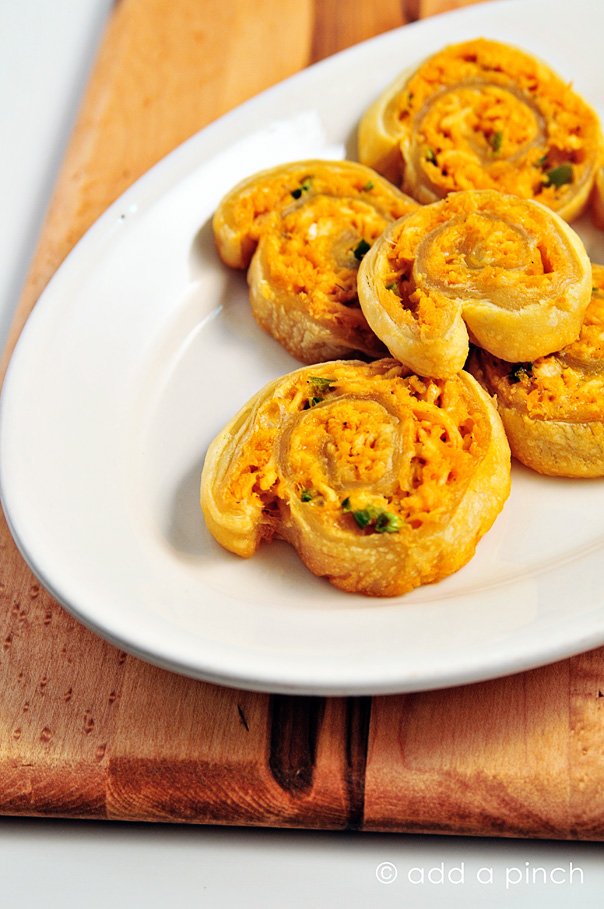 I woke up on Saturday morning with a spring in my step and itching to get into the kitchen. As I hopped out of bed (okay, a little bit of a quicker roll than normal, but you know what I mean), I quickly ran through the ingredients of what I would need for this recipe. I'm not quite sure what got into me for thinking up recipes while I slept during the night, maybe it was that we finally went to see The Hunger Games on Friday night and I couldn't help but want to cook for those folks while they were out cooking lizards over a spit.
I also realized that I'm getting old. It's hit me a time or two now since I've turned forty, but last night, it hit me harder than ever.
We pulled up into the parking lot for the late movie, late meaning 9:30 pm, nearly my bedtime. As we pulled in and I saw rows upon rows of cars, all I could think of was, "I sure hope our movie isn't crowded."
You see, I'm more of a sofa movie goer, meaning I like to be cuddled up on my own sofa watching movies instead of being in the theater worrying that I'm going to get mixed up and mistakenly take a swig out of my neighbor's drink, or reach over and grab a handful of his popcorn, or even ask for some of his Sugar Babies.
It's a fear of mine.
However, theater movie going must really stimulate me and my thoughts of new recipes.
Who knew?
Anyway, so I got busy in the kitchen making these Jalapeno Buffalo Chicken Bites and singing along to iPod. Little Buddy and my husband were out doing stuff around the farm so I knew I had a little while to sing without getting the look of sheer mortification from my son.
It was glorious.
Here's how I made them.

I boiled a few chicken breasts and then let them sit in the stock while I put the rest of the recipe together.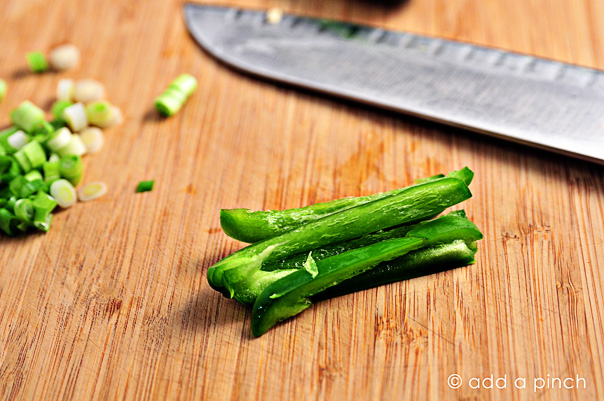 Chop the green onion and then get ready to finely dice your jalapenos. To do this, I first cut the jalapeno in half, clear out all of the seeds and as much of the white membrane as possible. Then, I carefully slice the jalapeno into slices. It's a bit thicker than a julienne, but the same idea.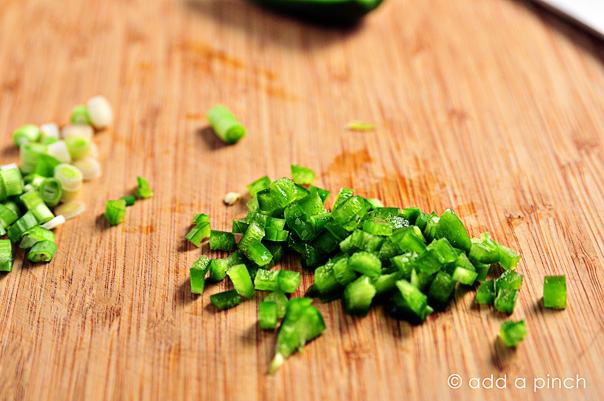 Then, line up all of your slices and then cut across all of them at once for nice even pieces.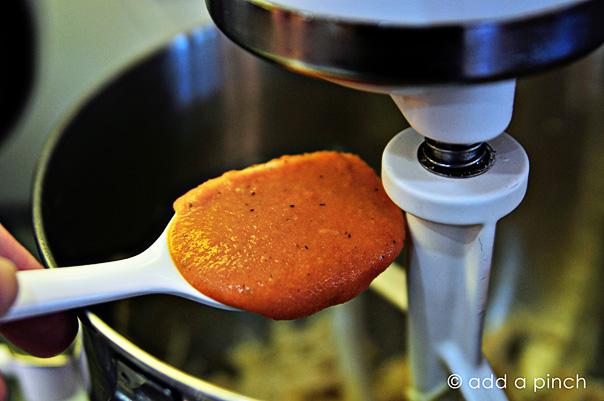 Next, I like to toss my chicken into my stand mixer to make quick work of shredding it up. Then add in the buffalo sauce.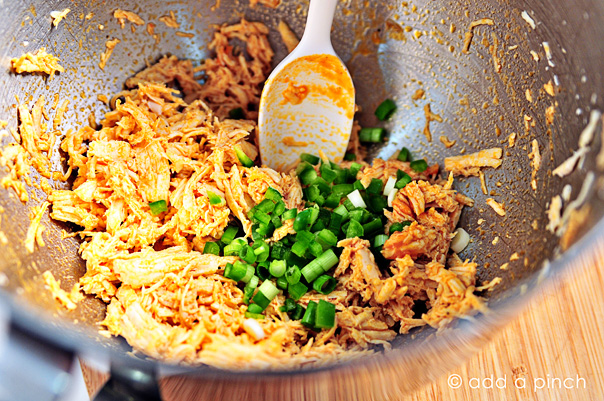 Throw your diced jalapeno and green onion into the bowl with your chicken and buffalo sauce.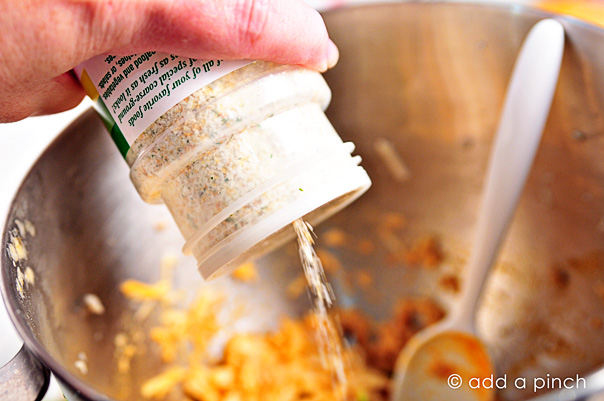 Shake in a little bit of garlic salt and add your grated cheese. I got so into making this recipe I forgot to snap a picture of that step.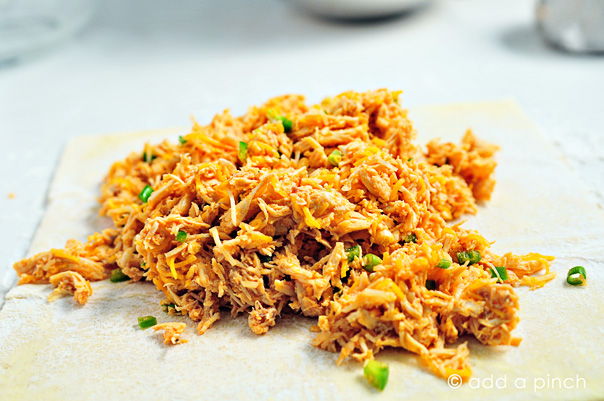 Unfold the puff pastry dough onto a lightly floured surface. Then pile the buffalo chicken mixture on top.
Doesn't that look good already?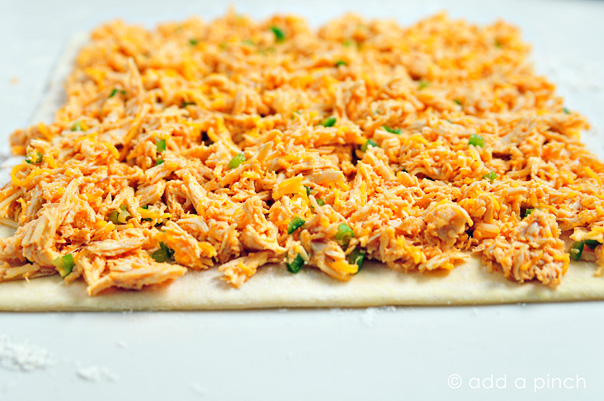 Spread the chicken mixture onto the dough evenly, making sure to get it to all of the edges.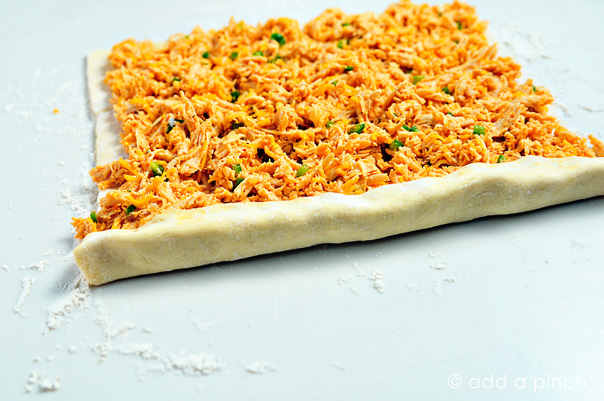 Then, start rolling the dough to form a log.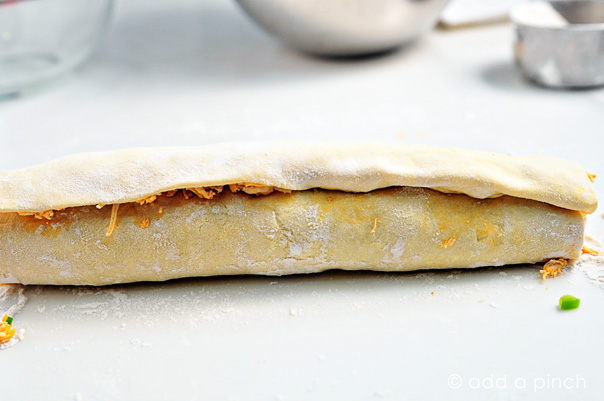 Once you have it all nicely rolled up, clean up your outside edge by tucking it back under. You can see on the right side where I started tucking the dough back under and on the left side, I haven't tucked it under yet. Doesn't it look neater on the right?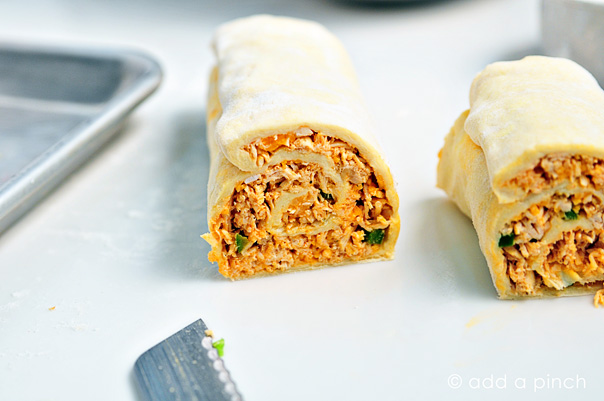 Now, begin cutting your dough into about 1 inch circles. To do this, I cut the dough in half, then half again and started cutting my circles. It just seemed to work well that way.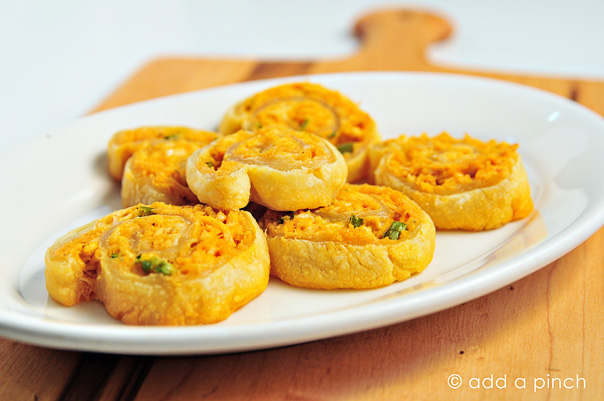 Bake until golden brown, about 20 minutes. Serve warm.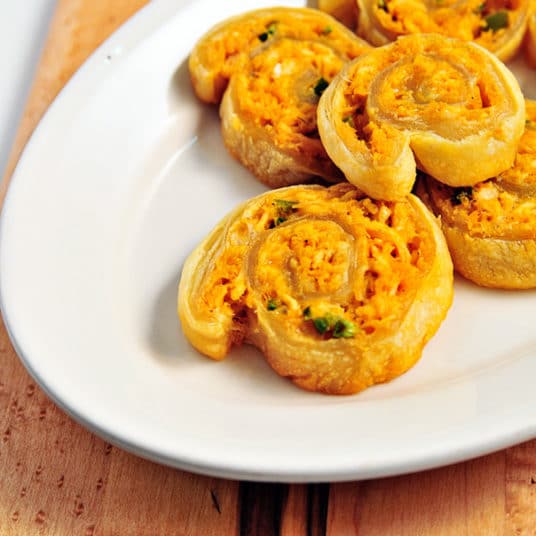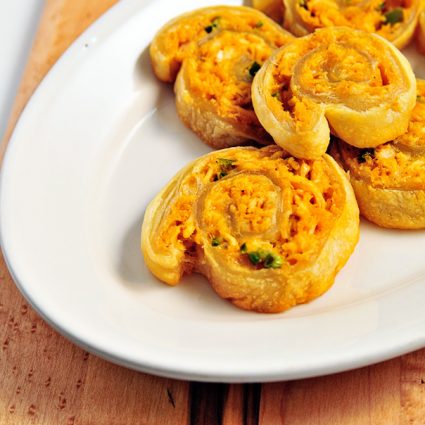 Jalapeno Buffalo Chicken Bites Recipe
Jalapeno Buffalo Chicken Bites makes a perfectly delicious appetizer or nibble.
Ingredients
1

sheet

puff pastry

1

chicken breast

,

boiled and shredded

1/4

cup

buffalo sauce

1

medium

jalapeno pepper

,

cleaned and diced

2

green onions

1 1/2

cups

monterey jack cheese

1/2

teaspoon

Stone House Seasoning
Instructions
Preheat oven to 350 degrees Fahrenheit.

Remove puff pastry from freezer and allow to thaw according to package directions.

Prepare chicken and combine with buffalo sauce. Add other ingredients and mix well.

Unroll pastry onto a lightly floured surface. Spread chicken mixture onto pastry, making sure to spread to all of the edges.

Carefully roll pastry into a log and then cut into 1 inch slices.

Place slices onto an ungreased baking sheet and bake for about 20 minutes.

Serve warm.
Notes
Substitute canned or pre-cooked chicken to reduce cooking time.
Nutrition
Calories:
113
kcal
|
Carbohydrates:
6
g
|
Protein:
5
g
|
Fat:
8
g
|
Saturated Fat:
3
g
|
Polyunsaturated Fat:
1
g
|
Monounsaturated Fat:
3
g
|
Trans Fat:
1
g
|
Cholesterol:
15
mg
|
Sodium:
210
mg
|
Potassium:
61
mg
|
Fiber:
1
g
|
Sugar:
1
g
|
Vitamin A:
88
IU
|
Vitamin C:
1
mg
|
Calcium:
66
mg
|
Iron:
1
mg
Nutrition information is automatically calculated, so should only be used as an approximation.
And you know what, we're going out again next weekend.
I feel sure we're setting a record or something.
In Buffalo Chicken Love,
Robyn xoxo