Jump to Recipe • Print Recipe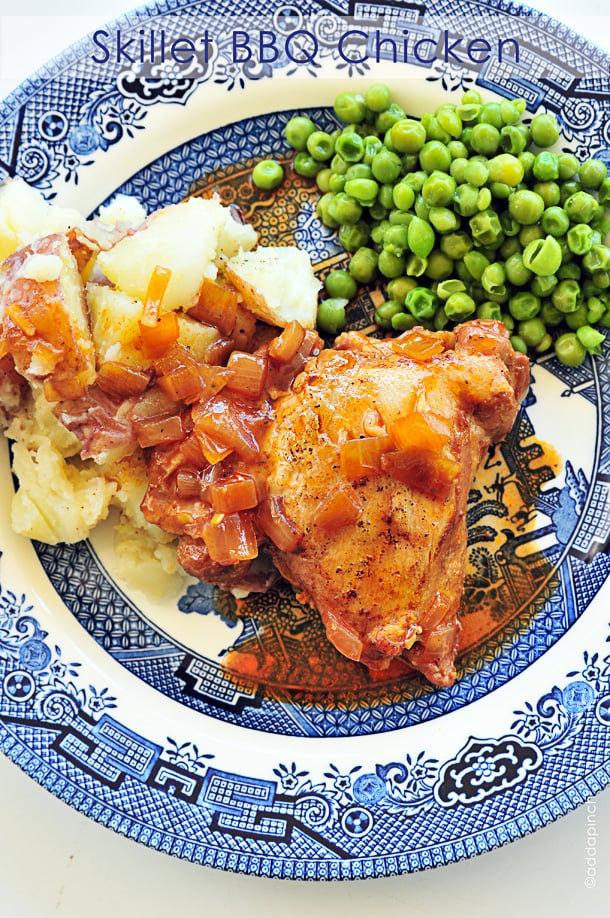 My recipe for Skillet BBQ Chicken really started with a hankering for Ree's Peach-Whiskey Chicken that she served us when we visited a few weeks ago. I had a craving for it and knew it was just the thing to make for supper.
Except I ran into a little problem.
I haven't restocked my house since our RV trip and therefore I didn't have any peaches. I didn't have any whiskey either.
Not one to give up easily and definitely not one to hop in the car and drive all the way into town to buy peaches and whiskey, I decided I would just have to wing it and go with what I had on hand. I ended up making this magical spicy skillet BBQ chicken instead.
It was a major hit with my family, even my picky little eater enjoyed it. I just didn't serve as much of the BBQ sauce on his plate.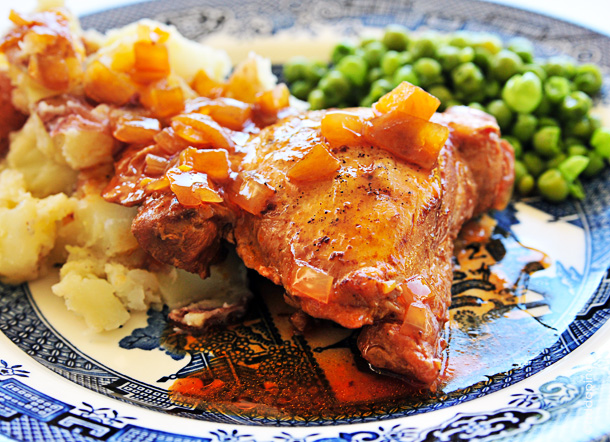 This skillet BBQ chicken would make a fantastic meal to serve when company visits. It's one of those meals that you can start, do a few things to it, pop it in the oven, and then walk away from for a while and it just turns into the most magical meal. Tender chicken that just falls apart when you touch it with a fork and a BBQ sauce that has a hint of a kick at the end of it from the sriracha sauce, which we just lovingly call Rooster Sauce here. You just can't go wrong with that tender, falling apart, spicy BBQ combination in my book.
I served it with old fashioned buttered potatoes and English peas as a throwback to my own childhood meals where eating my "circle green beans" was a serious bone of contention. Who am I to deprive my child of those memories? Or myself of stating all the reasons why you should eat English peas? It's a part of life I definitely don't want to skip.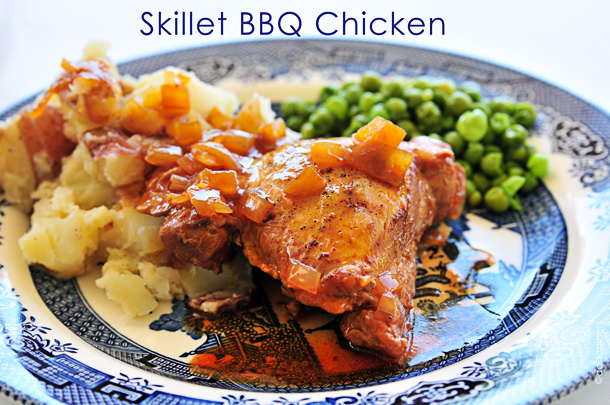 Now, I urge you, grab some chicken thighs and rooster sauce at the grocery store this week and make this skillet BBQ chicken soon. It is crazy good. And, if you have peaches and whiskey, I think you would love Ree's Peach-Whiskey chicken, too.
Here's my recipe.

Skillet BBQ Chicken Recipe
Skillet BBQ Chicken makes a delicious, easy meal perfect for Sunday suppers or weeknight meals.
Author:
Robyn Stone | Add a Pinch
Ingredients
2 tablespoons butter
2 tablespoons olive oil
8 boneless skinless chicken thighs
1 onion, chopped
3 cloves garlic, chopped
18 ounces BBQ sauce
1 cup water
2 tablespoons Worcestershire sauce
1 tablespoon Sriracha chili sauce
salt and pepper to taste
Instructions
Preheat oven to 300 degrees.
Heat butter and olive oil in a large skillet over medium heat. Add chicken thighs and brown on both sides, about 5 minutes. Remove and set aside.
Add onions and garlic to skillet and cook until just translucent, about 3-5 minutes.
Add your favorite BBQ sauce, Worcestershire sauce, Sriracha sauce, and water. Cook about 5 minutes on stove top to reduce. Add salt and pepper.
Add chicken back to skillet, including the juices. Cover with a lid or wrap tightly with aluminum foil and cook in preheated oven for an hour.
Remove from oven and serve warm.
Enjoy!
Robyn xoxo
If you like this recipe, you may also enjoy:
BBQ Chicken Burgers from How Sweet Eats
Sweet and Spicy Grilled Chicken Wings from She Wears Many Hats
Oven Baked Chicken Wings from Dine and Dish
+ more chicken recipes on Add a Pinch