A collection of nine delicious soup recipes sure to keep you warm inside and out!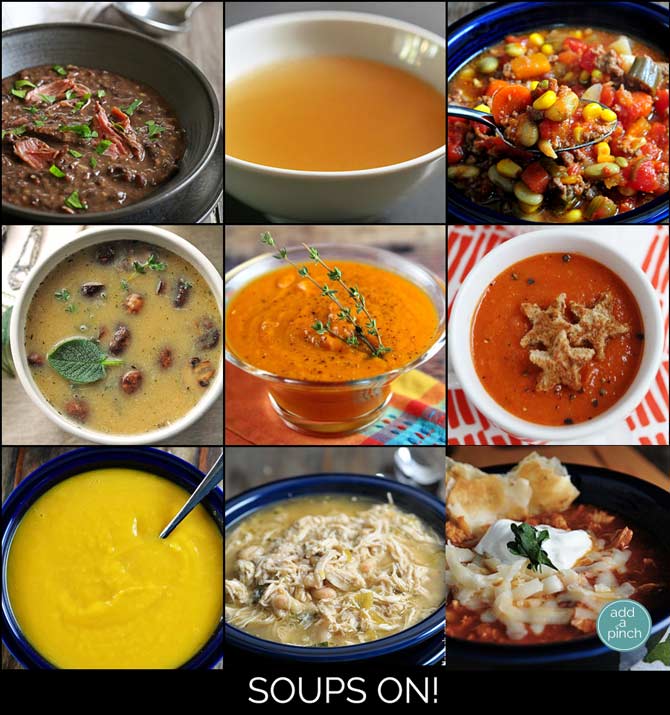 Baby, it's cold outside! As in, yesterday morning when I woke up to take the pups outside, it was 6º F. Fahrenheit! Not Celcius! This Georgia girl isn't used to those temperatures.
The winds made it feel much, much colder, but I refused to turn on the television or look on my phone to learn just how cold it registered in my neck of the woods. Ignorance is bliss in times like these. At least when you can quickly get back inside by the fire to warm up and have no reason to leave your house all day long.
Or at least that's my way of thinking.
Where I did take action was in pulling out the biggest pot that I could find in my cabinet and make soup – my chicken tortilla soup to be exact. Warm, spicy and full of flavor, it was just what I needed. Perfect for warming us up inside and out!
I have a feeling that there will be many more bowls of soup in our near future. That's when I like to turn to a few comforting classic soups that are sure to do the trick!
Here are nine delicious soups to feed any craving you might be having. The list includes a few of my favorite recipes that I've shared with you previously, along with those I can't wait to try from a few of my friends.
1. Smoked Turkey Black Bean Soup // Skinnytaste
2. Bone Broth // Nom Nom Paleo
3. Slow Cooker Vegetable Soup // Add a Pinch
4. Roasted Mushroom Soup // She Wears Many Hats
5. Carrot and Orange Soup // Recipe Girl
6. Roasted Red Pepper & Tomato Soup // A Beautiful Mess
7. Butternut Squash Soup // Add a Pinch
8. White Chicken Chili // Add a Pinch
9. Chicken Tortilla Soup // Add a Pinch
Stay warm friends!
Robyn xo