Candied Sweet Potatoes make an classic Southern dish. Made with five simple ingredients, these candied sweet potatoes couldn't be easier.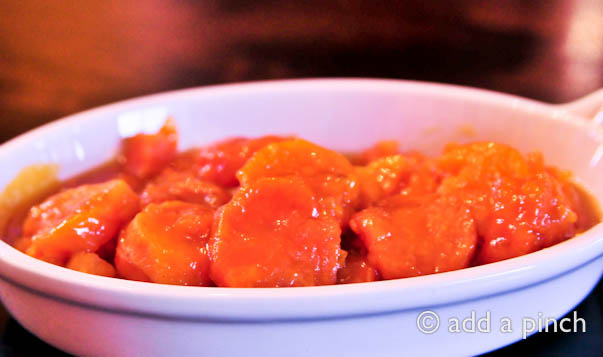 I've mentioned before how my Grandmother on my Mama's side of the family gave me one of my most prized possessions when I was engaged to be married. You see, a friend of my soon-to-be mother-in-law hosted a wonderful recipe shower for me before our wedding.
It was an wonderful shower that was so much fun. Each person who attended brought one of their favorite recipes along with a dish to prepare or to cook the recipe.
My sister-in-law gave me a recipe for cookies that she knew my husband loved growing up along with cookie sheets. A friend of the family gave me a recipe for a chicken salad that I really should share with y'all soon along with a beautiful, huge glass bowl that I use all the time. My Mama gave me a recipe box full of blank cards and a note that she hoped I filled it with recipes my family loved through the years, just as she had filled her own. She also gave me a separate set of recipe cards that were filled with recipes she'd made all my life – some that I loved and some that she promised I would love "one day".
There were so many other gifts, none costing the giver more than the time to write the recipe and the cost of the utensil or dish they gave me, but they were each as precious as the next.
Then, as the last gift of my shower, my Grandmother handed me a stack of two presents I could tell she had meticulously wrapped. The ribbon tied around the package had her signature bow, the same one she'd showed my sister and me when helping us tie our shoes when we were little.
I opened the larger of the two boxes to find a green glass bowl that had graced her table with fruit salad, creamed corn, and so many other dishes over the years. With tears in my eyes, I opened the second of the packages. Off came the white paper with the silver swirls to uncover the white gift box with the raised, embossed design. As I lifted the top of the box, I caught a glimpse of a spiral bound notebook – the kind that my Grandmother always seemed to have on hand. She would keep notes of prayer concerns, notes to write, friends to call, and a few months before the family reunions she'd always have a notebook full of planning details.
I lifted the notebook from the box and noticed it was already slightly worn around the edges of the cover. As my eyes caught with hers, she said, "I've been working on your notebook for a while now. It has our favorites."
I couldn't have asked for a more prized family heirloom.
My sister married a few years after I did and just like the carefully wrapped box I received, Grandmother had also prepared a special notebook for her.
Before my Grandmother passed away, she gave my Mama another of her spiral notebooks. She had jotted important things in it, including a few more notes on recipes she'd gotten from friends as they'd shared meals with one another. Written inside Grandmother's notebook was my recipe for Spiced Caramel Apple Dip I'd made for a Thanksgiving lunch many years before.
When I saw my Grandmother's loopy swirls with the tips a bit more wrinkled from years of arthritis, my heart caught in my throat at the honor of our recipe writing and sharing going full circle.
Now I want to share with you one of the recipes Grandmother shared in her notebooks to my sister and me. I hope you enjoy it as much as we do.
Southern Candied Sweet Potatoes Recipe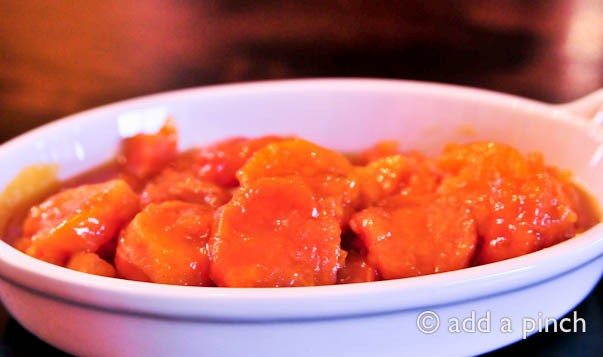 Candied Sweet Potatoes make an classic Southern dish. Made with five simple ingredients, these candied sweet potatoes couldn't be easier.
Ingredients
6

medium peeled sweet potatoes

8

tablespoons

butter

2

cups

sugar

2

tablespoons

water

1

teaspoon

vanilla
Instructions
Slice sweet potatoes into round slices, about ¼ inch thick.

Melt butter over medium heat in a large skillet and add sweet potato slices to the skillet.

Pour sugar and water over sweet potatoes. Stir gently, reduce heat to low, and then cover with a lid and cook until the sweet potatoes are fork tender, about 1 hour.

Remove from heat and stir in vanilla.
Enjoy!
Robyn