Valentine's Heart Lollipops are so stinkin' simple and sweet that I just couldn't wait to make them to show you guys. They just take a few minutes to make and you'll have precious little favors to share for Valentine's Day that make a huge impression.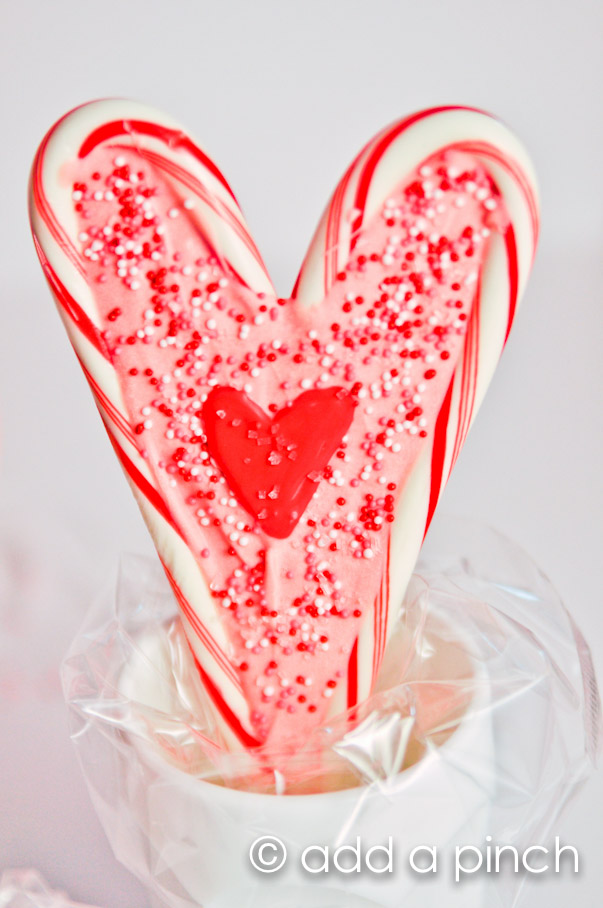 If you are like me, you still have candy canes left from Christmas stashed in your pantry or around the house. I can't stand to just throw them away, so I use peppermint in various things until they are use up around Valentine's Day. Honestly, I hold on to them just so I can make a bunch of the cute treats and a few other goodies.
They are quite addictive.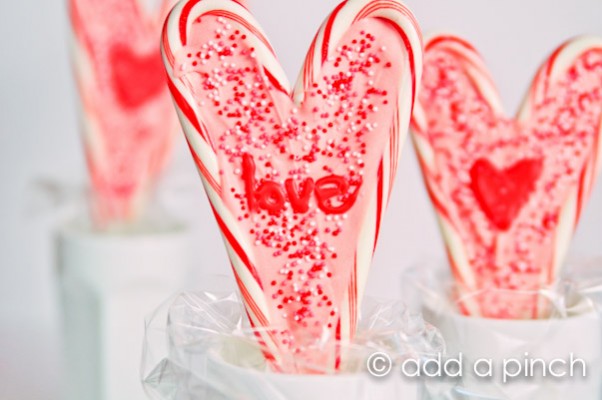 Little Buddy and I spent about 30 minutes yesterday afternoon and made a whole bunch of these babies to wrap up and give as presents for Valentine's Day.
Err.. an early Valentine's Day that is.
You know, in the blogging world, some things you get to celebrate twice, or three or four times even before the actual big day.
This is one of those things.
It's a good thing they are so easy to make and everyone loves them!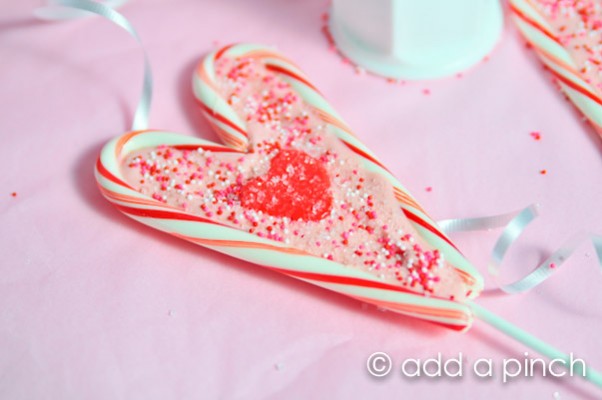 Within just a few minutes these Valentine's Heart Lollipops were all ready to be admired and packaged up for gifting.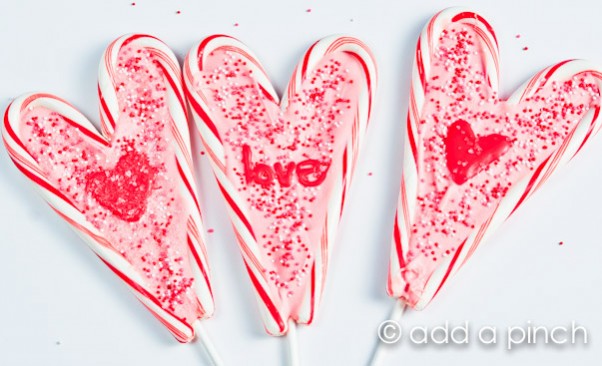 It really reminded me of the year I was the room mother for Little Buddy's Kindergarten class and was in charge of his Valentine's Day party. I was still working at the time and traveling all over the place for business. How in the world I was also the room mother, I don't have a clue, but I guess I really thought I was supermom or something. Anyway, I had been out of town all week the week before the big party and had honestly let it slip my mind. Assignments for who was bringing cups, plates, napkins, and goodies had all been made. I was just responsible for the gift for the teacher and favors for the children in the class.
Let me just insert a comment here… it's not a good thing to forget about a party when you are the one responsible for the gifts.
It's just not.
Luckily, the morning of the big party, as I dropped Little Buddy off the teacher helping our son out of the car asked him if he was ready for the party that afternoon.
Talk about being lucky.
Tar-jay rescued this poor frazzled Mama with their enormous Valentine's Day aisle filled with every piece of candy you could imagine and then some. The Pez dispensers and mini stuffed animals were a hit of the party and the teacher loved her chocolates and gift card.
I got to keep my supermom cape for yet another day.
But, the year I made these for Little Buddy's teachers in first grade, my cape glowed just a little bit brighter.
That year, I packaged them in cellophane wrappers and tied them with pretty bows and put them down into a really pretty coffee mug filled with other candies for the teachers.
It was cute!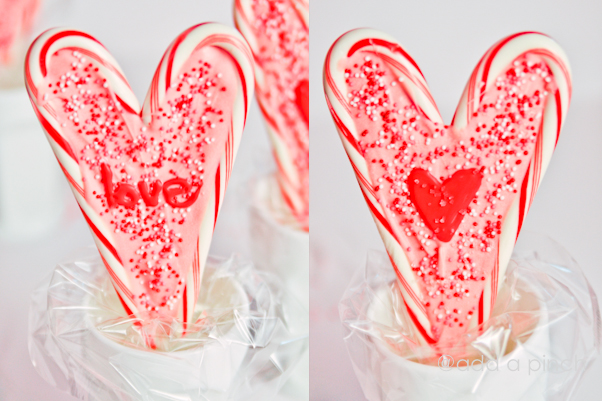 Here's how you make them.
Valentine's Hearts Lollipops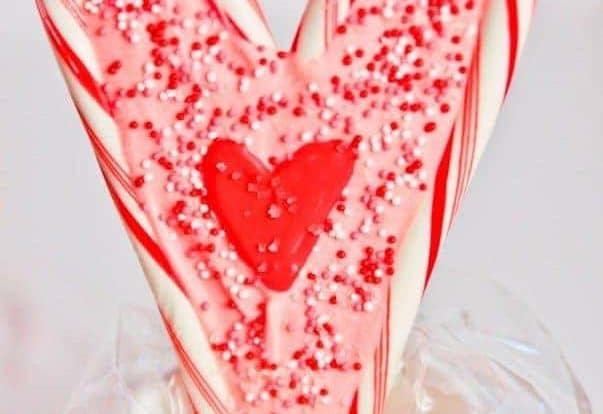 Valentine's Heart Lollipops – a simple, quick, and beautiful treat for Valentine's Day.
Ingredients
12

large candy canes

120

candy melts

your favorite color (I used pink)

6

teaspoons

nonpareils

colored icing

I used Cake Writer icing tube in Red

6

lollipop sticks
Instructions
Prepare counter top with a large piece of parchment paper.

Unwrap candy canes and shape two together to form heart forms. Repeat until 6 hearts have been formed. Place a lollipop stick in between the bottom pieces of the heart shape with about 1/2″ to 1″ into the heart for stability.

Using a large measuring cup with a handle, melt candy melts in the microwave according to package directions.

Pour melted candy melts into the center of your heart and spread to the inside edges of the candy canes with the back of a spoon. Repeat until all hearts are filled.

Sprinkle with nonpareils.

Using colored icing to write a name, word or saying or to simply draw a shape like a heart.

Allow to dry for about 10 minutes or until the candy melts have dried solid. Do not place in the refrigerator or freezer as it will cause the candy canes to become sticky.
Aren't they precious?